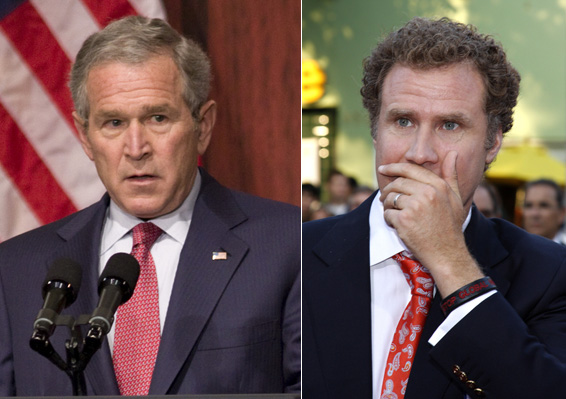 Shortly after Will Ferrell left Saturday Night Live, and a several months after the Iraq War started, I read an interview with Ferrell that has always stuck with me. Ferrell was taking about how much he missed SNL and being able to spoof the president on a weekly basis. He then recalled Bush's famous "Mission Accomplished" speech, where Bush was wearing that flight suit, the incident only a few months old at the time. Ferrell said (and I'm paraphrasing), "I thought, that's it! From here on out, every time anyone does an impression of Bush, he should wear the flight suit and stand under a 'Mission Accomplished' banner. Bush going out to eat, in the flight suit. Bush standing in the Oval Office, in the flight suit."
To say that Ferrell has genius-level comedy instincts is an understatement. Now it seems that Ferrell is going to play perhaps his greatest character one last time. Will Ferrell will be playing George W. Bush in "You're Welcome America: A Final Night With George W. Bush", a Broadway show that plays February through March. The stage show will also air on HBO.
Will Ferrell, the man who invented "strategery" and other Bushisms, is taking his spoofs of the 43rd president to Broadway and HBO.

The "Saturday Night Live" veteran will star in "You're Welcome America: A Final Night With George W. Bush" at New York's Cort Theater, with previews in line for Inauguration Day.

The show will take a chronological look at Bush's life — from his college days and time as the governor of Texas to the 2000 race for president and his two terms in office. Ferrell, who poked fun at the president with his successful impersonations on "SNL," told CNN he likes that Bush "never thinks he's wrong."

"He's arrogant with a school-boy attitude, and combine that with the fact that he is commander in chief — and, unfortunately, it's very funny."

He says viewers should "expect the unexpected" from the show — and some goofy nicknames, something Bush is known to dole out to members of his administration. The show will premiere on February 5 and run through March 15. HBO has also picked up the show, to air live on an undetermined date.
[From CNN]
`
Will Ferrell's George W. Bush was and is a thing of beauty – he's the only comedian to really give the "character" of Bush the needed pathos, snark, silliness and oblivion. I was happily surprised when Ferrell returned on one of the Thursday night SNL mini-episodes, before the presidential election, to play Bush to Tina Fey's Sarah Palin. I tend to think that Ferrell should have done this show a few months ago, but perhaps the timing is apt. By February, President Obama will be in office, but Bush's legacy will still be affecting the world for decades to come.
Photo credit: PRPhotos