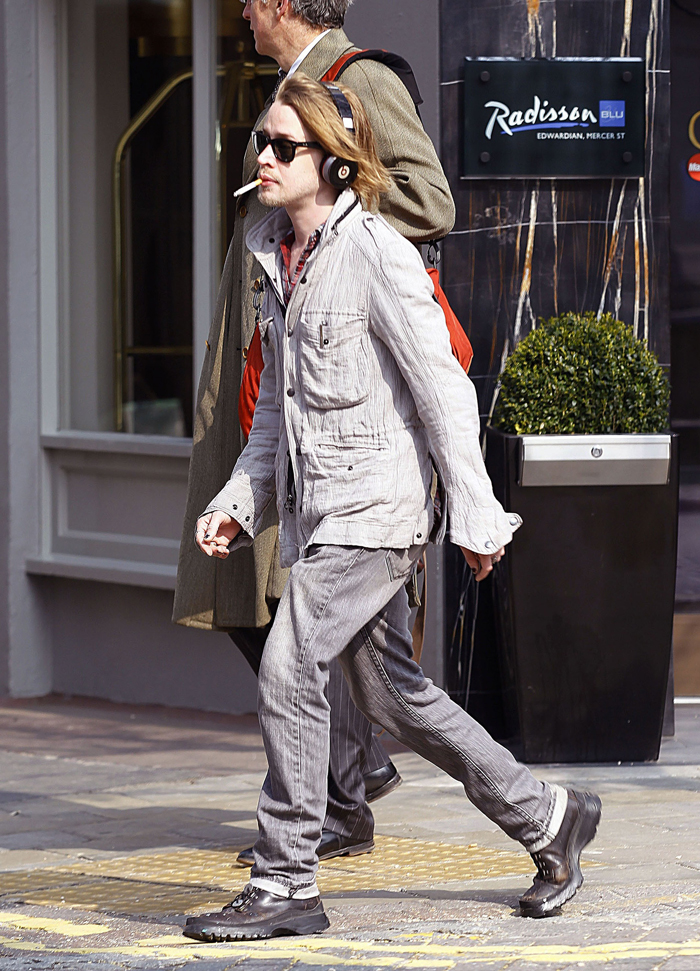 Here are some photos of Macaulay Culkin smoking it up in London on 4/10. The guy looks pretty rough, and unfortunately, that's nothing new where he is concerned. Macaulay started looking really skinny and wasted in early 2012. Last fall, the Enquirer printed a story about how Macaulay was a heroin and oxycontin addict, which Macaulay of course denied, and then the Enquirer named its source. BAM.
Now the Enquirer has struck out again at Macaulay and is going light on the drug talk in lieu of claiming that the former child star is nursing a very severe, 60-ciggies-per-day smoking habit. That's about three packs, right? Gross: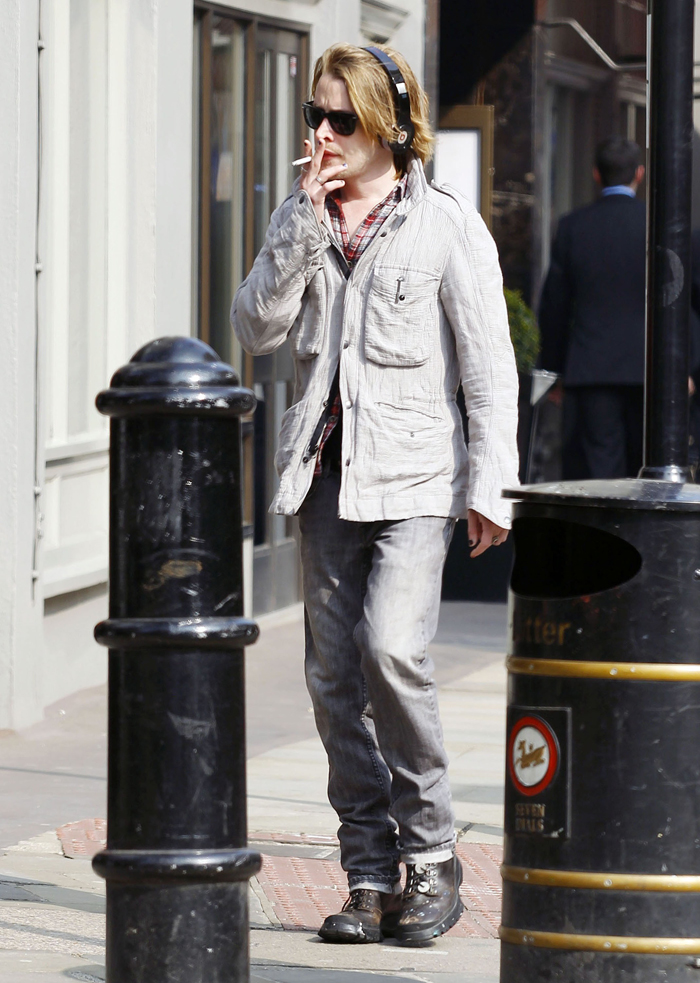 After a desperate battle to get off drugs, Home Alone star Macaulay Culkin is now destroying himself with cigarettes, say insiders. The troubled 32-year-old actor is smoking an astonishing 60 cigarettes a day and putting his life at risk of deadly lung cancer! "Mac has swapped out one deadly habit for another," declared a concerned pal. "It's a nightmare!"

Las August, the Enquirer revealed that the former child star was a heroin addict who also abused painkillers. Now, he's said to be off heroin and trying to clean up his act, but he's tragically relying on another life-threatening crutch. "He's put his nicotine addiction into overdrive," revealed another friend. "Almost every time I see him, he has a cigarette danging from his lips and is puffing furiously."

If Macaulay, who favors Marlboro cigarettes, doesn't change his ways, he faces a bleak future, warn medical experts. Dr. Jerome Spunberg, a Palm Beach Gardens, Fla., radiation oncologist, who has not treated Macaulay, told the Enquirer he has "30 times the risk" of dying form lung cancer than a nonsmoker.

And Dr. Herman Kattlove, former spokesman of the Amercan Cancer Societ, who does not treat the actor, added that Culkin's lung cancer risk will "eventually exceed 100 times that of a nonsmoker" if he keeps puffing away at his current three-pack-a-day rate.

To make matters worse, Culkin is also downing cognac, beer and energy drinks, divulge insiders. Palys believe that the actor's bad habits are spurred on by problems, including his recent split with an ex-stripper girlfriend. As the Enquirer has reported, he also had a major run-in with a photographer outside a nightclub in Brighton, England, and suffered an embarrassing snub from his former girlfriend, Black Swan beauty Mila Kunis.

"All of this has Mac very stressed out, and that causes him to smoke more," noted the friend. "He's coughing a lot, his teeth are yellowing, and friends and family are worried he's killing himself."
[From Enquirer, print edition, May 27, 2013]
Don't you love how the Enquirer has sniffed out some "experts" to provide details of the commonly understood risks involved with chain smoking? I believe this story though because Macaulay is seldom photographed without his beloved cigarettes, and I certainly don't buy that Macaulay has traded one addiction for another. That is, I don't see any conceivable way to argue that the dude is off drugs. If there was to be any hope at all of this guy staying clean, the fact that he just became roomies with Pete Doherty would ruin everything. Supposedly, these two are "bonded over their love of poetry and art," but they're also bonding over their mutual love of the tourniquet.
Here's how good old wastrel Pete looked last August at the Parisian premiere of his dumb movie, Confessions D'un Enfant Du Siecle. He looks pretty sweaty as always, but this is actually one of his cleaner moments, dirtwise.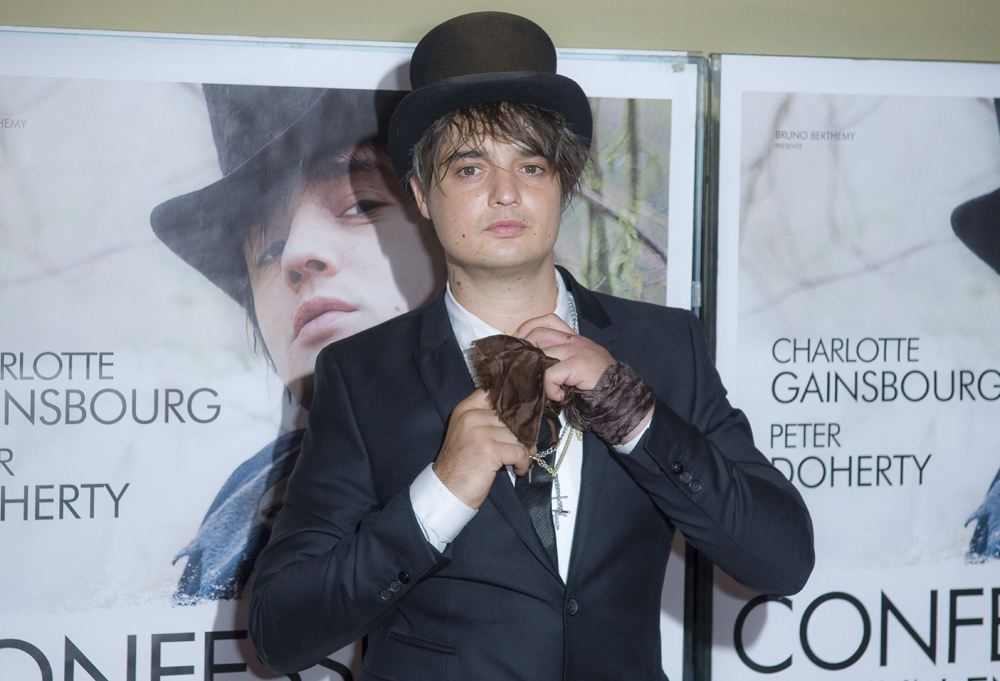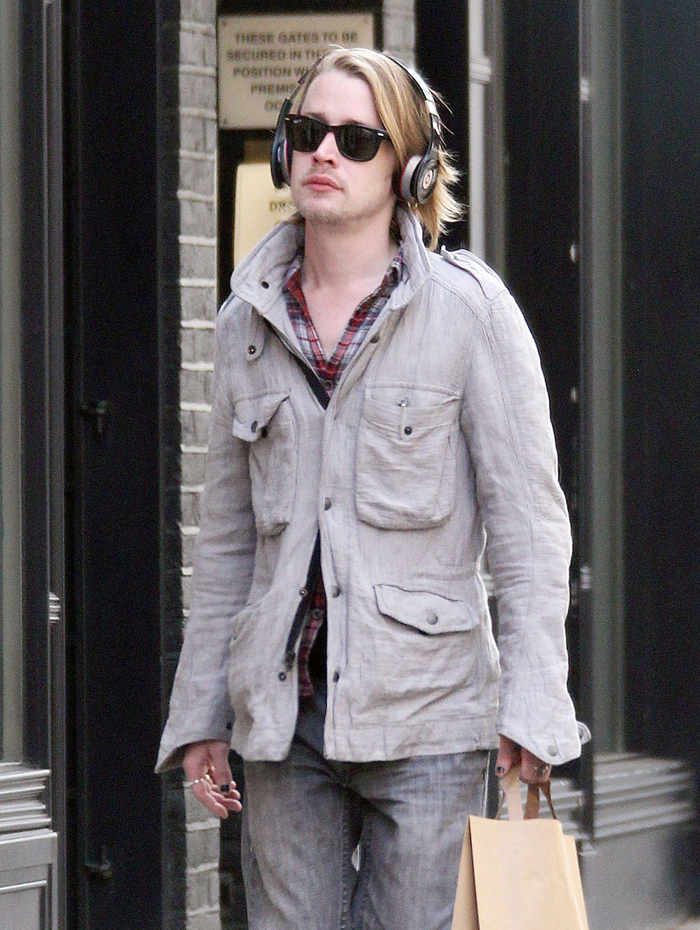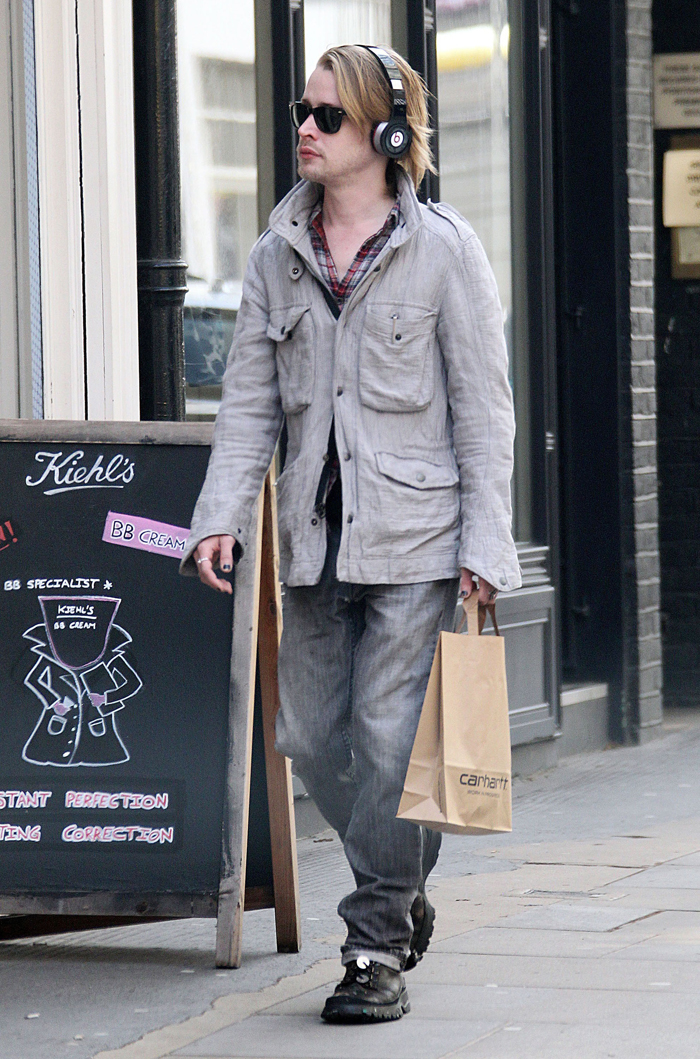 Photos courtesy of Fame/Flynet and WENN