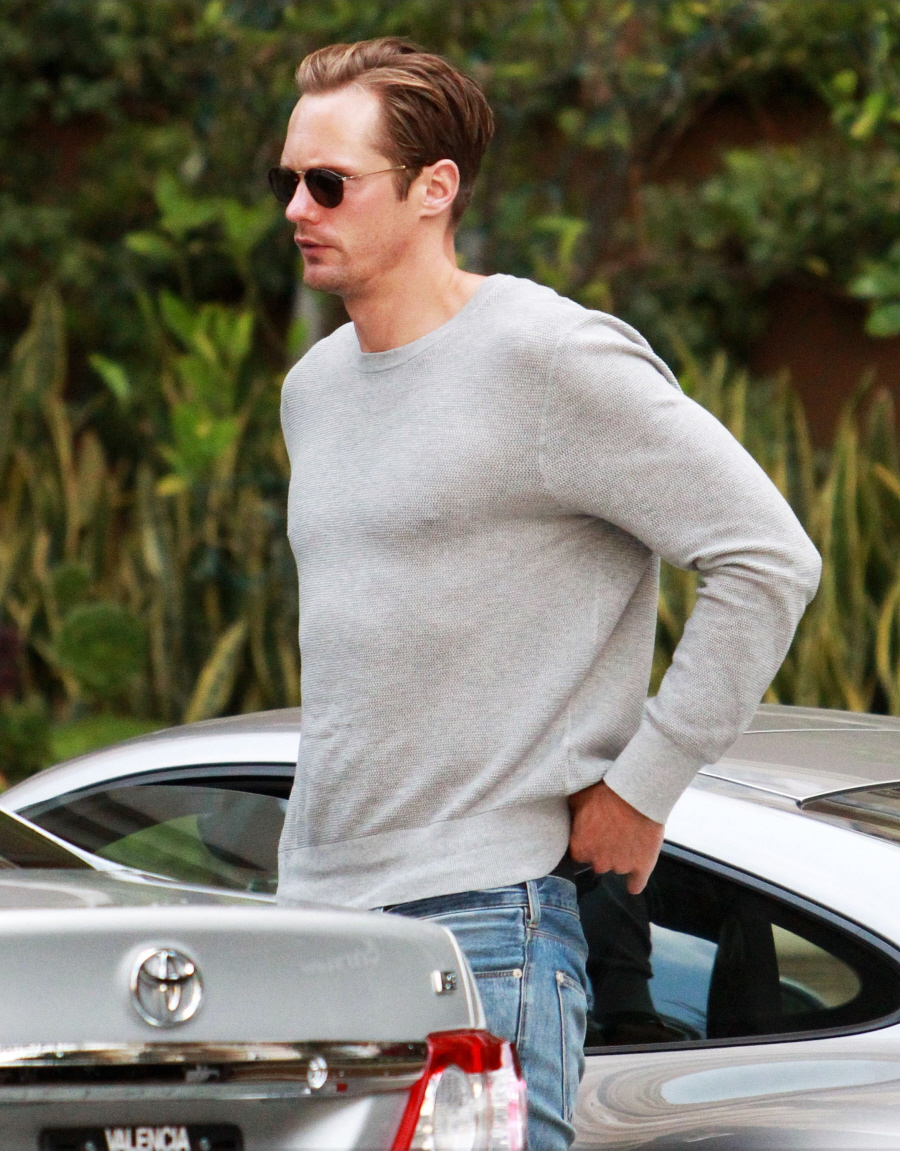 Here are some new photos of Alexander Skarsgard leaving (or entering?) the Four Seasons in Beverly Hills on Saturday. I let my mind wander for a moment and imagined him meeting some sexy young thing for a sultry hotel tryst, but the real story is that he was probably doing a junket in the hotel. Alex has a bunch of new stuff coming out in the coming months – The East AND What Maisie Knew are getting limited releases in May, and "True Blood" is about to start. So Alex is probably doing nonstop press. As for his outfit… he looks comfortable, and that sweater looks especially soft (I want to rub myself on it), but his casual style is always lacking for me.
When Alex was doing press for What Maisie Knew recently, he talked about why he signed on for the movie – basically, it was a chance for him to work with a child actor and experience on-screen fatherhood.
There are no fangs for Alexander Skarsgard in his new movie "What Maisie Knew" and, without making too much of a pun, that's the point. For the 6-foot-4-inch Swedish actor best known for his role in the HBO series "True Blood" as 1,000-year-old Viking vampire sheriff and local bar owner Eric Northman, this update of Henry James' novel was intriguing precisely because it was a challenge.

As Lincoln, Skarsgard is a working stiff who marries Susanna (Julianne Moore), a rich, famous and bitterly divorced rock star. Lincoln doesn't realize he's merely a pawn in her custody battle for Maisie, the 6-year-old daughter she doesn't want — but whom she doesn't want her ex (Steve Coogan) to have.

"What got me excited," Skarsgard, 36, said last week from Los Angeles, "was there's a sweetness I was drawn to.

"I love how he's being stuck with this kid and falls in love with her. Lincoln's someone who doesn't take care of himself or anyone else, and Maisie takes care of Lincoln and he grows in the process."

James' turn-of-the-century tale was written "as a reaction to what was going on with capitalism and industrialization as people were becoming more focused on their careers and neglected their kids."

"To set it in modern-day New York — it's interesting how relevant the novel still feels. You see that so much today, where parents will let the PlayStation or television or computer raise their kids."

Skarsgard has yet to become a father but "I love kids, I want to have kids," he said.

"I come from a very big household and dad" — Stellan Skarsgard of "Good Will Hunting" — "has two young boys with his new wife. Growing up, my cousins lived in the same house and there were six of us, so that's what I'm used to."

As for the buzz that Skarsgard will be the next big screen Tarzan, "It's a phenomenal character but obviously a big film and it's going to take some time at Warner Brothers" before Edgar Rice Burroughs' king of the jungle is actually given a green light, he said.
Alex is 36 years old right now, he'll turn 37 in August. If he wants kids, I would say he should start soon, although Hollywood men make their own rules about this sort of thing. But how cute would it be to see Alex with a little Viking baby in his arms? It would be better than Chris Hemsworth's pap walks, I think. So, who wants to let Alex get them pregnant? Come on!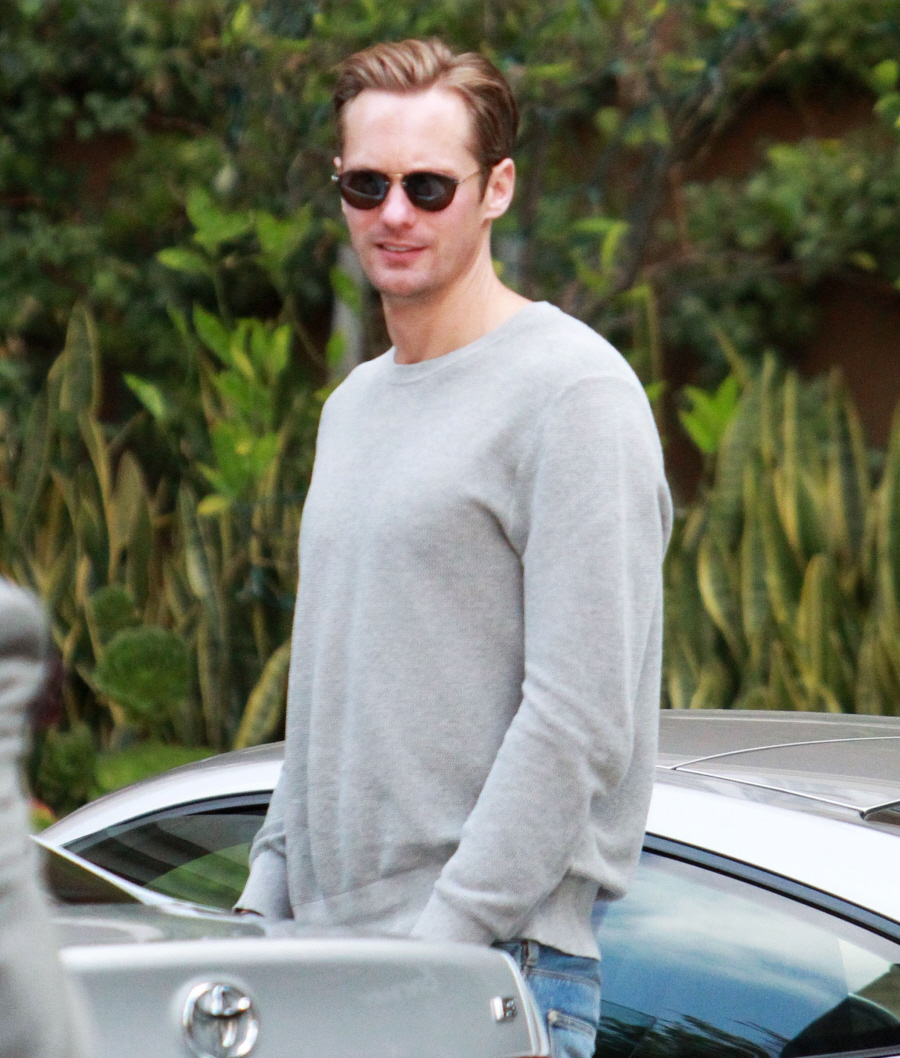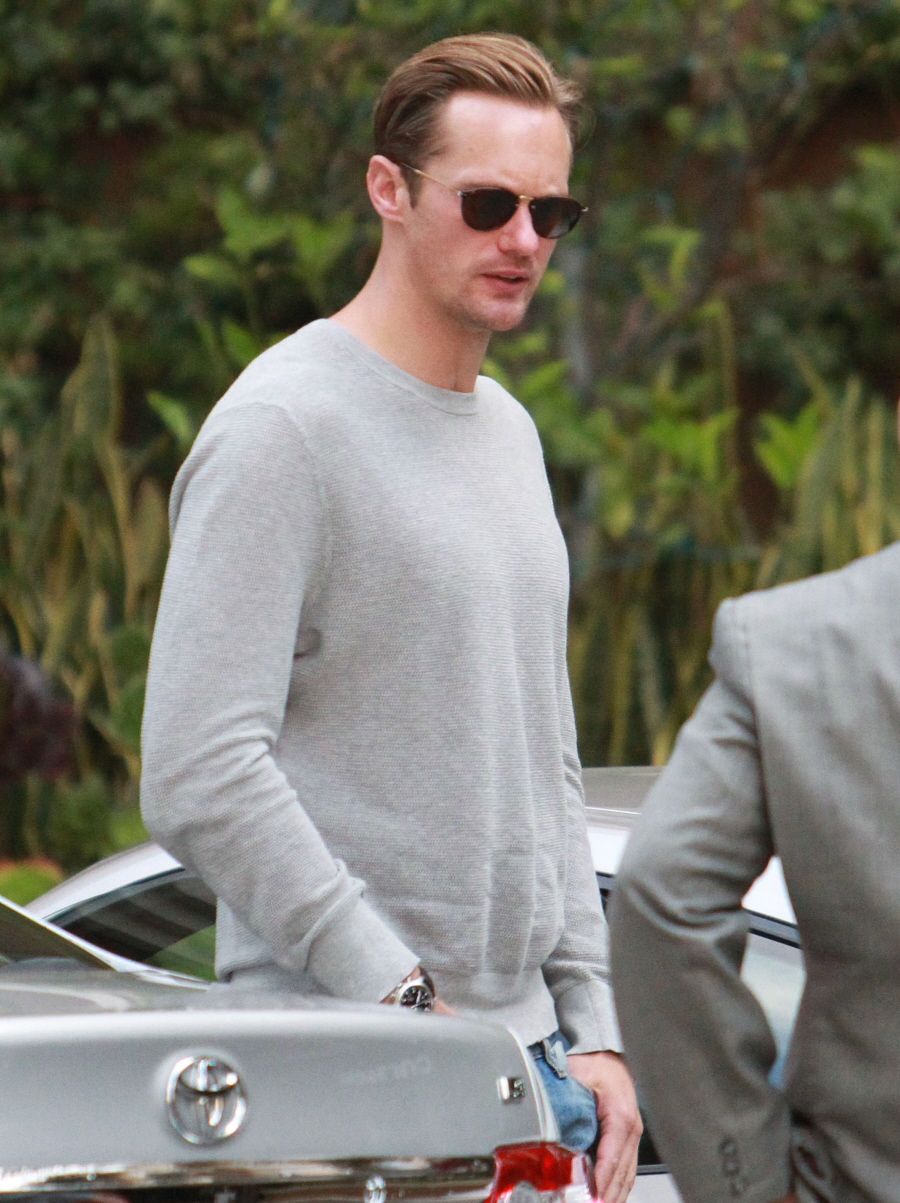 Photos courtesy of Fame/Flynet.