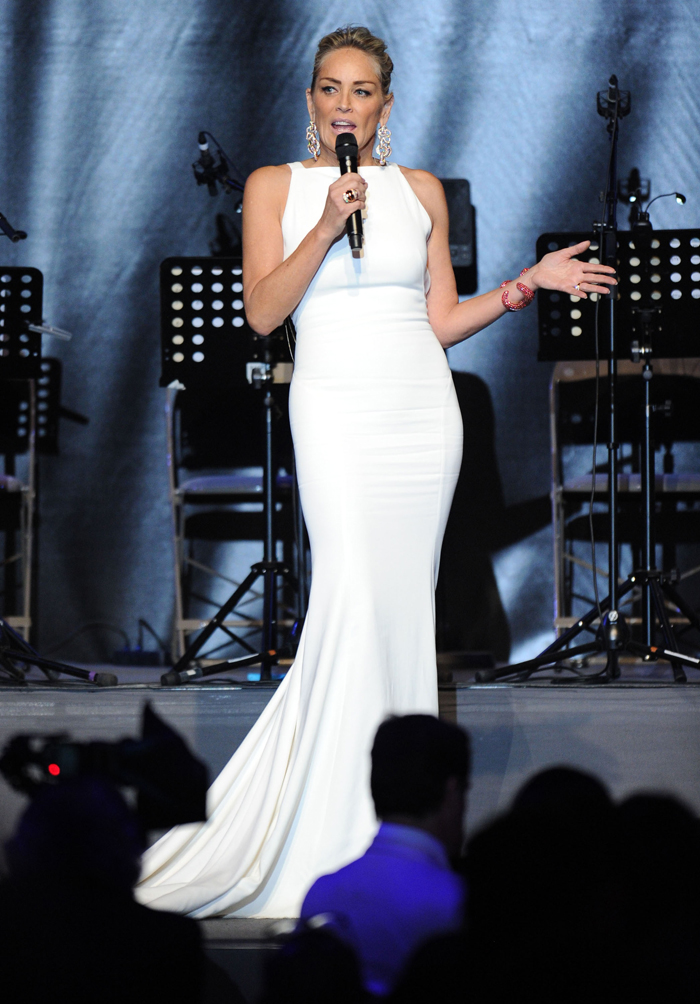 Sharon Stone has been killing it in Roberto Cavalli at Cannes this year, and her turn as emcee at the amfAR gala was no exception. AmfAR is Sharon's baby, and part of the attraction for this gala is that Sharon shows up looking great but behaving in a totally sloshed manner while she leads the auction. It's entertaining, and there are usually a few onstage ass grabs and some overaffectionate kisses involved.
Sharon seemed to keep a lid on it last night though and didn't appear totally wasted, and she looked so beautiful in this Cavalli gown that was so sleek that it hugged every curve on her well-maintained body. She got a little bit overzealous with the bronzer, but damn, I'd love to look this good at age 55. The best part of the dress is the back! I don't even like gold, but the back of this dress is stunning.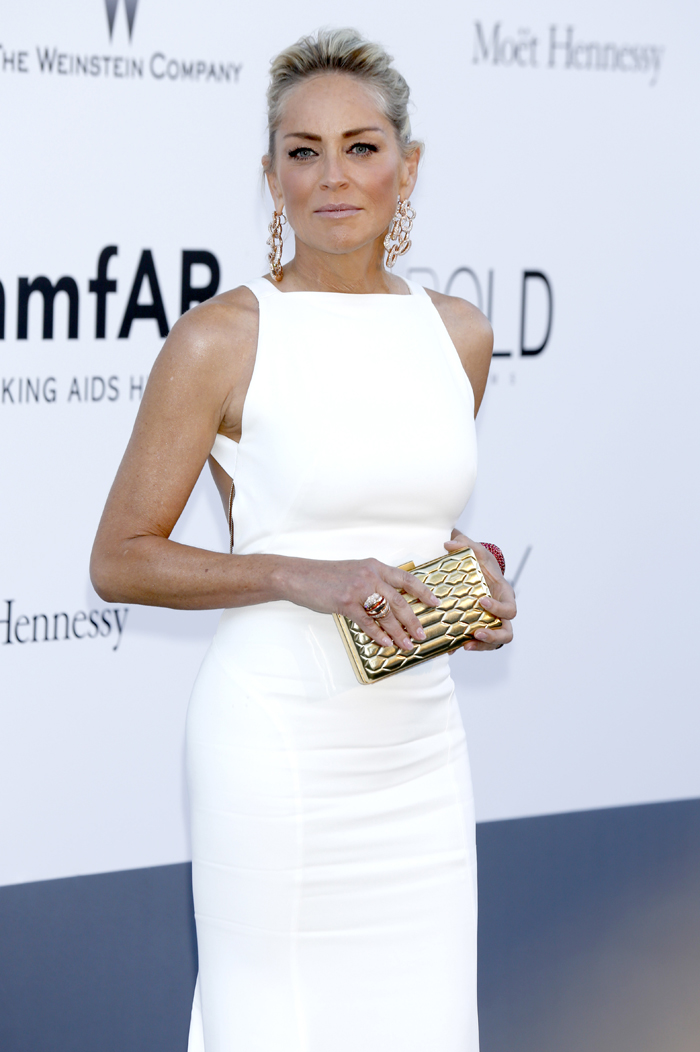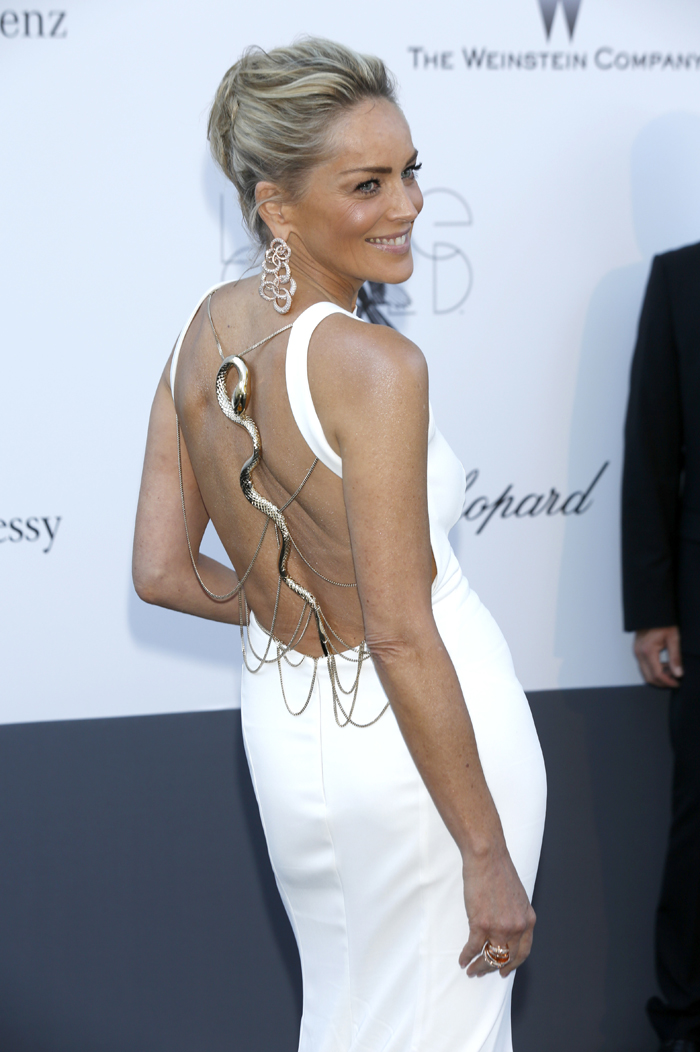 Rosie Huntington-Whiteley was my pick for favorite of the night. She wore a very cute and flirty Christian Dior dress that kept it simple and strapless up top and floated down to a flattering asymmetrical hemline. Her wavy, romantic hair and slightly smokey makeup here are likewise perfect. Sometimes I forget how pretty Rosie really is, but this ensemble brings out all of the highlights. Rosie also walked the catwalk in a bold gold dress that — I think — is Alexander McQueen.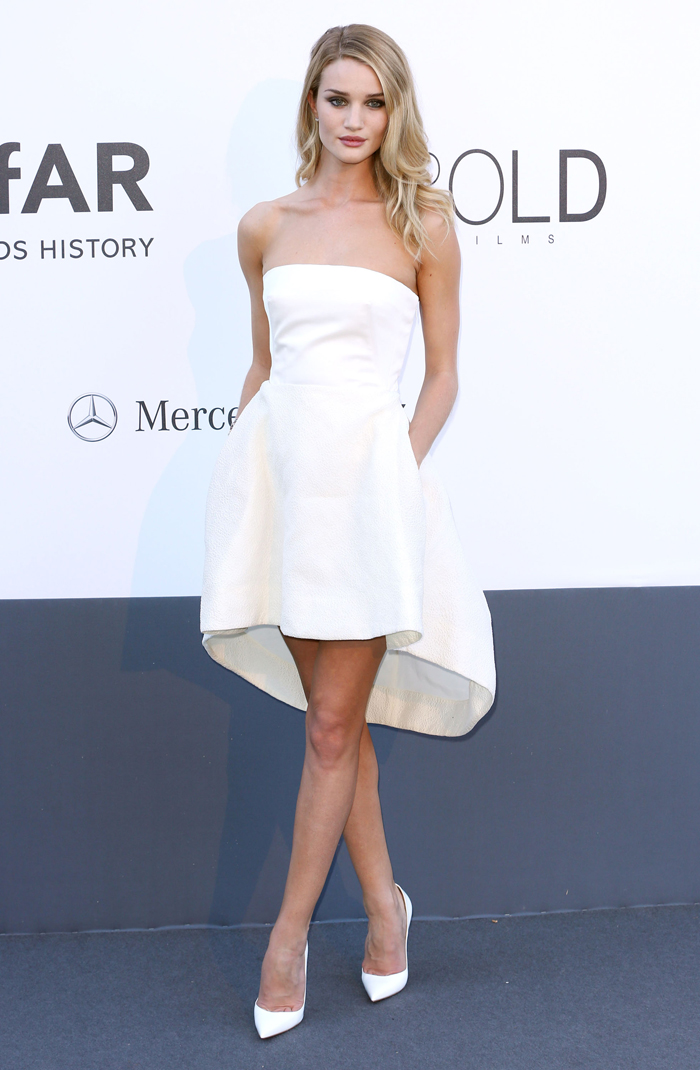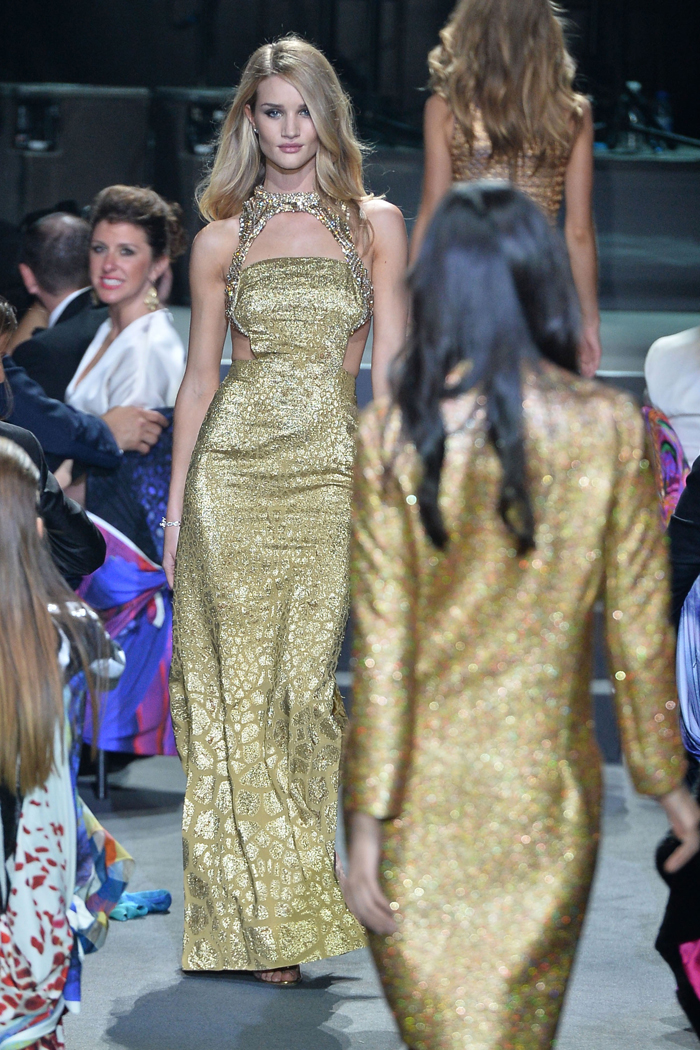 Heidi Klum looked like an utter mess, of course. She almost always wears Marchesa to amfAR Cannes, and she kept the awful dream alive here. This is one hellaciously ugly white and gold specimen. While the bust area of the dress is unflattering, maybe it wouldn't have been so awful if someone tore off the sheer overlay, but if that happened, it would no longer qualify as a Marchesa piece. Yuck.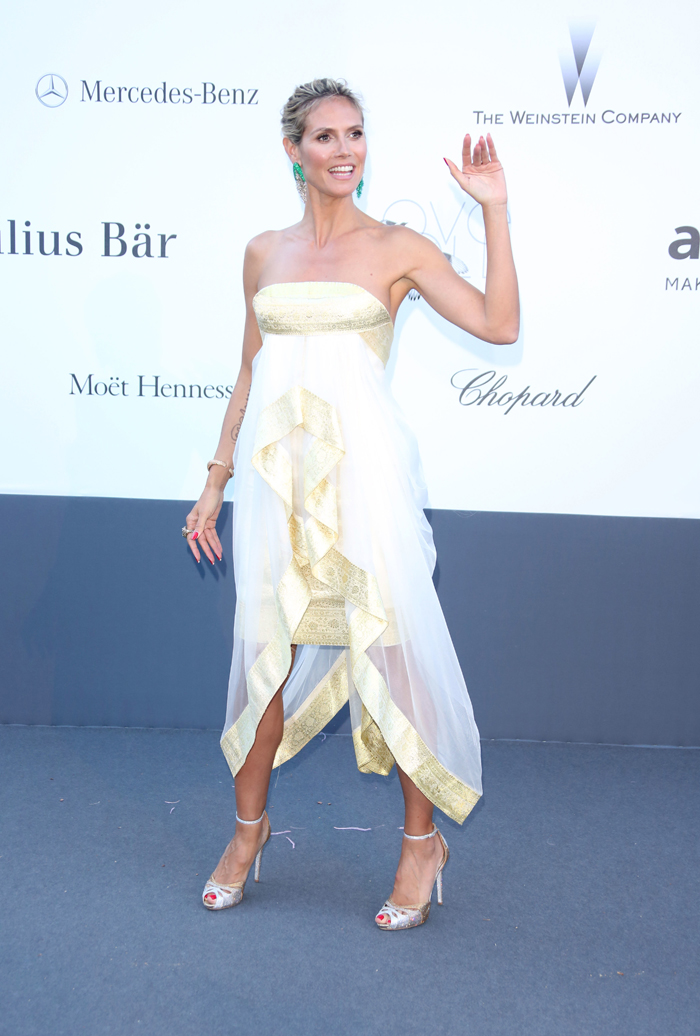 Melanie Laurent looked so cute in basic black that flattered her now-prominent baby bump. She's such a beautiful woman, and I'm sad that she's not a bigger draw in the United States. Maybe someday.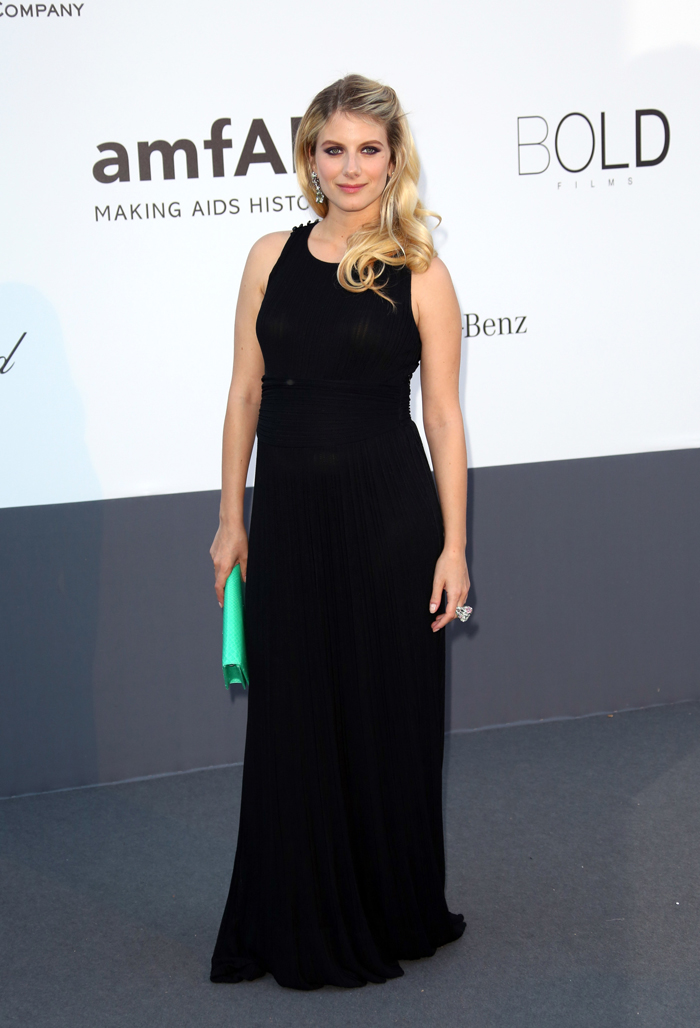 Paz Vega wore a black Vionnet made out of jersey material and topped with spaghetti straps. I like this a lot more than I probably should considering that this was a gala. Paz has the perfect figure to pull off this dress, and she kept it simple while adding bold makeup and a sleek, shiny hairdo. Gorgeous.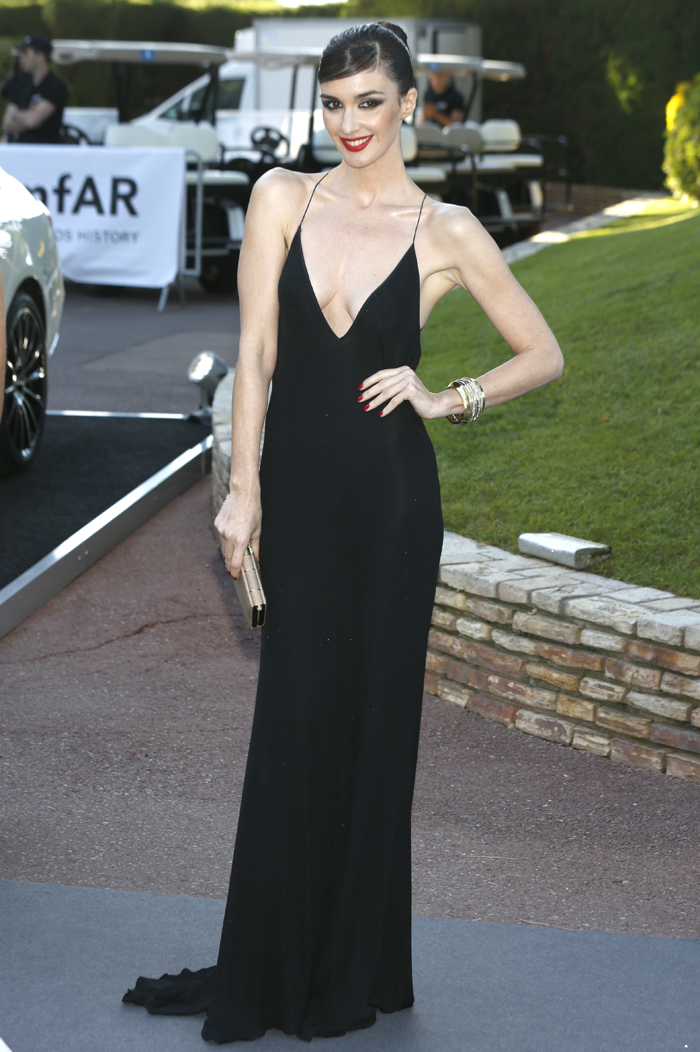 Milla Jovovich seems a bit off this year at Cannes. Usually, she goes with some old school glamour or an equally dramatic look, but she fades into the background with this fluffy Valentino couture gown. The color isn't quite blush pink, right? This is more of an off-white gown with so many tiered ruffles and beaded bits of floral embroidery that the look is really one of overkill. Without the sheer sleeves, this gown might have been passable, but the sleeves make the dress look matronly. I'm not digging the braided updo either, and Milla seems so muted here in terms of personality too.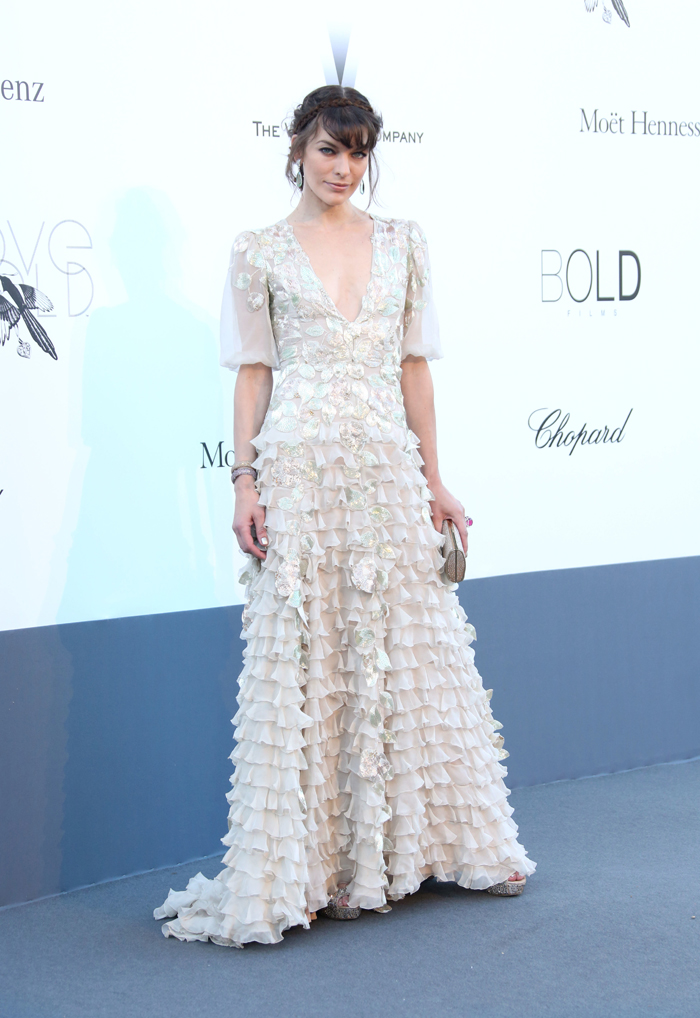 Karolina Kurkova looked dreadful while wearing a Cavalli cut-out gown that made her look a lot hippier than her natural shape. The serpent bracelet is a cool touch though.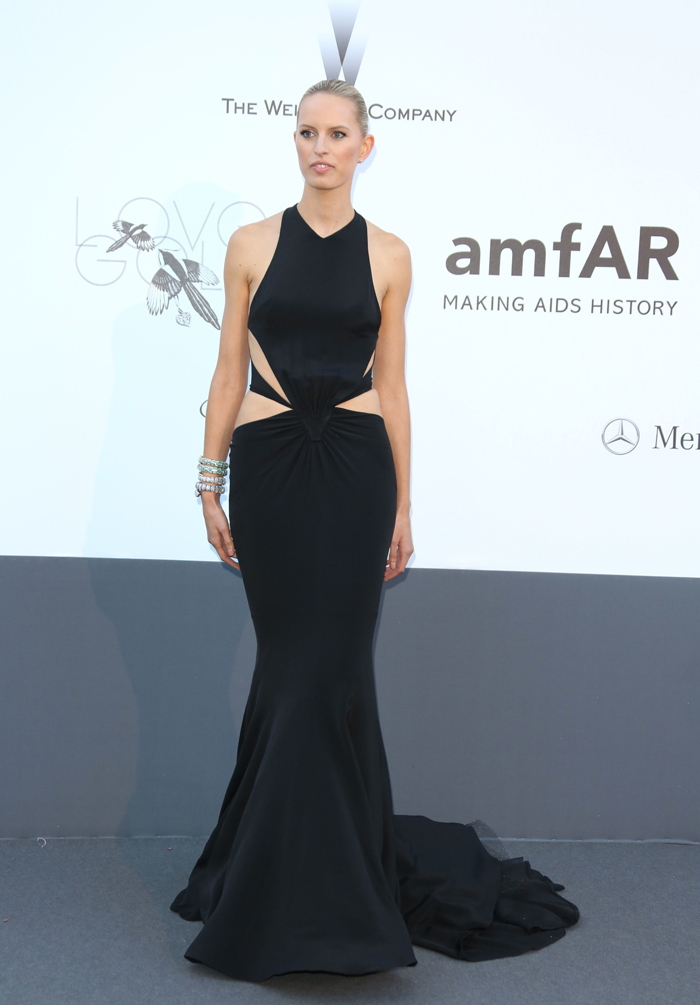 Finally, here's our breath of fresh air for the evening, Christoph Waltz. He looks a bit troubled as if he's wondering, "What are all these bitches wearing? And …. oh nooooo, here comes Sharon Stone for an ass grab!"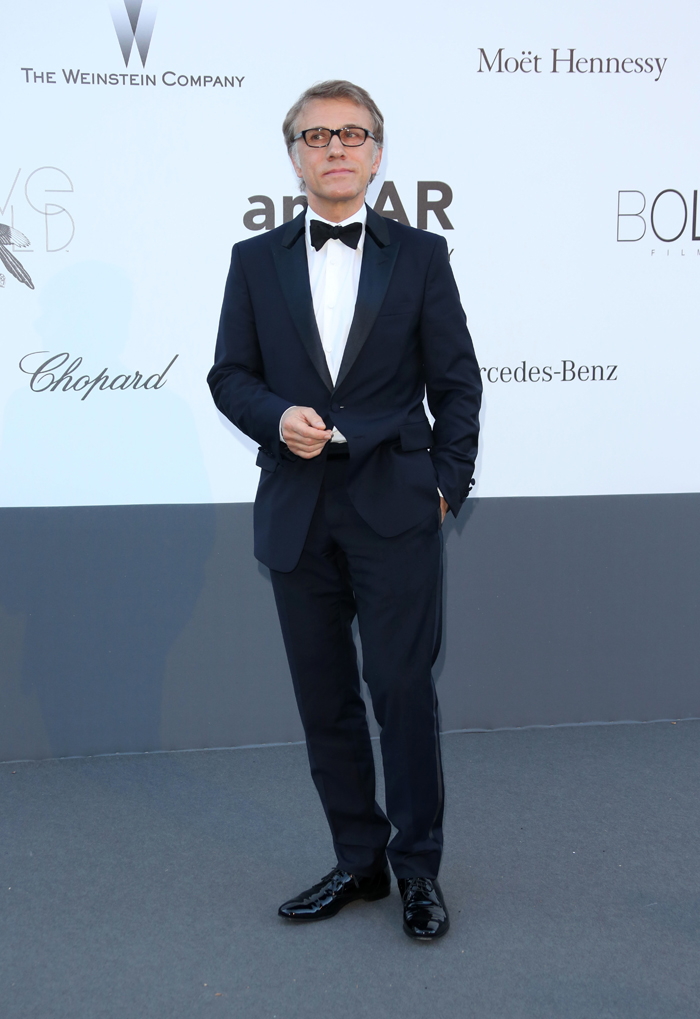 Photos courtesy of Fame/Flynet and WENN