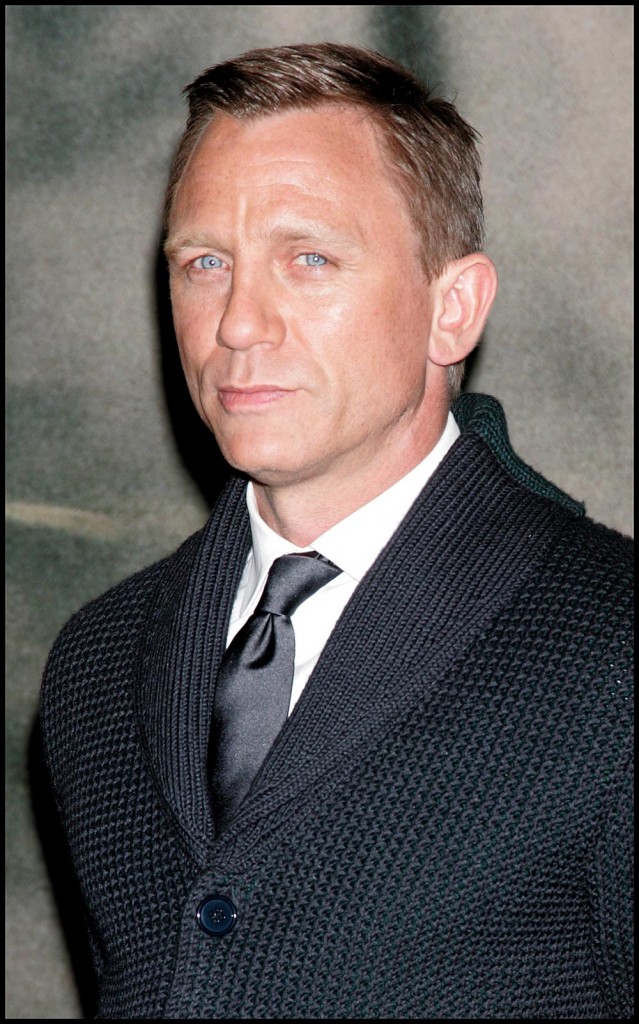 Daniel Craig is normally pretty boring with his clothes on, but he's learning (slowly) how to give a good interview. He recently sat down with Britain's Times to talk about his new film, Defiance, and the talented journalist actually got him to open up about his dreams and frustrations with the Bond franchise. Craig's actual words are "The problem is that Austin Powers screwed everything up. He exploded the genre. Did I just say that? I did." Oh no she didn't! ZOMG War! Seriously, though, I can understand how any actor would be worried to play James Bond after Mike Meyers' Austin Powers character ripped Bond a new one. With love.
"The first film was a huge punt, although I think if it had failed miserably, I could have walked away with my head held high and said, 'Well, I gave it a go.' But the fact was that it wasn't. It was a success, and in a way that nobody could have predicted. Quantum was about keeping it interesting, relevant, and the only way I could think about doing that was just to throw myself headlong into it. So I know the work we put in. We didn't have a complete script, so Marc [the director, Marc Forster] and I had to batter it into shape, to find the story we wanted to tell."

Craig isn't bothered that Quantum has been criticised for being too dark. "Well, I nicked a lot of the ideas about who Bond is from Ian Fleming," he says. "But the point is, we did the movie we had to do to finish the story off, and comedy and lightness weren't relevant. This was a story about loyalty, about friendship, about who you can trust. Gag-writing wasn't at the top of the list." Looking forward, he says that having finished the story they began with Casino Royale, everything will be up for grabs in the next film – although nobody has started working on it yet – and the tone could be completely different.

"I love the idea of putting Moneypenny in the film," he says, to my surprise. "I'm dead keen to do it. And Q." Moneypenny, to those few who may not have seen earlier Bond films, is the secretary who is always flirting with Bond, Q the Secret Service boffin who equips him with the latest spy gadgets. "But I work from the premise that there are millions and millions of people out there who never saw one of the earlier Bond movies. So they don't understand the martini gag. Or the Moneypenny gag, which is a gag – it had ceased to be a character. So, let's find out who she is. We can have fun doing that. And, don't get me wrong, I'm up for a submarine base, as long as the gag works. The problem is that Austin Powers screwed everything up. He exploded the genre. Did I just say that? I did."
Yea! Bring back Moneypenny! But make her a feminist! Or something, just give her something else to do besides make eyes at James Bond. Daniel Craig keeps on talking, though, and if you wanted to know the whole history behind Defiance, you should read the whole piece. The only other interesting parts of the interview (my opinion) were when Craig opens up a little about being typecast early in his career, his girlfriend Satsuki Mitchell (I want to hate her, but she seems cool), and Ella, his daughter.
Craig, who has played everything from a gangster, in Layer Cake, to a poet, in Sylvia, has tried to make sure he isn't typecast. "The first time I came to LA, in the early 1990s, all the jobs I seemed to be going up for were the Nazi or the thug, the bad guy," he says. "And I remember sitting in a casting and looking around at these actors, all of whom were there to play the bad guy, and I thought, 'I don't want to be here. This is not who I want to play.' You know, on paper, that it's a career, you'll make a living, but I knew I didn't want to be typecast then. I wanted to be able to play anything."

Even though Bond has made Craig, at 40, the most famous Englishman after David Beckham, and he's on the way to becoming a very rich man, he says he tries not to think of what he does as a business, but to keep in mind what inspired him to become an actor: "I can remember wanting to act as far back as I can remember." His mother, an art teacher, used to take him to the theatre in Liverpool, where they lived. "I was just amazed that one minute people were on stage, then they would come off and be completely different," he says. "It was magic. And it obviously had a deep, deep effect on me.

"I was always impressed by loud people, too, which is a bad thing to be impressed by, because most actors are drunks, and, as the evening goes on, they get louder and more entertaining – well, hopefully more entertaining."

As satisfying as the success is, Craig admits he still hasn't fully come to terms with how much Bond has changed his life, although he insists that the people closest to him, including his long-term girlfriend, the producer Satsuki Mitchell, and Ella, his 16-year-old daughter, treat him as they ever did.

"I'm in denial about it, but it has changed everything for me," he says. "Life just got flipped on its head. All of a sudden, everybody recognised me. I can't go out without being recognised. Simply put, it's a pain in the ass. You can't have the sort of spontaneity of saying, 'Let's go to the pub.' People say, 'You're an actor. Isn't that what you do?' But I don't do it to be recognised. I do it because I get a kick out of doing it. I'm not moaning, but I have had to reassess the way I look at the world, the way I live my life. I knew I would, I just didn't have a plan for it."
Daniel Craig seems like a decent (if boring) man. He's done wonders for the Bond franchise and seems to be a really dedicated professional. I always forget that he played Ted Hughes to Gwyneth "GOOP" Paltrow's Sylvia Plath. It wasn't the worst movie, and there's a really good sex scene on a couch between the two of them. And Daniel has his shirt off in a bunch of scenes. One thing I find unforgivable in all of these interviews with Craig is that no one ever mentions this absolutely incredible British film, The Mother, that Craig did a couple of years before Bond. He has sex scenes with a very mature woman, and they are *awesome*. Good film overall, too. Daniel needs to make more of those kinds of movies!
Daniel Craig and Satsuki Mitchell are shown at a photocall for Defiance in Paris on 1/7/08. Credit: WENN