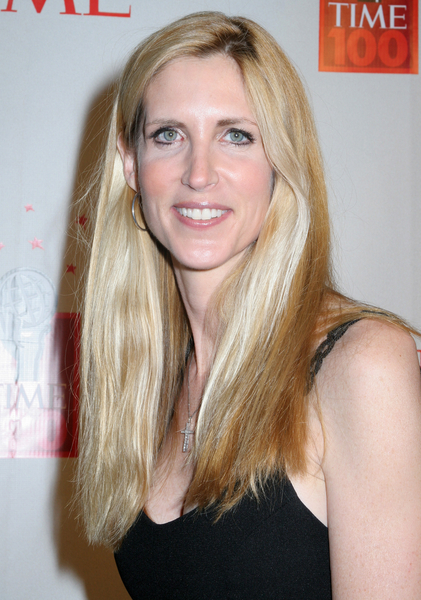 My God, Ann Coulter is the portrait of insanity. I don't know how she can be anything less than absolutely horrified at the sound of her own voice. It makes me want to crawl inside myself and die. Not to be overdramatic about it. Ann was reportedly banned from NBC over her new book "Guilty: Liberal 'Victims' and Their Assault on America." Unfortunately it turns out that wasn't true, or NBC caved, because after being pushed from the show on Tuesday, they let her come on yesterday. Coulter – never one to be gracious when she can avoid it – talked all about the supposed banning and insisted it was true. She heaped praise on the Drudge Report, who first circulated the story. And then enjoyed attacking Matt Lauer and generally being a complete snot whenever possible.
Lauer told Coulter that the reason her segment was dropped Tuesday was to make way for a live report from Israel on the conflict in Gaza by former British Prime Minister Tony Blair. Coulter countered that TODAY could have given her a different time slot. Lauer accused her of saying, "The mainstream media hates conservatives."

"I didn't say that," Coulter said. She admitted that she agrees with the sentiment, "but I have much more colorful language."

"We switched you for Tony Blair," Lauer explained.

"The point is, I was canceled twice," Coulter rejoined, referring to a second scheduled appearance on Tuesday with Hoda Kotb and Kathie Lee Gifford in the show's fourth hour that was also dropped. (On Wednesday, Coulter did make a second TODAY appearance with Kotb and Gifford, using the time to expand on her earlier discussion with Lauer.)

"Just because you're paranoid doesn't mean you don't have enemies," Lauer quipped with a smile.
[From MSNBC]
That's just a snippet, but the tone of the exchange is really hostile, despite how MSNBC tries to town it down in their article. Coulter went on to continuously refer to Barack Obama as "B. Hussein," and went off on a diatribe about how there is this terrible "exaltation of single motherhood" in the media, and actually said, "Almost any societal problem is a problem of single motherhood." She also claimed it wasn't outrageous, it was a fact. The woman is an absolute sociopath. I am all for free speech, but if there's any one person I could choose to metaphorically kick in the mouth, it'd be Ann Coulter. I do not understand how someone can be so ridiculously misguided and stupid. She's so extreme that the hate she teaches really is dangerous. I'm disappointed she's not banned from NBC. Maybe by her next book she will be.
Here's Ann's shocking interview. Try not to throw your shoe at your computer like I did.