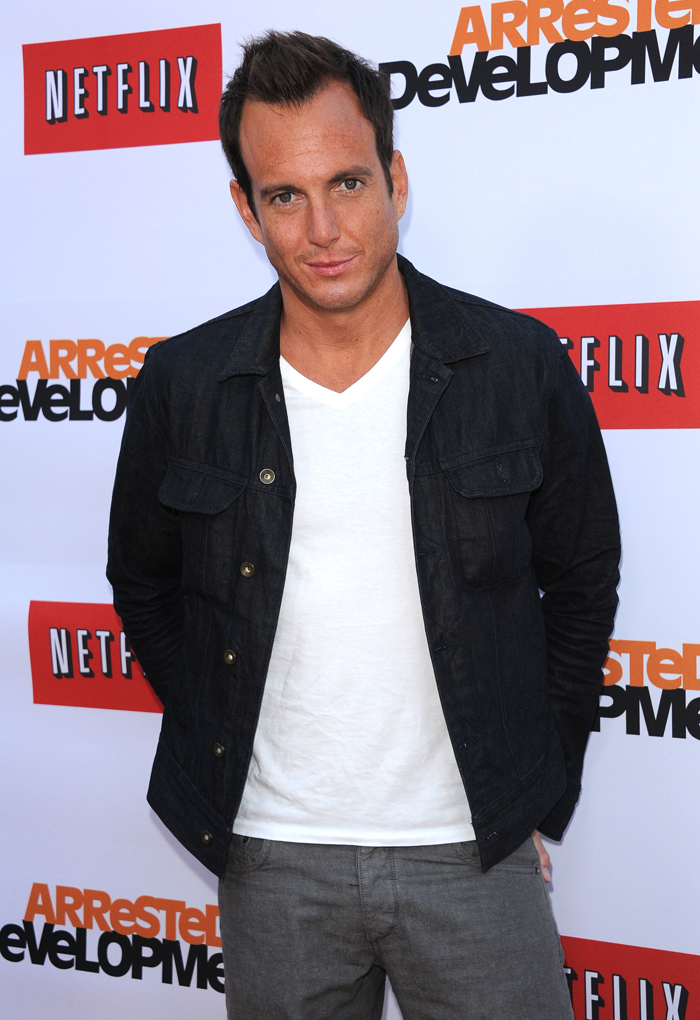 I hope Kaiser doesn't get too upset with me over this post (because she's the resident "Arrested Development"-loonie) and generally covers all things "AD" related, but I just had to talk about Will Arnett because I inexplicably find him to be devastatingly handsome. Although he does annoys me by consistently appearing within really terrible movies with flying gerbils and jokes that don't even pass as humor; but over the weekend, I gave in and watched a few episodes the grand "AD" return (even though I wrote on Pajiba that I was the only person not excited about the reunion), and Will is the best part of the new season so far. Also, it's pretty harsh that so many critics are taking issue with Portia De Rossi's "new" face when nobody has pointed out that Michael Cera has transformed into a human dart. Seriously.
To promote "AD" on Netflix, Will sat down for a little inteview with Details. He swiftly covers several topics including his chicken-dance norotiety, his love for his children, and how he finally made it as an actor after over a decade of struggle. He also talks a little bit about getting his mojo back after his divorce from Amy Poehler. Here are some excerpts:
Do people ask him to do the chicken dance? "Nonstop. I've been asked on the subway in New York, I've been asked in England. I did it once publicly–at an auction benefiting a hospital. It was for a good cause. But I don't do it. If you're reading this, don't ask me on the street to do it."

As a late bloomer, was he jealous of young actors who made it big? "I never really spent time being jealous. Maybe I should have. I'd handicapped myself. Back then I was partying. Maybe I would have gotten more jobs if I didn't look so hungover all the time. I lived in a string of sh-tty apartments in New York. I had a futon on the floor–not even a frame–that I'd roll up during the day. I had a lot of dreams–I wanted to be taken seriously, and I had something important to say. I said, 'I'll never read for TV!' Those are the trappings of youth. As you get older, you take yourself less seriously. That, I think, is actually the freedom of age.

He quit smoking on New Year's Day "It's been brutally hard. That's my one true love affair–cigarettes. The day they tell me they a) cured cancer or b) figured out a way cigarettes won't kill you . . . I'll have one between every finger. If they could figure out a way I could sleep and smoke at the same time, I'd do it."

Does he worry his kids won't be funny too? "Not at all. It couldn't be further from my mind. I think any parent is happy when their kid makes a funny joke. But I never think about it that way. I don't want them to feel obligated."

He coped with divorce by buffing up: "If going to the gym obsessively for eight, nine months was my way of dealing, then let that be my worst problem. Life is challenging, and I'd say that there's no guidebook–but there's about a million guidebooks out there. [Laughs] All people have been doing since the dawn of time is trying to figure out how to live this life and be happy. I'm no different. I'm 43, and I've found my happiness–which is my kids."

Is it difficult to get back out there? "Well, I'm not officially dating. I don't know what you do. Do you put out an announcement in the trades? I'M DATING! It all seems very scary to me, to be honest. So I'm kind of keeping pretty close counsel right now. Until I . . . yeah."
[From Details]
Poor guy. He's been divorced twice now, so I can see why it would be difficult to jump back into the pool. He seems to be dealing with it quite constructively though, and there are certainly worse afflictions than becoming addicted to the gym.
Here are some images of Will with Megan Fox on the set of the ill-fated "Teenage Mutant Ninja Turtles" movie. I'll just pretend that Will isn't really making this movie and is merely hanging out while looking incredibly good in this pair of jeans. Yum.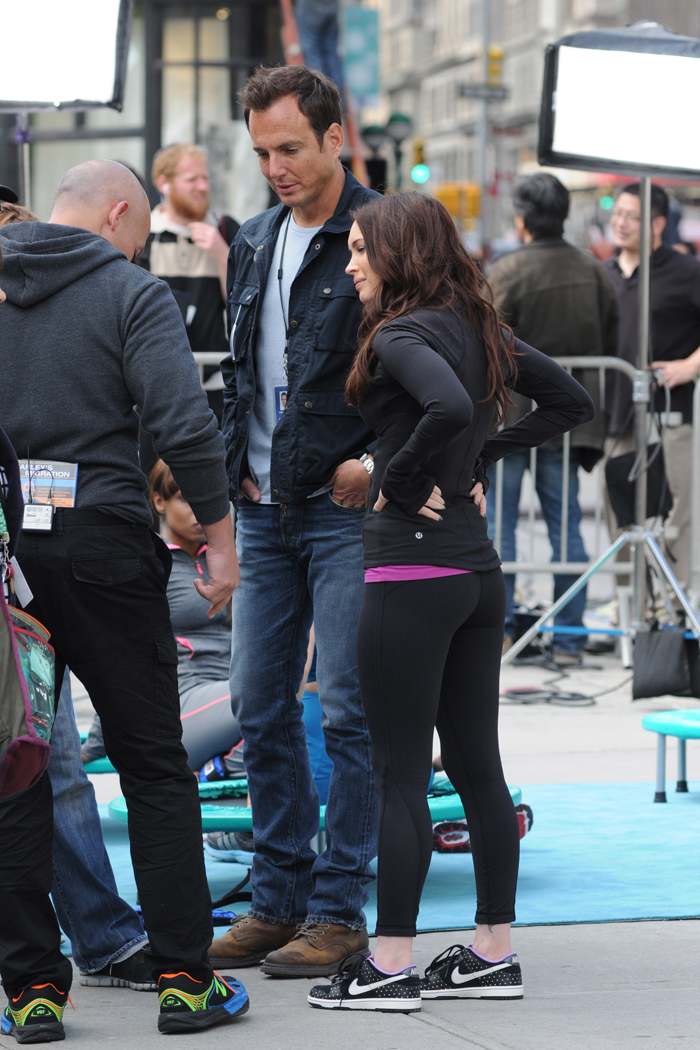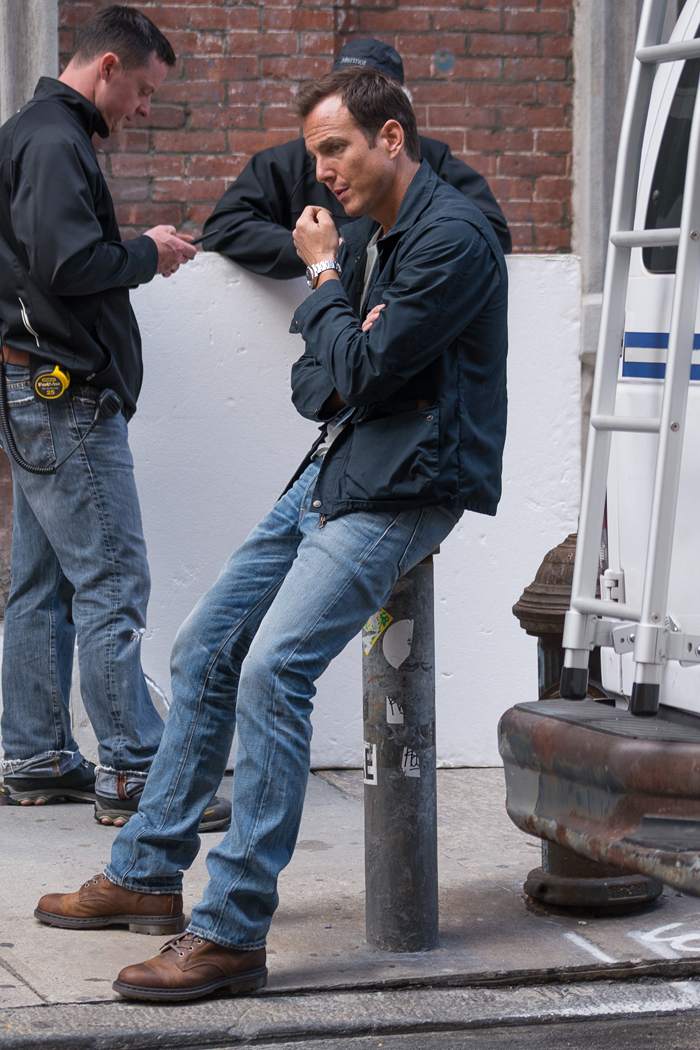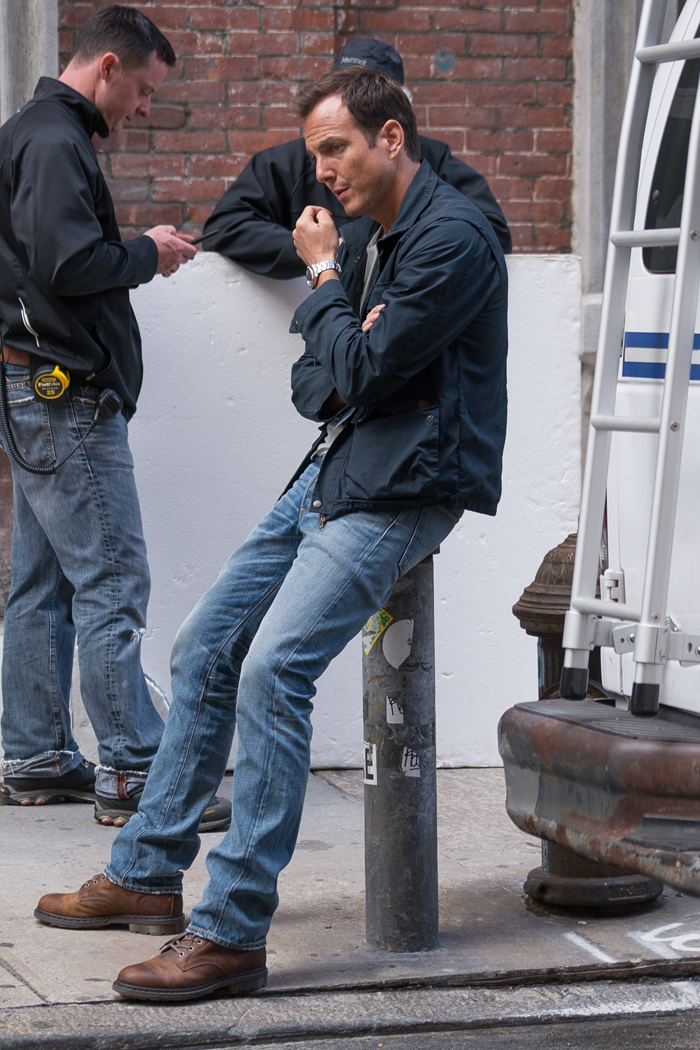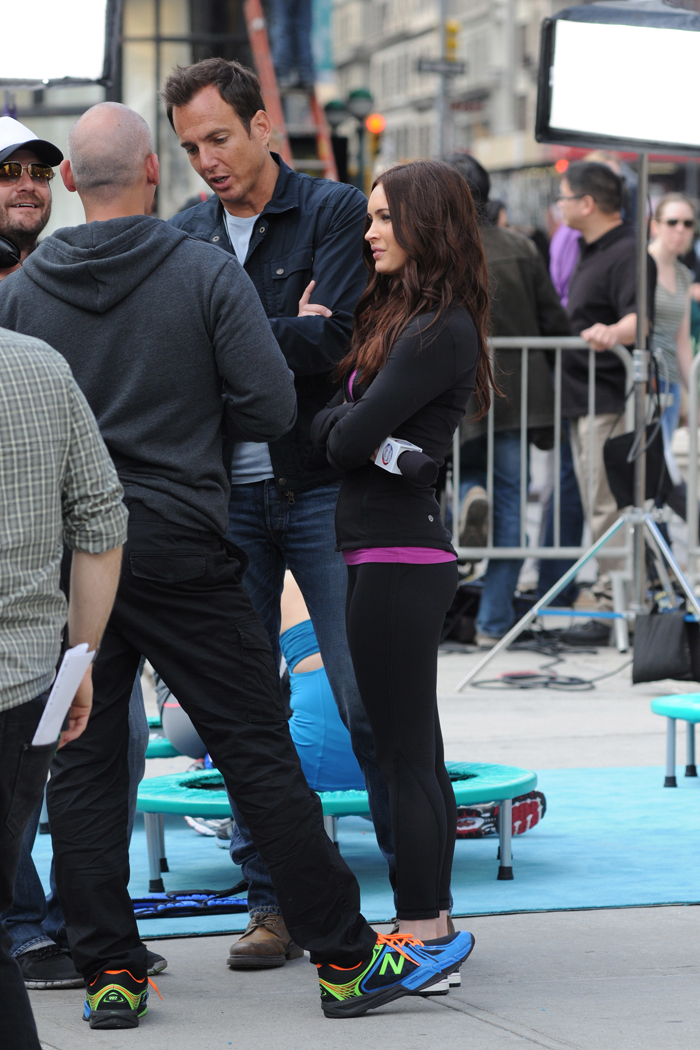 Photos courtesy of WENN