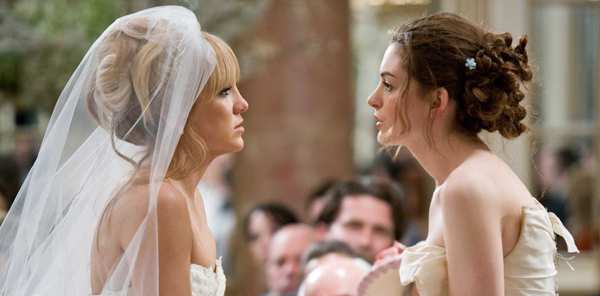 Anne Hathaway is Hollywood's latest golden girl. At the Critics Choice Awards Thursday night, she tied with her The Devil Wears Prada co-star Meryl Streep for Best Actress, and gave a meandering but gracious speech. Included in the speech was a shout-out to her father, who "protects me and has shown me that there are good men in this world and lets me know everyday that I am worthy of the love of good people." That veiled comment about Raffaello Follieri got the most applause – Hathaway has arrived.
Unfortunately, this arrival didn't save her from a beat-down from her Bride Wars co-star Kate Hudson while filming a pivotal scene. People magazine has the details.
Getting into character a little too much, Kate Hudson says she accidentally punched her Bride Wars costar Anne Hathaway in the face during the movie's catfight scene.

"We were really tired, and I had this big rock on my finger. … I whacked Annie in the face so hard," Hudson said on the Rachael Ray show Thursday. "She was like: No, no, keep going because she was so into it. … Two hours later, she's sitting in the back of a car with an ice pack on her face. I was so bad. I really clocked her."

Hudson, 29, also told Ray about the main man in her life – her son Ryder.

"He's got a different brain than I do. I was all sport and energy. … Ryder is a mind child," she says, "He really loves music, and he knows every word to "Viva La Vida," the Coldplay song."

She's also surprised how quickly he's growing.

"Today we were talking about the day he was born…and now that he's 5, it's like: Mom come on I'm going to be five for a whole year. I'm like: Wow, that's amazing, one whole hand," Hudson says.
It's rare to hear about actresses suffering physically for their work – even rarer because Bride Wars is supposed to be a silly comedy. I guess all of those pratfalls come at some physical expense, and I'm glad Hathaway kept going with the scene.
With regards to Hathaway's veiled comments about Raffaello Follieri, I was a little surprised. She hasn't said much about him publicly, but I thought her way of pivoting to her relationship with her father was a relatively classy way to talk about the situation. Her lead role in Rachel Getting Married continues to gain critical buzz, and she'll probably be considered a shoo-in for an Oscar nomination now.