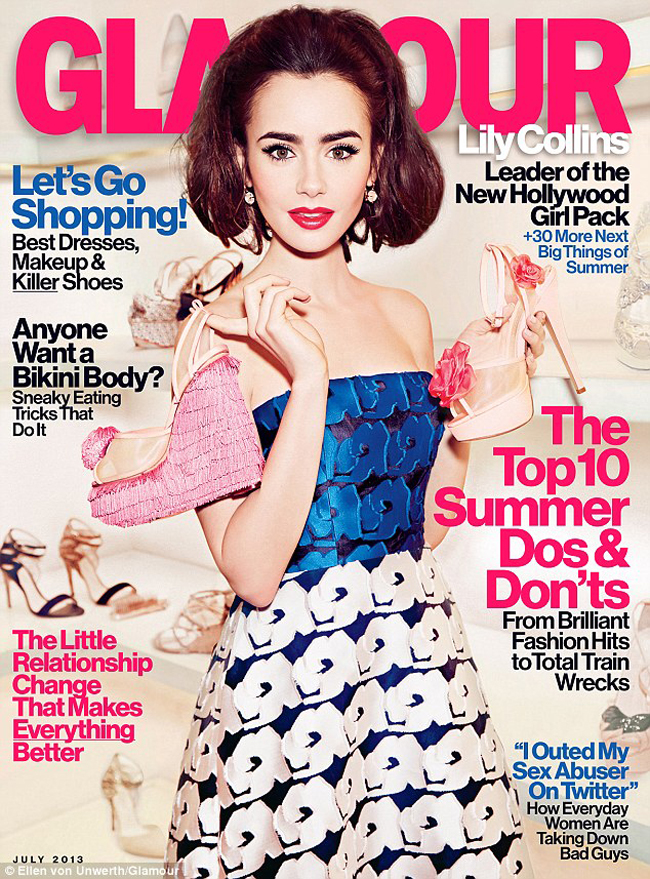 Lily Collins covers the June issue of Glamour magazine to promote her upcoming role in August's The Mortal Instruments adaptation, a young-adult, fantasy-adventure film in which Lily plays the role of Clary Fray. Glamour is describing this as the "Next Big Thing" issue, so I guess that means Lily is supposed to make it super big now. The magazine even goes so far as to claim, "What The Hunger Games did for Jennifer Lawrence, this film franchise will do for Collins." We shall see, won't we?
Lily has been photographed by Ellen von Unwerth in the photographer's signature colorful and quirky style, and it suits the young starlet who's looking to make a breakthrough beyond just being "Phil Collins' daughter." (Now I'm going to have "Sussudio" in my head for the rest of the week.) Lily is wearing a Dior top and skirt on the cover, and she's also shillying pink Charlotte Olympiawedges. The editorial features Lily wearing a black-and-white Burberry Prorsum top and skirt, a black-and-white Pucci cape, and a slightly gaudy blue strapless Valentino dress. She wears them all well even if the blue dress is mostly wearing her. Here are some interview excerpts: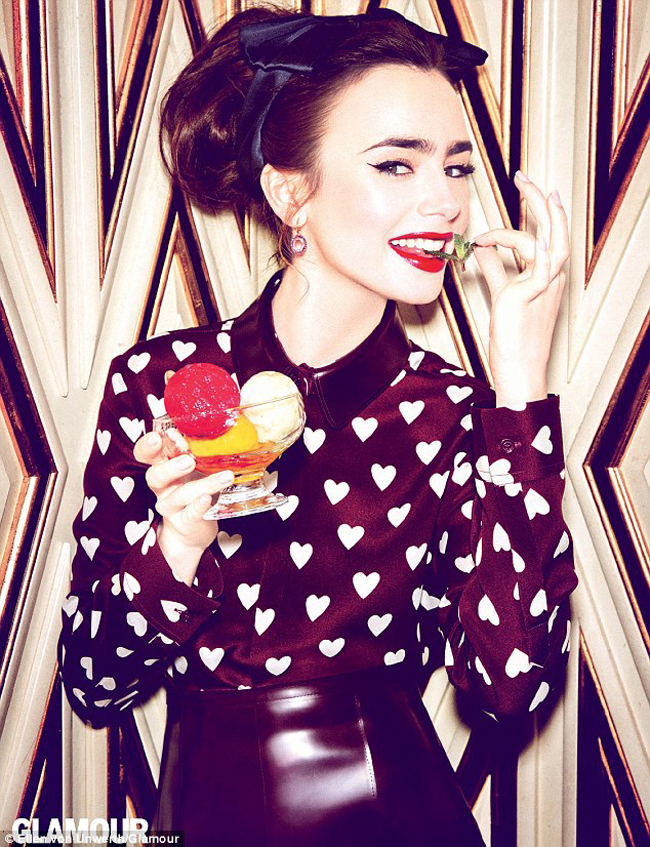 Her dad didn't make her famous: "I always wanted to do it on my own. I never wanted anyone making phone calls. A name can open doors, but there's a quote I like: 'Personality can open doors, but only character can keep them open.'"

Who is her mentor? "My mom. It has nothing to do with acting. She guides me through my personal life, telling me to experiment. She lets me borrow her vintage. She has Chanel and eighties stuff from Yohji Yamamoto and Vivienne Westwood that she got when vintage wasn't cool. She'd wear them to events with my dad, and everyone would ask what she had on; when she said 'vintage,' they'd go, 'Oh, that's nice,' and, you know, turn the corner."

On The Mortan Instruments: "I'm so excited! I had read and really loved the books. The fans [in Toronto, during filming] were amazing. They'd bring us cookies, mugs, tea, drawings, everything. I want to make sure I live up to their expectations as Clary."

On JLaw: "She's a friend; she's awesome. The choices Jennifer has made have been really interesting. And I loved how she carried herself after her trip [going up onstage] at the Oscars. I was like, 'You go, girl!'"

Does she dress for the paps? "Even in L.A., where everyone's in yoga pants, I've never been the girl to run around in sweats. I love fashion and always have something put together, but I won't wear anything specifically to be photographed in. I have become more cautious of making funny faces in public.""
[From Glamour]
I don't know, man. Is Lily truly talented enough that she wouldn't need Phil Collins' name to get her foot in the door? I've only seen her work as Snow White in Mirror Mirror, and honestly, Julia Roberts was chewing so much scenery that I couldn't concentrate on anything else (even the cheap-looking costuming) in the movie. Whatever the case, I'm always amused to hear today's crop of celebrity progeny insist that nepotism doesn't exist.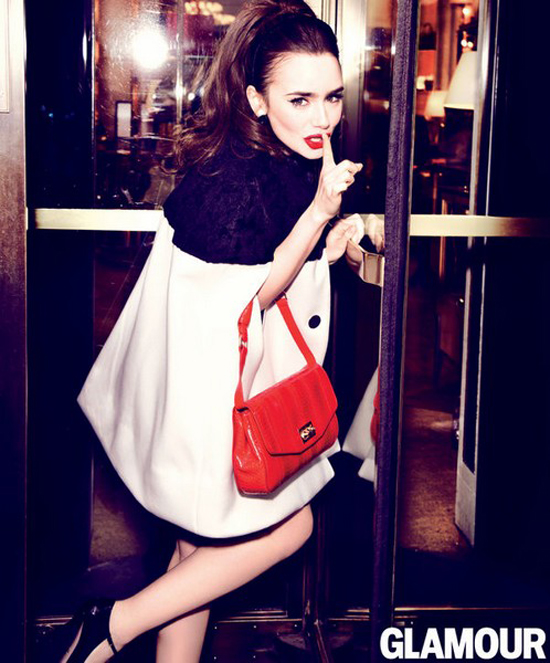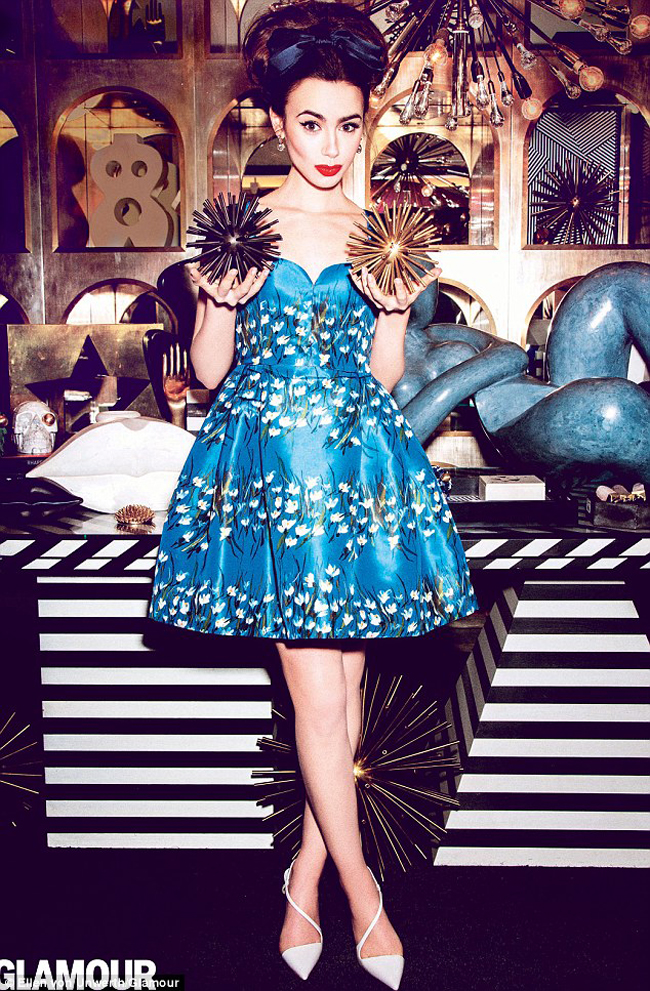 Photos courtesy of Glamour