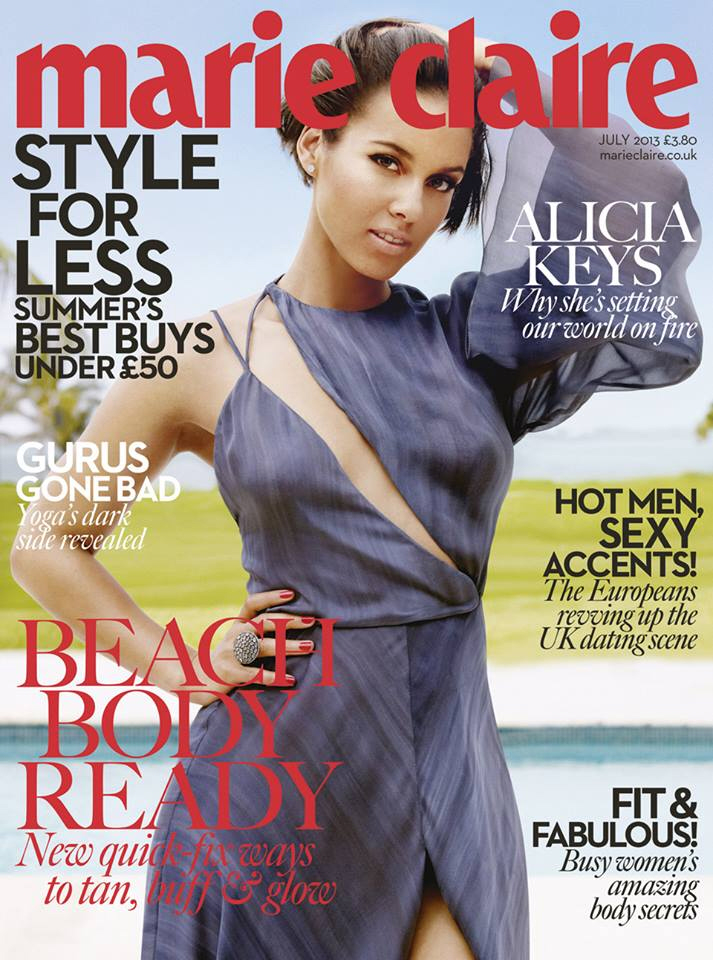 Alicia Keys covers the new issue of Marie Claire UK. It's a lovely shoot – Alicia's hair looks good, her face is always beautiful, and her body looks great. Unfortunately, Alicia is still kind of an a—hole. Yes, she sings pretty songs and yes, she gives back to charity. Praise her for that. But do not praise her for the sketchiness that is her relationship/marriage to Swizz Beatz. Swizz Beatz was married to Mashonda Dean when he started fooling around with Alicia. Alicia is the reason Swizz and Mashonda are no longer together. Swizz was also fooling around with other women throughout his marriage to Mashonda, and one woman in particular (Jahna Sebastian) coincided with both his marriage to Mashonda AND his affair with Alicia, and that relationship ended up with the woman having a baby. A baby that Swizz has neither acknowledged nor financially supported.
Throughout her relationship and marriage to Swizz, Alicia has barely answered any questions about the shadiness of this whole mess. Whenever she's confronted with direct questions – rarely – Alicia pushes them off or acts like she's too important to deign to justify Swizz's shenanigans. Their marriage and the birth of their son Egypt continued the "whitewashing of Alicia" in the press, and nowadays whenever the big outlets cover her, they make it sound like Alicia and Swizz are completely in love and he's such a doting father and you wouldn't know that he's got a bunch of other children that he doesn't support and barely sees.
That's all backstory because Alicia continues the whitewash in this new Marie Claire interview. She talks about meeting Swizz and what she felt and never once does she reference the shenanigans with Mashonda:
They are one of the music world's golden couples, supporting each other through their careers and helping to raise two-year-old son Egypt. But it seems that things weren't always so rosy between Alicia Keys and Swizz Beatz, as the superstar has admitted that she found him 'annoying' when they first met. Speaking to Marie Claire, the 32-year-old opened up about the couple's long journey to romance, while posing for an ethereal new photo shoot.

'Honestly, I didn't really like him that much,' she said, talking about when she first met the American hip hop artist while they were both teenagers. 'I though he was ostentatious. He'll drive the fastest, brightest car, wear the biggest jewellery, the loudest jacket; everything with him is really over the top,' she admitted.

'I was like, he is so annoying,' she said, reminiscing about when she saw him drive past a restaurant in a huge white Rolls-Royce Phantom.

But after years of knowing each other, and not quite managing to work together, the pair found themselves in the studio, and a relationship soon followed.

'I fought tooth and nail,' she said, admitting that she originally didn't want to work with him. 'Finally though, we did it and we had a ball.'

'I think we've taught each other a lot,' she said. 'He's taught me how to live more fully and I've taught him how to live more deeply.'

The singer also admitted that she struggled with the negative attitudes of people close to her during her rise to fame.

'There might have been people in my life who, now, when I look back, I realise were kind of insulting or abusive – verbally or emotionally – or just not supportive,' she said.

Speaking about her beloved two-year-old son, the singer says '[He] never gets grouchy or grumpy. He has a great disposition.'
I guess we're supposed to think that it's cute that Alicia took so long to come around on Swizz, that a good man was right in front of her the whole time or some kind of mindless rom-com trope like that. But I keep coming back to something Mashonda said in an interview: "We were married. Sleeping in the same bed and having sex every night while he was seeing Alicia. Okay? It was an affair. 100 percent. I don't know why people want to change that rule so much. We had just had a kid, for crying out loud. Our child was 8 months. I found out about Alicia two days before my son turned 1. They had been doing their thing for months before that." That's the time period Alicia is referencing when she casually says that she and Swizz "had a ball". Yeah.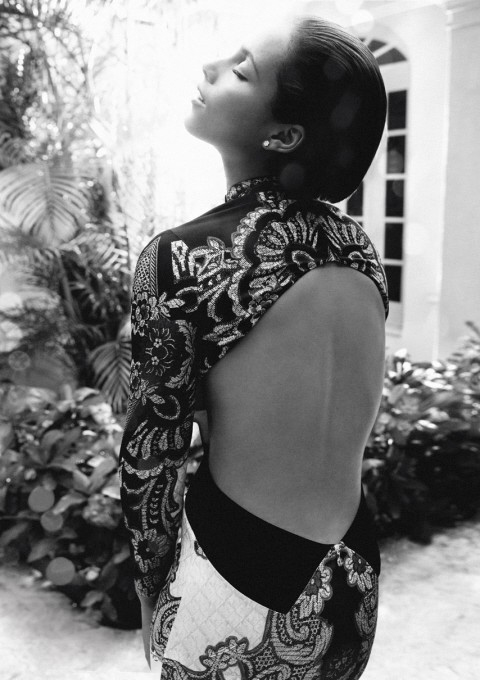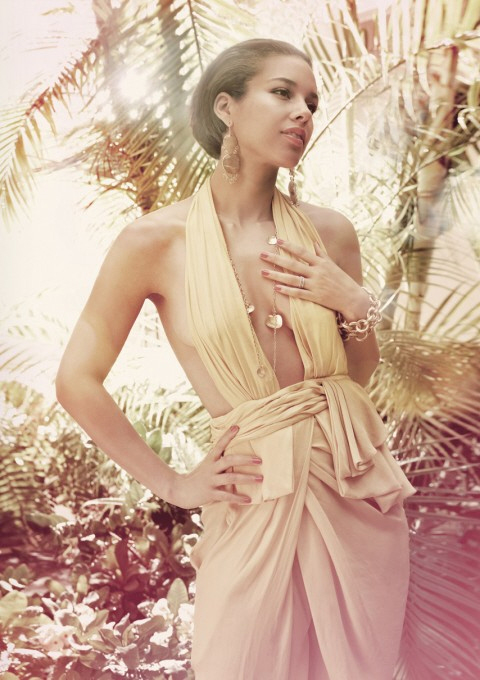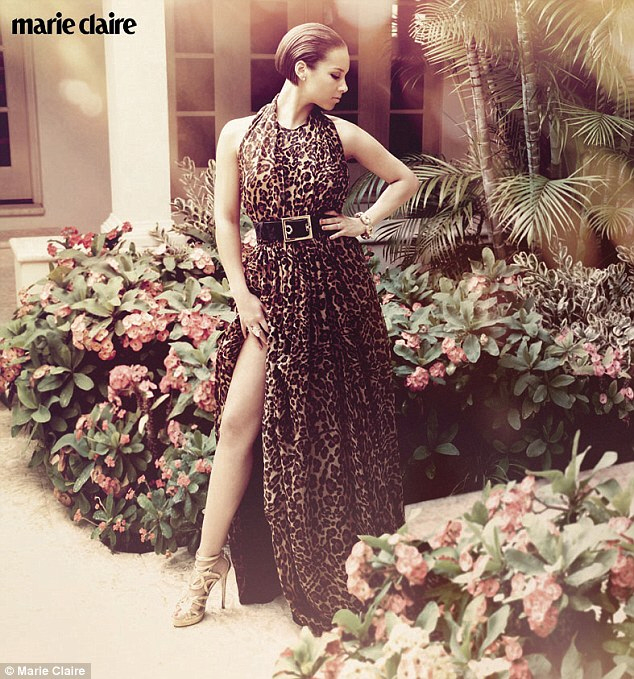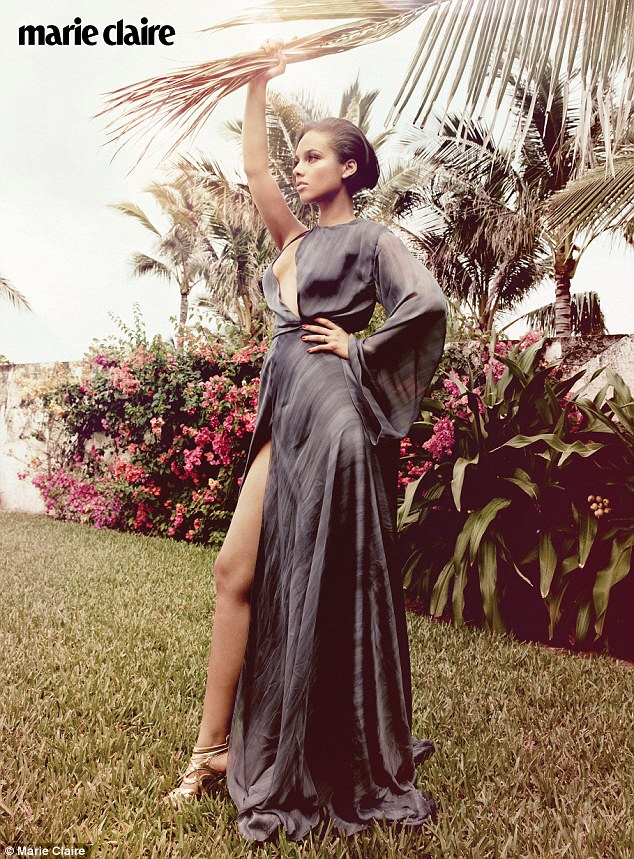 Photos courtesy of Marie Claire UK.