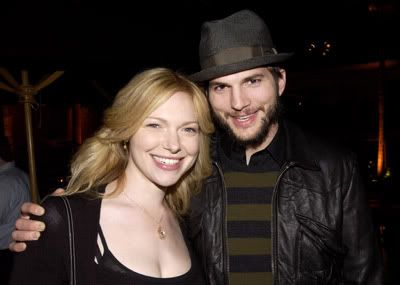 That 70s show is ending its eight-year run with a finale to air May 18th. Aston Kutcher became famous during his run on the show. Topher Grace also made the transition to the big screen, while Wilmer Valderrama became known for screwing starlets:
These were actors in their formative years.
"I went to Wilmer's high school graduation," Rupp says. "He called and said, "Mrs. Debra Jo, will you come to my graduation?' "
Two of the young actors weren't working in their first language. Kunis was born in the Ukraine, moving to the United States at 7. Valderrama was born in Miami but moved to Venezuela at 3.
All seemed to capture a world that seemed low-key and goofy…
Mostly, these teens horsed around in the Forman basement. Upstairs, Red and Kitty ranged from lust to arguments.
"Kitty was the final word," Rupp says. "She was a feisty little thing."
Meanwhile, the kids drifted through life. Eric moved in and out of his relationship with Donna (Prepon), the girl next door.
Capturing its old-young audience, "That '70s Show" did fairly well in the ratings. In recent years, only a few shows ("Seinfeld," "Friends" and "Everybody Loves Raymond") have drawn better Nielsen ratings in afternoon reruns.
Some of the actors have gone on to bigger things. Grace and Kutcher have moved on to film.
"Ashton, from the beginning, was a go-getter," Rupp says.
Now they've reconvened for a finale. Even on TV, the 1970s must come to a close.
The wrap party for the series was held on Saturday night in Los Angeles. Topher Grace was noticeably absent from the party but Ashton Kutcher showed up with his old lady, Demi Moore, and her daughter Rumer. Other cast and friends shown include Don Stark, Kurtwood Smith, Laura Prepon, Mila Kunis, Debra Jo Rupp, Wilmer Valderrama, Josh Meyers, Chris Masterson and Melissa Joan Hart.