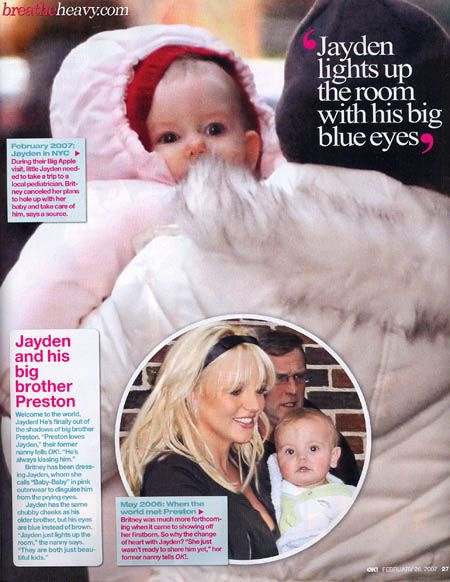 The reason why we haven't seen Britney this week after her barf-filled stripper bikini weekend (although it really didn't occur to me until I read this story) is because she flew to Miami with her kids and without the help in an attempt to spend some quality alone time with them. It only lasted a few days and not a week as she intended, but it seems her heart was in the right place and was not two sizes too small as we all assumed: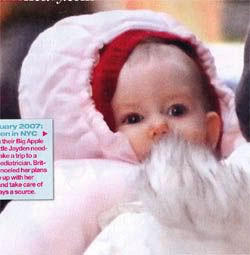 Usmagazine.com has learned that Spears, 25, checked into the Four Seasons Hotel in Miami around midnight on Monday with her boys, 17-month-old Sean Preston and 5-month-old Jayden James.

"The hotel was full so we put Britney and the children in a two bedroom condo hotel room, which is very residential and like a big city apartment," a hotel source tells Us.

According to the source, Britney and her boys made the trip solo – minus even a nanny. "Britney called the concierge desk, saying she was not able to shop herself because she had no one to watch the kids, so would a female please go out and buy her a bright-colored bikini," says the source. "Britney was totally wishing she had help to take care of those kids."

By Wednesday night, the source says, Spears was feeling so overwhelmed by the kids that even though she had planned originally to stay a week she decided to fly back to Los Angeles on Valentine's night. "Something happened," explains the source.
We shouldn't give her a break because she's clearly outside the norm as to what is acceptable behavior for a mother of two, but at least she's trying. She could have brought a nanny with her, but she wanted to make some kind of statement about how she's capable, and she seems to have also wanted to spend time with her kids away from the paparazzi.
It's possible she doesn't have a good nanny at this point, though. Her former live-in child minder told OK! magazine that she's actually a decent mother who tries hard, but usually doesn't know her ass from her elbow.
Britney's old nanny said that she needs help with the little things when it comes to her babies, but that she really loves them and will sleep with them at night when she eventually gets home from partying.
She also said Britney routinely walks around the house butt-naked and conducts business with people from her bathtub:
"She is really sweet and loving," her nanny tells OK!. "She loves her kids, she just not very knowledgable about the little things…"

The nanny recalls that even though she stopped breast-feeding her youngest, Jayden James, months ago, the caring mom thought she could just pick up where she left off. "Two weeks ago, she thought she could start breast-feeding Jayden again."

As confounding as it might sound, Britney loves her children, Sean Preston, 17 months, and Jayden, 5 months, and wants only the best for them, those around her insist. "She's very loving and when they cry she is very patient…"

"She wakes up at two or three in the afternoon, and lives this very free life, where often she's not wearing many clothes," her former nanny says. "She'll be in the bathtub and have meetings, and people just come in there and talk to her…"

"When she comes home at night," a former employee tells OK!, "she takes them from the nanny and brings them in her room and puts them in bed with her, no matter what time it is."
[From OK! print edition, January 19, 2007]
That's kind of the impression I already had of Britney, although in my version she was passing out in her room without the children. It's somewhat endearing to hear that she drags them into her drunken bed with her.
The article was written when Britney was still with Isaac Cohen, and talks about what a helpful, likeable guy he is, which kind of explains why he dropped her like a hot potato.
This week's OK! has the first pic of Jayden James, header and inset, and a doubtful story about how Britney and Justin might reunite. Jayden was said to have fallen ill with breathing problems recently. He was given antibiotics, a nebulizer and steroids to clear his chest after "wheezing" fits. Jayden's health problems may have been what cut Britney's Miami trip short.
And US Weekly has the story about how everyone is abandoning Britney. Her recent ex Isaac Cohen sold his story to News of the World while K-Fed and Justin shared an overhyped handshake on the red carpet at Timberlake's February 9 Grammy party.
OK! story from Sammie's Effluvia. OK! Jayden James picture from BreatheHeavy.com.