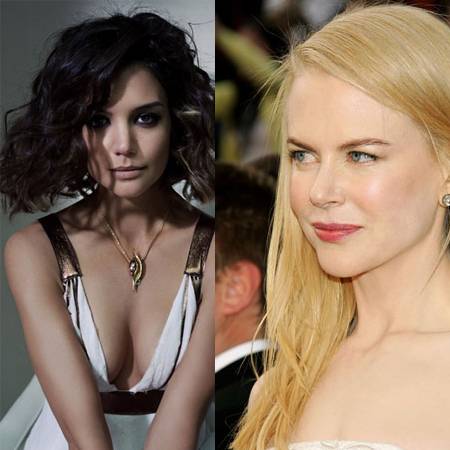 It had to happen … the ultimate blended family is working it out Brady style. No need for Tom – the redhead and the brunette have it all well sorted. I guess he could bleach his hair and they could be Josie and the Pussycats, but that midget is an afterthought
Yes Nicole and Katie are large and in charge … sisters are doing it for themselves.
Katie Holmes became stepmother to Nicole's adopted children, Isabella and Conor, when she married Nicole's ex-husband Tom Cruise, and both actresses worker together on how to handle their kids.

A source said: "Katie was having lunch with friends in Beverly Hills when Isabella rang her to talk to her about a party she was going to.

"Katie said, 'That was Bella. She wants to wear a dress to a birthday party but I think it is much too grown up for her. But she says her mother approves. So I need to check with Nicole.'
Any second now they will be comparing notes on life in flat shoes. the heartache of car pooling to the Scientology temple, how often to replace bounced out sofa cushions. I think this is absolute proof that very sensible women keep marrying that no-talent munchkin because money is an aphrodisiac. He used to date Penelope Cruz as well … its too much hotness for one wee leprechaun.
The Bella has Two Mommies tale continued:
Then after she'd made the call to Nicole she told her friends, 'Nicole agrees with me. The dress is all wrong. The drama of it all! If I've learned one thing about teenagers, it's that little things mean a lot.'
A life on Dawson's Creek never taught her the lessons that one Academy Award winning phone call could deliver.
pics via shotsdaily