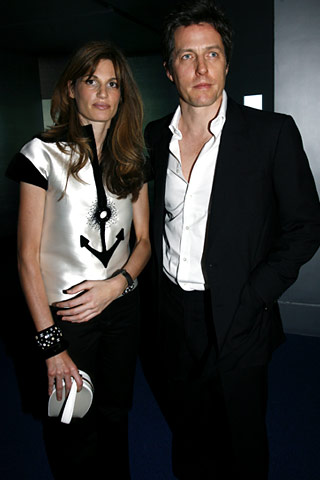 Wow, can you believe that Hugh Grant and Jemima Khan have broken up? I guess I can…their three year relationship in which Hugh was domesticated by Jemima and primped to be a doting husband ended amicably– even despite the fact that Hugh has a roving eye and was a total douche. Hell, if I was Jemima, I would have put blinders on that horse face.
When Barbara Walters noted that he'd been "domesticated" by Khan, whom she described as "pretty attractive and pretty intelligent," Grant said, "I agree with you, I think she's a cracker. She doesn't need my help anyway."
According to Treebeard's Concise Dictionary of British Slang, it means, "splendid and wonderful."
I'm glad that Jemima finally dumped this loser. She seems like a really nice lady (see, you don't have to call people, cracker, Hugh). I mean, she's a UN Ambassador for Unicef and donates to a cancer hospital– she even started her own brand of ketchup! What do you do, Hugh? Spread diseases.
Photos courtesy of Style.com and Fametastic.