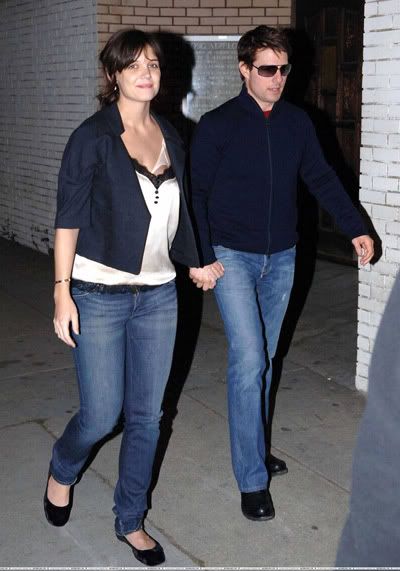 The NY Daily News notes that Tom was as tall as Katie in heels at the MI3 fan screening in LA last week, suggesting the pint-sized star, who is 5'7″ to Katie's 5'9″, was wearing lifts:
When Cruise and Holmes first went public with their romance last year in Rome, where they were frequently photographed smooching, their altitude difference was sharp and clear.
But on the red carpet at the L.A. premiere of "M:i:III" the other night, Tom and Katie were … well … exactly the same height!
And Katie was wearing what appeared to be white patent leather Roger Viviers that come with a 3 1/4-inch heel — which would have raised her height to over 6 feet.
So how is it that Tom could stand with her eye to eye, when he should have been staring at her chin?
Cruise's spokesman, Paul Bloch, insisted that nothing was out of the ordinary: "He had normal shoes on."
But the most plausible answer appears to be lifts — which, when built inside the heel of a standard dress shoe, can easily add inches.
You can't blame the guy for trying to look a little taller.
Tom and Katie have sent a baby gift basket to Brooke Shields in response to Shields' personal note congratulating them on the birth of Suri. Now that the Tom and Brooke have newborns born on the same day in the same hospital, it's time to bury the prozac hatchet.
Here he is with Katie out in LA. She looks tired and her nursing bra is peeking out the top of her shirt. Tom is rushing her somewhere that's likely Scientology-related and he ignores the photographer, while Katie attempts to smile. [via]