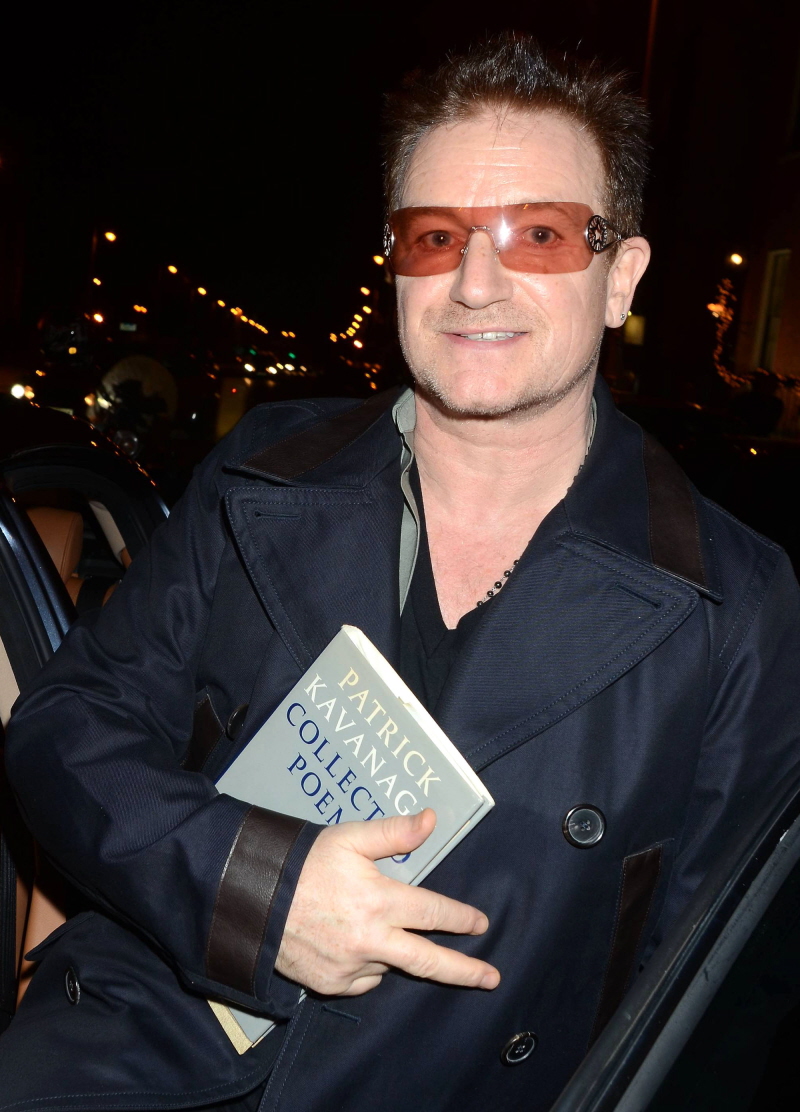 I've been sitting here debating with myself about a hypothetical. If I was approached by someone from Focus on the Family – an American political/Christian organization that is rabidly anti-gay and anti-choice – and asked to give an interview, would I do it? I probably would, just because I'm not afraid of a fight. That being said, I will throw shade on celebrities who decide to sit down with Focus on the Family for what amounts to evangelical/Republican propaganda. So it is with Bono. As you know, Bono was/is big with debt relief in Africa and AIDS research and treatment in developing countries. I have some significant issues with the way Bono applies and promotes his activism, but I do think his heart is in the right place. But still… I can't believe he sat down for this Focus on the Family interview which sounds like a GOP testimonial.
U2 rocker and activist Bono opened up about his religion, politics and his charity work in a recent interview with Focus on the Family President Jim Daly, during which he praised former President George W. Bush for his work fighting AIDS in Africa.

Bono talked about the issue from a religious point of view, comparing it to leprosy, during the interview, which will be broadcast on Tuesday.

"I am here to thank the American people for that," he said. "And I also want to thank the evangelical community for that, because it wouldn't have happened without their leadership, because they, like myself, pestered George Bush and the administration, who actually deserve praise for starting this out."

Bono also discussed his own religious beliefs more specifically, speaking openly about his faith. Growing up in Ireland with a Protestant mother and a Catholic father, Bono imitated C.S. Lewis in "Mere Christianity," where Lewis argued that Jesus was a lunatic, liar or Lord.

"When people say 'Good teacher,' 'Prophet,' 'Really nice guy,' … this is not how Jesus thought of himself," Bono said. "So, you're left with a challenge in that, which is either Jesus was who he said he was or a complete and utter nut case."

"I believe that Jesus was, you know, the Son of God," Bono said, according to a transcript obtained by the Religion News Service. "I understand that for some people and we need to … if I could be so bold, need to be really, really respectful to people who find that ridiculous."

Bono also made comparisons between biblical characters and music.

"First of all, David's a musician so I'm gonna like him," Bono said. "What's so powerful about the Psalms are, as well as they're being gospel and songs of praise, they are also the Blues. It's very important for Christians to be honest with God, which often, you know, God is much more interested in who you are than who you want to be."

As Bono praised David's "honest language with God," Daly noted that "sometimes it gets you into hot water with the more orthodox folks, because they see you as edgy, maybe too edgy at times."

Bono made an explicit connection between his faith and his work with the ONE Campaign, the humanitarian organization he founded to fight poverty and disease.

"It's very annoying following this person of Christ around, because he's very demanding of your life," he said while chuckling. "You don't have to go to university and do a Ph.D. to understand this stuff. You just go to the person of Christ."

In his work on HIV/AIDS, malaria, poverty and other areas, Bono noted the challenge of finding the right issue to take on.

"We have a pastor who said to us, 'Stop asking God to bless what you're doing, Bono.' Which by the way, I constantly do. He said, 'Find out what God is doing, 'cause it's already blessed,'" Bono said. "And when you align yourself with God's purpose as described in the Scriptures, something special happens to your life. You're in alignment."

Daly said that he expects there may be some backlash over his decision to interview the rock icon, the Religious News Service reported.

"Does he use a bad word here and there? Yeah, probably. Does he have a Guinness every now and then? Yeah, probably," Daly said. "When you look at it before the throne of God, I think (God will) say, 'You saved so many children.'"

Still, Daly said he felt interviewing Bono was the right thing to do because the singer is clearly very focused on his faith.

"Bono clearly accepts Jesus as Lord. I wasn't prepared for his quickness in inserting Scripture into the dialogue," Daly said. "I celebrate with them that they have four children and have been married 30 years. Not everyone in the Christian community can say that."
I imagine it's probably to Bono's credit that he can walk into a meeting with a man of God and a secular politician and be able to passionately convince both to work with him. That is admirable and praiseworthy. And hey, it's Bono's real faith – I don't believe it's for show, it's not an act he's putting on to get what he wants or to apologize for doing something wrong. He's a man of faith, that is a given. I half-admire his ability to move in the Focus on the Family world with such ease. But… I also think that aligning the evangelicals with the African AIDS crisis is a lopsided reaction to a major health catastrophe – the Christian community wants HIV/AIDS treatment, and God bless them for that. But some secular people need to come in and start realistically talking about family planning, birth control and condoms too. Treatment is great – and so is HIV prevention.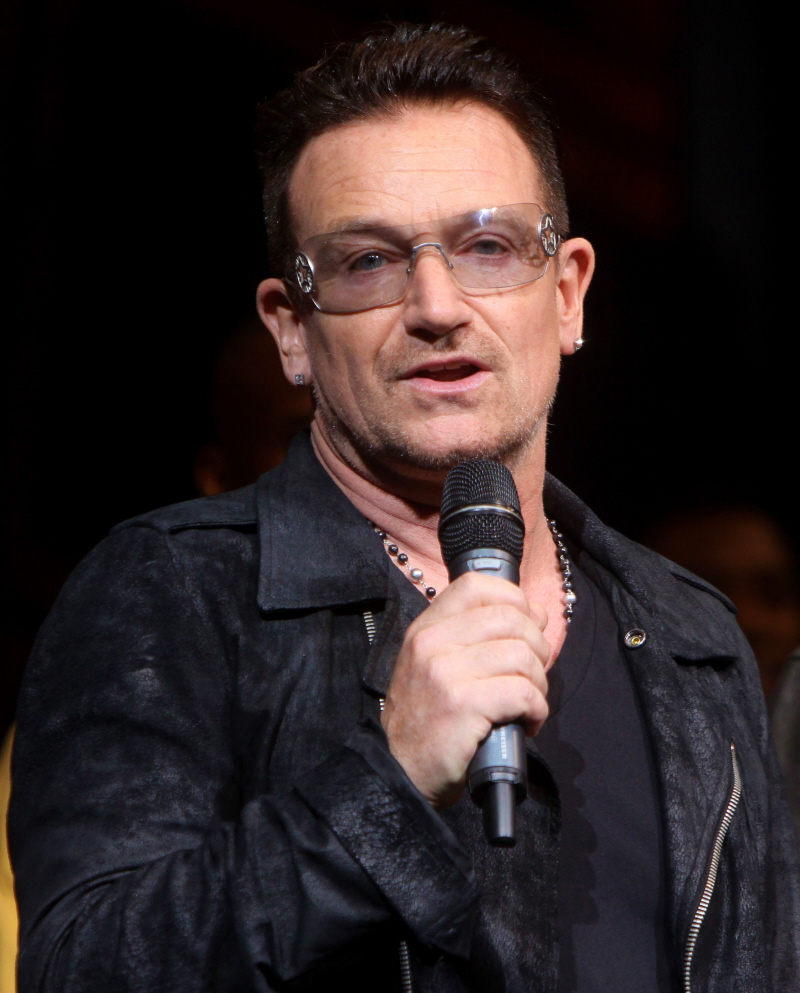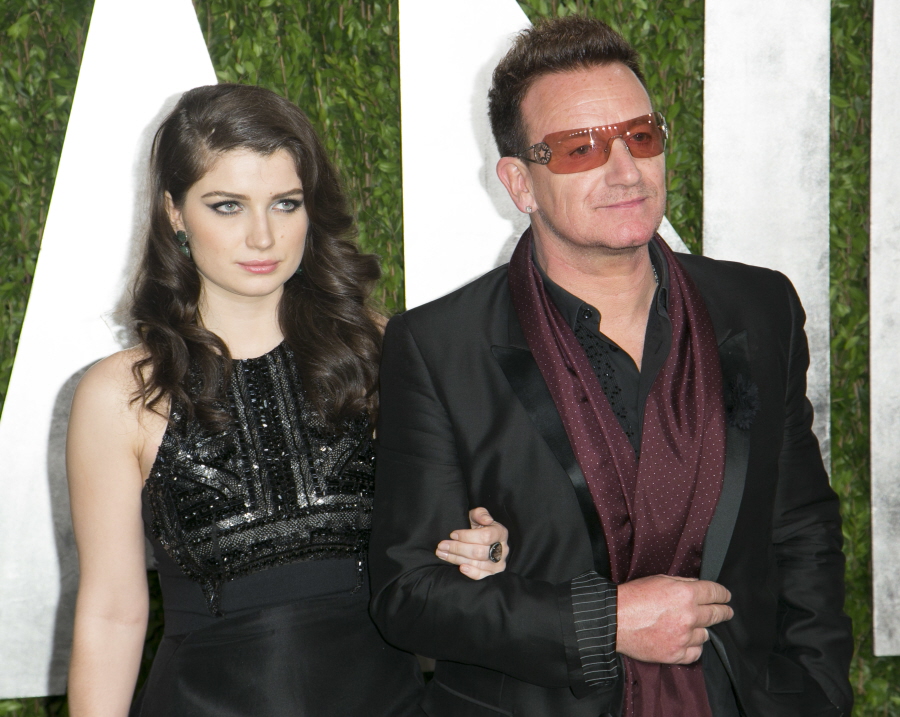 Photos courtesy of WENN.