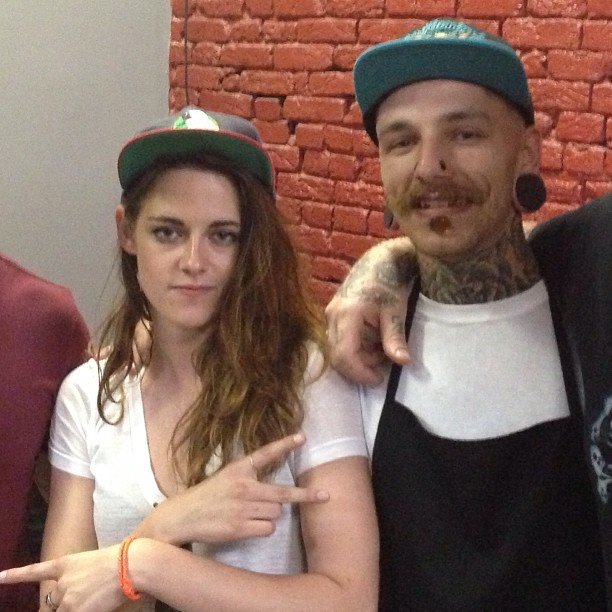 Here are some new photos of Kristen Stewart in Nashville, Tennessee on Friday. She stopped into the Pride & Glory tattoo parlor and she got her first (?) tattoo. Do you believe that this is her first? I feel like she might have gotten some smaller ink a few years ago, but I might be confusing her with someone else. These photos are from Pride & Glory, but what's weird is that they aren't really showing off her new ink. Reportedly, Kristen got something red put on her right wrist, but E! News says, "it's unclear if it's a symbol with any special meaning. The source could not provide any specifics on K.Stew's tat, although it appears to be her first." Please please please don't let it be a yin-yang symbol. Please.
Apparently, Kristen came into the tattoo parlor with "five people, all on their way to the airport, and they stopped in to get a quick tattoo." Wait, airport? I thought Kristen was on a road trip! As in, I thought she was driving around the country, stopping in Amarillo, Texas for some beer and wings at Hooters, then driving up to Memphis and then Nashville. But did Kristen and her friends actually fly there? That defeats the purpose of a trip to the heartland. Part of the joy of a roadtrip through that part of the country is the little diners and truck stops along the way. And listening to the radio and putting your feet on the dashboard and driving barefoot and… ah, I miss my youth!
A source also says that at the tattoo parlor, Kristen was "supersweet, real shy. Didn't want anybody to know who she was… [she] had a great time." I'm genuinely glad. I think it's really smart for her to get out of Hollywood for a roadtrip (or whatever) and just hang out with her friends, doing fun stuff. Going through Memphis and Nashville sounds WAY more fun than hanging out at the Chateau Marmont. Cough.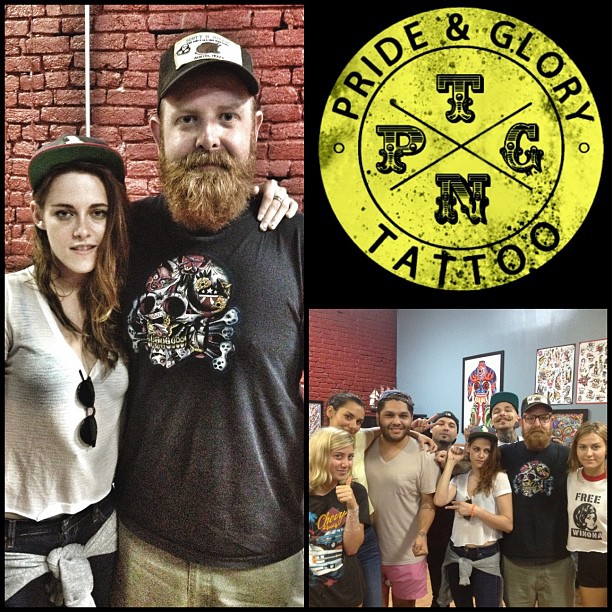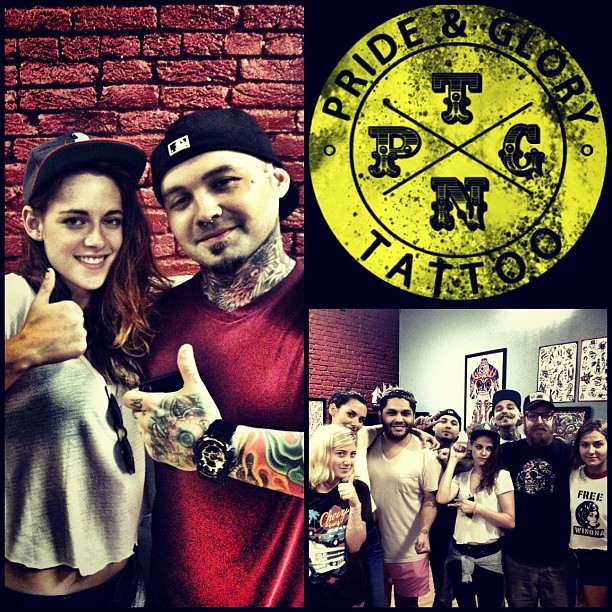 Photos courtesy of Pride & Glory Tattoos.