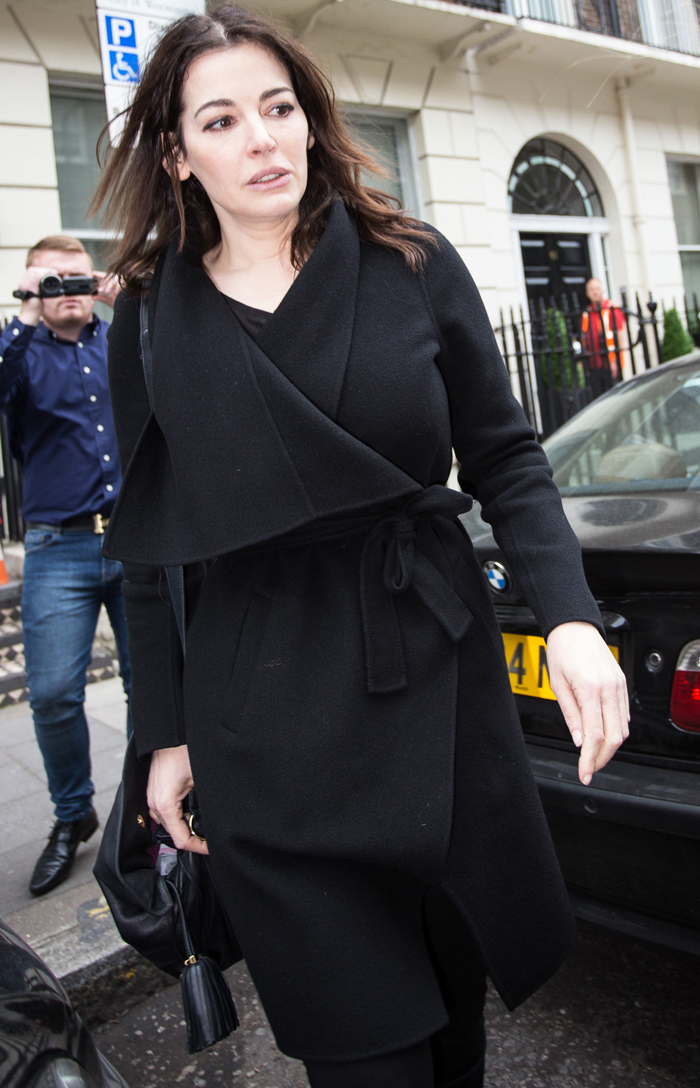 Only a little over a week has passed since we covered the photos of celebrity chef Nigella Lawson being choked in public by her husband of nearly ten years, Charles Saatchi. In the aftermath, Saatchi laughed off the incident as a "playful tiff" and waltzed away with a police caution while Nigella fled their marital home and felt pressure to leave Saatchi while also declaring, "I am not some sort of battered wife."
In the past 24 hours, several more stories about Nigella and Saatchi have been published. The Mail has spoken to the photographer who witnessed the choking incident, and he has revealed that Saatchi berated Nigella for a total of 27 minutes, and the photog was snapping away during the entirety of their argument. That means Nigella endured 27 minutes of choking (with Saatchi grabbing her neck a total of four times) and nose pinching (in public), and nobody thought to find the situation disturbing or odd or decided to intervene. The Mail also has photographs of Saatchi and Nigella's respective attorneys, Raymond Tooth and Baroness Fiona Shackleton, lunching together on Sunday at the same restaurant where the incident took place. Who knows what's going on there, but I think we can make a hopeful guess.
In the meantime, Saatchi isn't keeping his mouth closed at all even though he's only making himself look like more of an ass. In those photos from the Mirror, one can see that he's not only grabbing Nigella's throat, but he's also tweaking and pinching her nose quite a bit too. Now Saatchi says the whole thing was not only a silly little tiff, but Saatchi also claims that he was merely picking Nigella's nose for her. SERIOUSLY: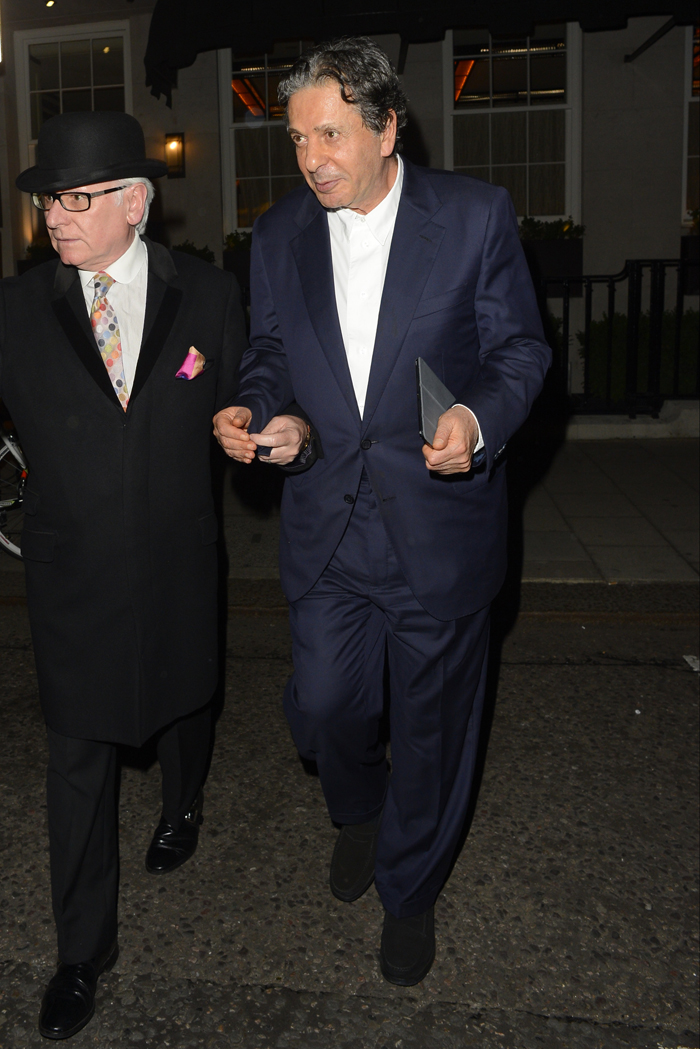 Nigella Lawson is planning to escape the spotlight surrounding her marriage to millionaire art collector Charles Saatchi by spending more time in America, it was claimed today.

Friends say that Ms Lawson may bring forward plans to fly to Los Angeles at the end of the summer to film a second series of her US TV series "The Taste." She is looking at renting a house in LA during filming.

Details of the possible move came as she begins a second week living apart from her husband after the publication of pictures apparently showing Mr Saatchi grabbing his wife's neck as they dined at Scott's restaurant.

"Going to America may give Nigella the space from her husband to help find a way to repairing the damage that has been done," said a Los Angeles TV source. "After all that has happened in the past couple of weeks, the States may be her best way of finding the privacy she needs."

The reality contest, which co-stars US chef and author Anthony Bourdain, features Ms Lawson and other judges ruling on food with blind single-spoon tastings. The first season did little to raise her profile in America, where she remains relatively unknown.

There were reports today that the incident at Scott's in Mayfair may have lasted as long as 27 minutes. Further images show him twisting his wife's nose and putting a finger in her nostril. Mr Saatchi told the Standard today that "even domestic goddesses sometimes have a bit of snot in their nose. I was trying to fish it out."
[From Evening Standard]
Even if Saatchi was completely telling the truth about picking Nigella's nose like that's a completely normal thing to in either public or private, I don't get how he thinks we'll forget that he had his hand around his wife's throat and that they left the restaurant separately with Nigella wiping away tears. But sure. He was just wiping the snot out of her nostrils. Whatever.
Oh, and that detail from the Standard about how Nigella is allegedly planning on moving to the states to get away from Saatchi? Good plan.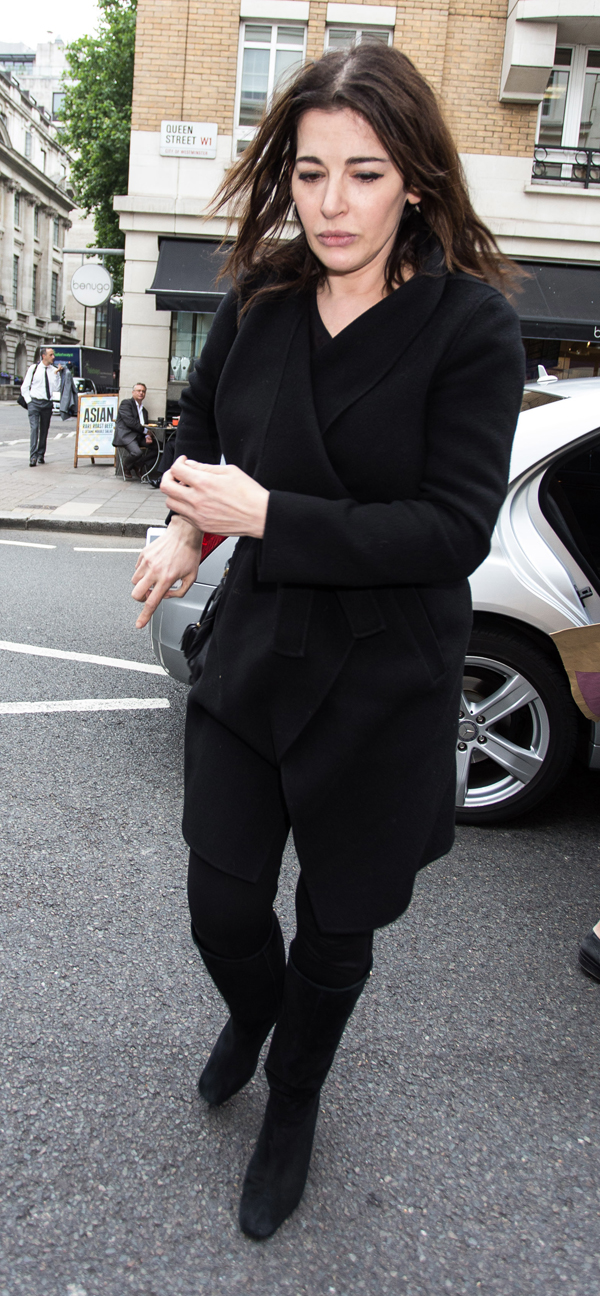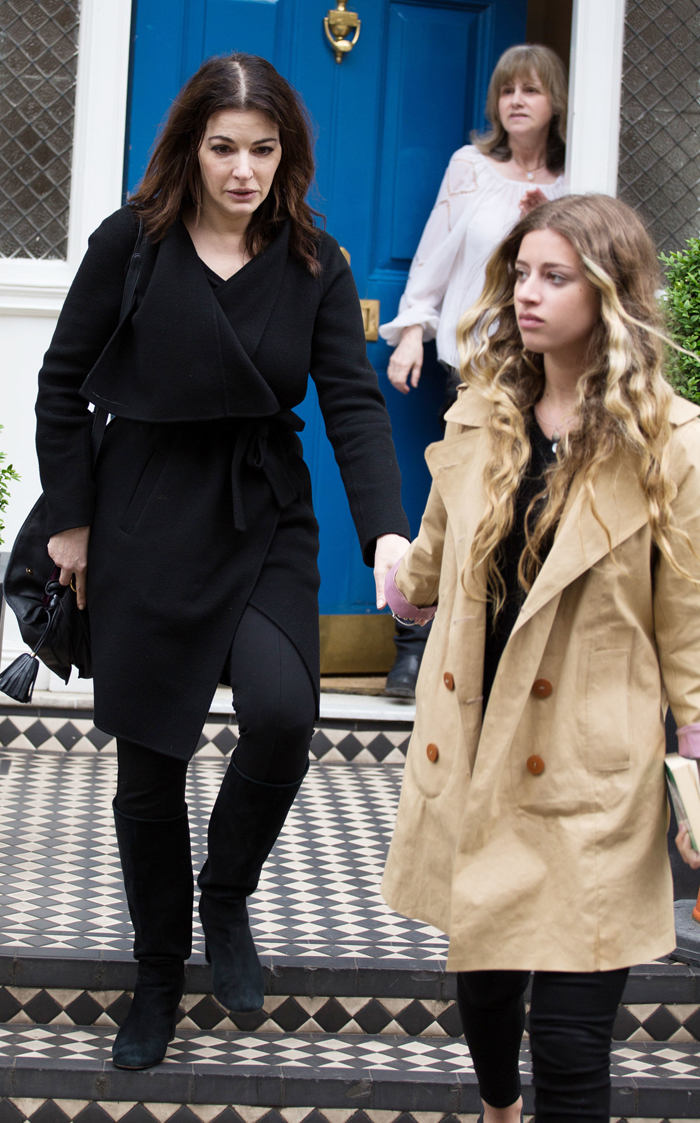 Photos courtesy of WENN