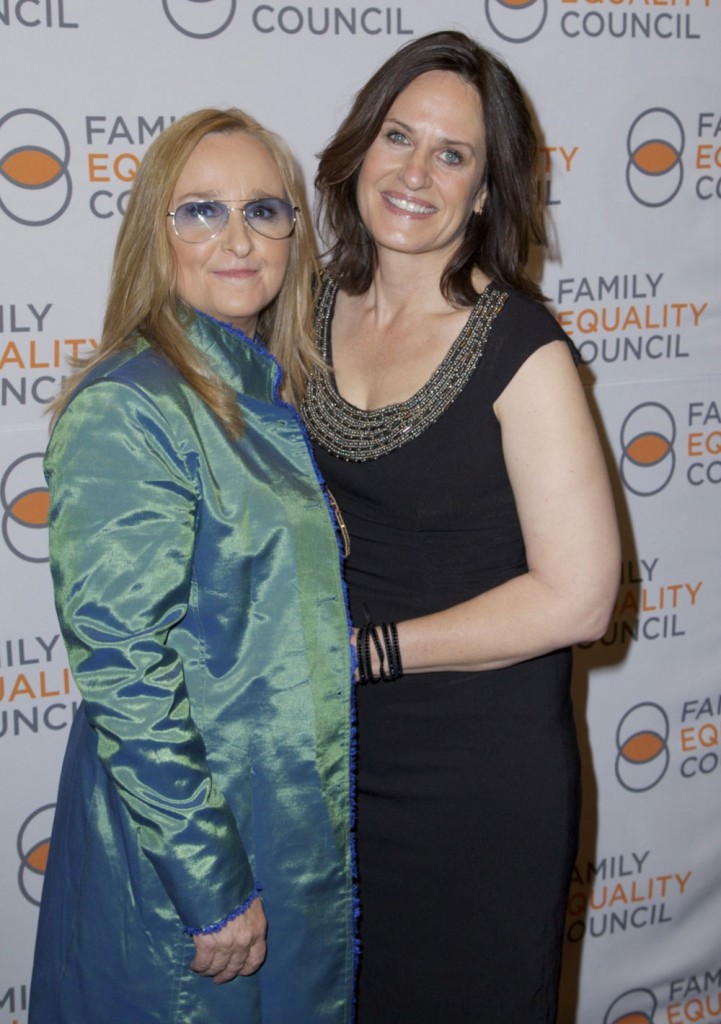 Melissa Etheridge is plucking my last nerve lately. The last we heard from her, she was throwing shade on Angelina Jolie for not being "brave" by choosing to have genetic cancer screening and then preemptively opting for a double mastectomy. Yes Melissa is a breast cancer survivor, but that's no excuse for fronting like her struggle was the only option to deal with cancer. She also seemed to suggest that cancer victims could control the course of the disease with diet and stress-relief.
In this latest story, Melissa is engaged to her partner of three years, Linda Wallem, following DOMA's historic overturn. This will be Melissa's second marriage, sort of. She was symbolically married to her last partner and the mother of two of her children, Tammy Lynn Michaels, in a lavish commitment ceremony in 2003. Only Tammy Lynn and Melissa never "officially" married during the window of time when it was legal in California. The two broke up in 2010 after Tammy Lynn figured out Melissa was cheating on her with mutual friend Linda. Melissa didn't want to pay child support, alimony or any kind of settlement to Tammy Lynn, who gave up an acting career to raise their twins. She was eventually court-ordered to pay 50% of her music royalties and child support, although Tammy Lynn would have been entitled to half of all of Melissa's earnings during their marriage if it had been legal.
All of that is preface to this story that hypocrite Melissa is celebrating DOMA's overturn with an engagement. Congratulations to her, but she's not exactly the poster women for gay marriage.
"It is about family and I love my four kids," Etheridge, 52, said. "I called my now-fiancee. I'm looking forward to marrying my partner of three years . . . I'm going to get married in the state of California. I woke [the kids] up this morning telling them the Supreme Court ruling on DOMA. . .I love everybody out there. It's a great day."

Etheridge added, "Love is love and America is beautiful. . . It's just an amazing, amazing day. I'm proud to be an American."

The singer — known for hits like "Come to My Window" and "I'm the Only One" — also shared her engagement news via Twitter. "I look forward to exercising my American civil liberties and getting fully, completely and legally married this year to my true love of over three years, Linda Wallem," she wrote.
Well, Melissa didn't really want those civil liberties to kick in when it came to treating her ex, the mother of two of her kids, fairly. During her split she was more than happy to take advantage of the fact that they were never legally married. Full equal rights work both ways, not just when they're convenient. Valid question: will Melissa get a prenup this time?