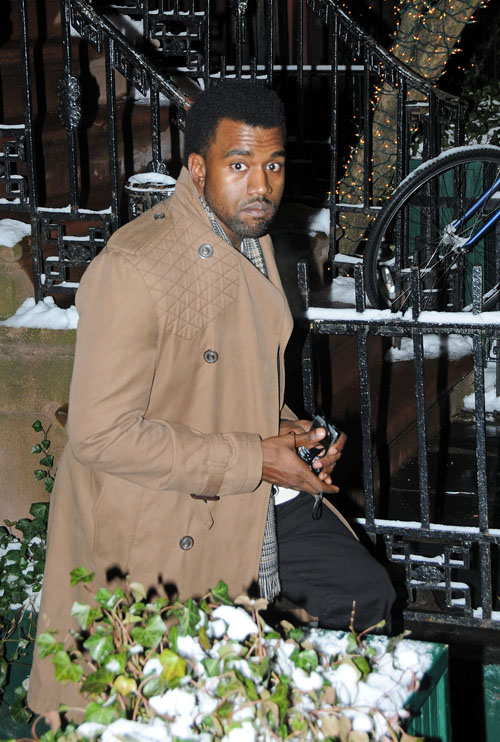 Online isn't the only place Kanye likes to rant.  The hip hop superstar is now concerned about his beard (too grey) as well as the number of his fans (too many). First, he whined on his blog that his picture on the cover of Vibe made him look like he had too much grey in his beard:
I DON'T HAVE GREY IN MY BEARD IN REAL LIFE!!!!!!!!!!!!!!!!!!!!!! I'M ALL DOWN WITH BEINGS IN MY 30′S BUT DAAAAAAAAMN!!!! THIS IS SOME BENJAMIN BUTTONS' S–!   [sic]
[from MTV]
Then, Kanye's interview in Vibe revealed that he wishes he had fewer fans so that he could get naked.
"I made a decision. I wanna make popular music, but I want less fans," he told writer Sean Fennessey when asked if he was comfortable with fame. "I want the freedom of having less fans. It's like the freedom of having less money. If you have less money, you have less responsibility. It's like Bjork.  If she wanted to pose naked, you'd be like, 'Oh, that's Bjork.' But if I wanted to pose naked, people would draw all type of things into it. I definitely feel like, in the next however many years, if I work out for two months, that I'll pose naked. I break every rule and mentality of hip-hop, of black culture, of American culture."

Kanye clarified that by "less fans" he meant having a core of 20,000 devotees who understand him, rather than a swell of 100,000 "fly-by-night" followers who just favor him because he's the hot thing out.
[from MTV]
I find it hard to believe that the Photoshoppers at Vibe decided it would be a good idea to make Kanye look old.  This must be a situation of Kanye just being unappy with the photograph.  But if he's so uncomfortable with his body,  how could he possibly agree to pose naked? And why? He doesn't really give a reason in the interview, but it seems that it's a type of rebellion for him.  He wouldn't be "breaking the rules"; just  making money and generating publicity like he always does – this time with fewer clothes.  And fewer fans.  Apparently, the whole getting naked thing can only happen if there are fewer fans to buy the magazine.
Hearing Kanye complain about his fans is like hearing celebrities complain about the paparazzi and lack of privacy.  At least he admits that he made a choice to make popular music – you have to give him credit for that.  But he doesn't seem to understand that he wouldn't be able to perform in the kind of over-the-top concerts he does if it weren't for those extra 80,000 fans and their cash.
Maybe the naked photo shoot is part of his five-year plan.  When he begins losing popularity, he'll just take his clothes off in an attempt to gain relevance again.  It's happened before.
Kanye West is shown outside the Waverly Inn on 1/11/09. Credit: Bauergriffinonline