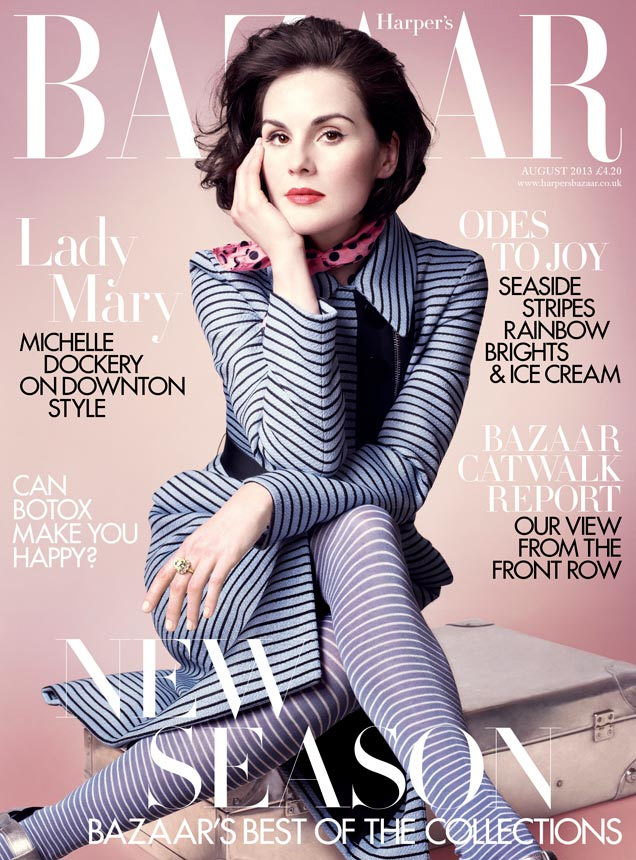 Stripes! So many stripes. Usually, I would hate this many stripes in one ensemble, but Michelle Dockery makes it seem very chic. As many of you know, Dockery is most famous for playing Lady Mary Crawley on Downton Abbey. She is the oldest sister, and a Black Widow to boot. Thus far, all of her mates have died… except for the newspaper guy played by Ian Glenn, but if she had stayed with him any longer, I'm sure he would have died too. Michelle covers the new issue of Harper's Bazaar UK, one of her first major, solo fashion magazine covers. The shoot is pretty – I think the cover shot is probably the most flattering photo of her from the shoot.
Even though Downton's storylines can get crazy melodramatic and it's all just a soap opera with great costumes, Michelle is sticking with the show, which is nice. Several cast members are not returning next season (including d-bag Dan Stevens), but Michelle isn't looking for the exit. That being said, she's still trying to gently parlay her Downton fame into a larger career, perhaps in Hollywood. It helps that Michelle in real life seems very different from the posh ice queen Lady Mary.

She's gone from little known actress to world-famous star thanks to her role as Lady Mary Crawley in Downton Abbey. But despite her immense success, Michelle Dockery has done her utmost to remain grounded throughout her meteoric rise to fame. In a new interview and stunning photoshoot with Harper's Bazaar magazine, Michelle admits that her ability to laugh at herself has ensured she doesn't let her celebrity status go to her head.

She said: 'It's very easy in this business to take things a little too seriously or yourself too seriously, and I grew up learning how to laugh at myself.

Michelle added: 'It is that very classic thing of being content with who you are and what you're doing. I think that's what I've learned – that if I'm content, then my outlook on everything is good.'

The 31-year-old brunette also revealed that she made a name for herself as a young woman thanks to her strong relationship with her sisters Louise and Joanne.

She said: 'There was this thing: don't mess with the Dockery Sisters. I think when we're together we can be quite, not intimidating, but quite a force.'

In the accompanying images, Michelle poses for photographer David Slijper in on-trend outfits from Miu Miu, Prada, Sportmax, Louis Vuitton and Bottega Veneta. And while the ensembles are worlds away from the flapper dresses Michelle wears to portray Lady Mary, she insists that she wants her role in the show to continue for as long as possible.

She said: 'There's a part of me that doesn't want it to end, because I love it so much… and once it's all over, I'm sure there will be a period when I feel slightly at a loss. It's like this love affair that I have with my job.'

As well as winning over viewers with her portrayal of the elegant and composed Lady Mary, Michelle has succeeded in making a fan of Downton creator Julian Fellowes. Speaking about Michelle's interpretation of the character, Fellowes said: 'Michelle was able to demonstrate that curious mixture of cold exterior with the hint of deep feeling and sexual allure that for me, at least, takes one back to the giants of my youth: Ava Gardner, Audrey Hepburn, or Grace Kelly, the ultimate icon of fire wrapped in ice.'
I'll admit, despite the craziness and melodrama, I am looking forward to seeing how Lady Mary deals with being a single mother. And Fellowes has said that Mary is going to get a boyfriend very quickly too, which should be interesting. I love Mary's courtships. She's usually not very good at "wooing" a man she likes because she's just too blunt and haughty. Hopefully she won't kill off this next guy.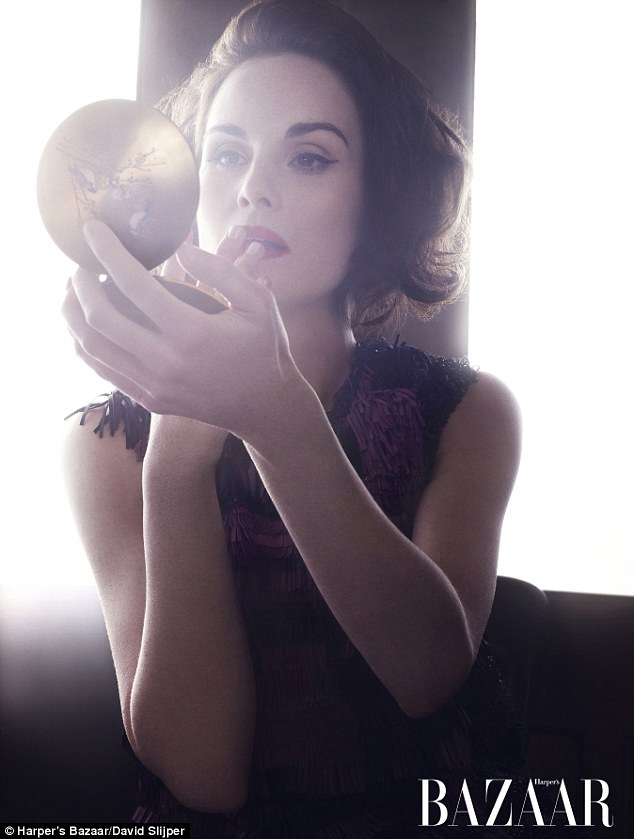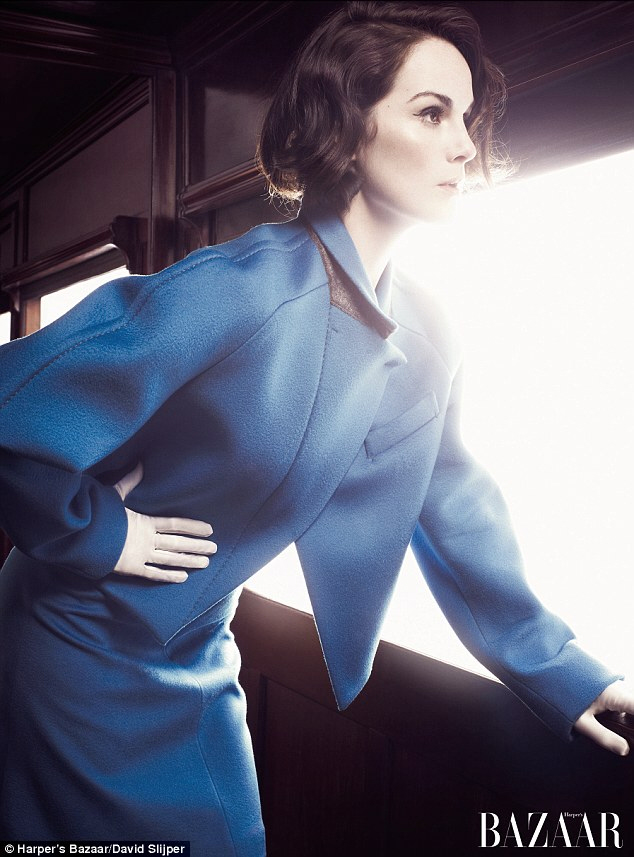 Photos courtesy of Harper's Bazaar UK.