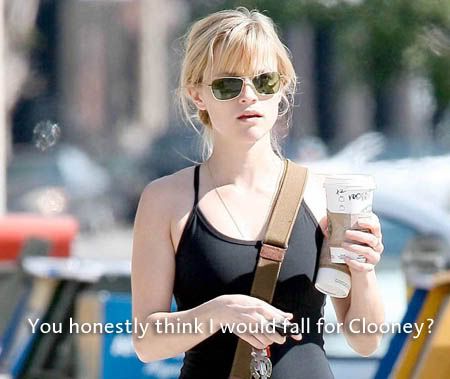 The latest fake rumor about George Clooney's dating life is that he went out to dinner with Reese Witherspoon and there's a romance blooming. I'm not buying it for one minute:
Is Reese Witherspoon going to be the latest victim of Hollywood's most notorious bachelor, George Clooney? Last week the two A-listers dined together in Los Angeles, sparking rumors of a new romance.

A source for Australia's NW said, "One of George's friends thinks that he may be interested in getting together with Reese now that she's single." And get together they did at Casa Vega, which NW describes as "a low-key Mexican restaurant."

Pals of Clooney's say that he has harbored a crush on Witherspoon for a long time and that he was anxious to ask her out once her marriage with Ryan Phillippe ended last year. Clooney used work as a pretense for getting the pretty actress to dine with him. An insider said, "There is talk of a movie about George's aunt, the singer and actress Rosemary Clooney, and Reese has expressed an interest in it."

Reports NW, "While they initially talked about work, they were soon mixing business with pleasure. Eyewitnesses say the good-looking pair were flirting up a storm."
It could be true that the went out to dinner for a business meeting, but even that detail could be fabricated. Clooney is linked with various women every week. He was said to be romancing Pamela Anderson about a month ago, and he denied ever going out to the restaurant where they were said to spotted together.
Despite partying up a storm, Reese's recent ex Ryan Phillipe told Ellen Degeneres on her show that he was going through a rough time and that his seven year-old daughter is helping him cope. He said "I know it sounds pathetic. I'm a 32-year-old guy, but my seven-year-old daughter is getting me through the toughest time in my life and that's beautiful too." He also said that his toddler Deacon says something every day that makes him laugh.
Here's Reese getting coffee after working out with a friend on February 18th. Pictures from SuperiorPics.