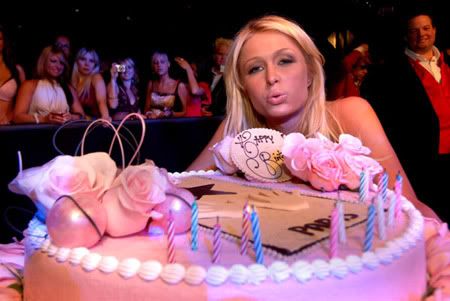 What would a paris Hilton party be without some drama between friends of convenience? Her 26th birthday party in Las Vegas this weekend wasn't attended by two of her high-profile pals. One was deliberately not invited and another was a no-show.
Paris was said to have purposely snubbed her friend Kim Kardashian, whose recent sex tape release by an enterprising ex may have hit a little too close to home for hypocrite Paris. Paris was rumored to have dropped Kardashian earlier when she had that two week dalliance with pantyless Britney, and now it looks like things are definitely on the outs for these two. Kardashian is a fashion stylist who started getting picked up on the tabloid radar last spring when she dated Nick Lachey briefly and then started hanging out with Paris.
And despite Paris' promise to the adoring crowd at the Hard Rock that Nicole Richie would make an appearance, she did not show her newly-healthy figure that night:
Nicole Richie snubbed Paris Hilton's 26th-birthday bash on Saturday night in Las Vegas.

Although the tiny terror had dinner in the city and was announced by Paris on the microphone to be "on her way," she never showed up at the Hard Rock Hotel bash.

It's a fresh chill in the relationship of the former best friends, who posed together for a Harpers Bazaar shoot in the Beverly Hills De Beers store just last Tuesday.

Hilton, meanwhile, has been pruning some other friends from her guest list. She declined to invite Kim Kardashian, who made gossip headlines recently for the saga of her own sex tape.

"She didn't want Kim on the red carpet stealing her thunder," says a pal.
Oh well. At least Paris had her reliable sister to keep her company. There were reports that things were going well for Paris with on-again Stavros, but there's also a story that she made out with both Stavros and Greasy Bear Brandon Davis while out to dinner in Vegas. She was also said to have shared a room with the two. With no female friends there she had to find some way to pass the time.
Pictures of Paris' party from Gossip Rocks.