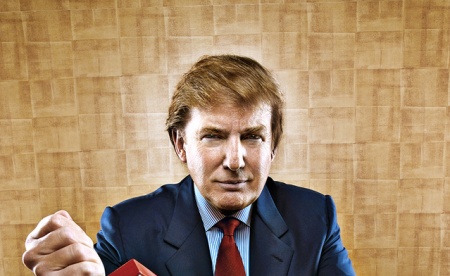 Donald Trump may be getting with the Britney program and shaving his horrible, horrible head. It's not surprising if his extensions are responsible for his colicky baby expression and bile filled blabber. Yes, gentle reader, it's true – the endless decades of the ginger meringue may be coming to an end. Generations to come will shudder when they hear tell of the shadow we once lived under.
Trump's Hair on the Line at Wrestlemania
— Will Donald Trump put his hair where his mouth is?
Trump and World Wrestling Entertainment owner Vince McMahon will pick a wrestler to represent them in the ring April 1 at Wrestlemania 23 at Detroit's Ford Field, The Detroit News reported last week.
If their pick is beaten in the "Battle of the Billionaires," the loser will get his head shaved after the match, the Detroit Free Press reported Monday.
Something is going on Trump World. He just can't stop gift-wrapping new material for Rosie O'Donnell. The Rosie and The View ladies will be lunching out on this for weeks. Rosie had some shocking semi-shaved haircuts back in the day … they even put a 'keep a tidy bob' clause in her View contract.
Perhaps its the expression of the Donald's secret, shockingly age-appropriate, love for Barbara Walters? The endless kerfufflage between The Ro and The Do have delivered stellar ratings for the BaBa's flagship show? Or is it all just a joke .. another long, drawn out un-funny Trump joke. Apparently not
WWE spokesman Gary Davis said the date of the event had prompted speculation that it was a hoax. But it's not an April Fool's Day joke, he said.
"If Trump loses, he shaves his head," he said.
And like everything else in life if the Donald loses … we all win.