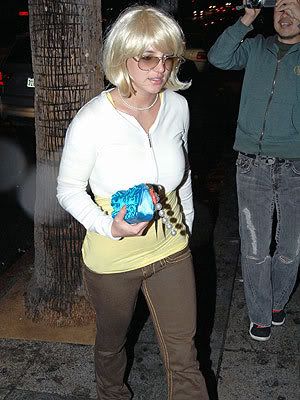 There are two stories today that suggest that Britney is hemorrhaging money as well as public goodwill with her latest antics. She's selling the mansion in Beverly Hills she bought just two months ago, with the excuse that her son is more at home in her Malibu estate. She only lived there for a month before she left. While it's possible she can't afford it, I would bet she just wasn't comfortable with the neighborhood:
Looks like Britney Spears is shedding more than her hair.

The newly bald "Toxic" singer is looking to sell the Beverly Hills house that she bought only two months ago, according to OK! magazine.

Spears bought the six-bedroom, six-and-a-half bathroom 7,553 square-foot Tuscan villa on Dec. 11 for $7.2 million, moved in a month later, moved out on January 25, and now is looking to sell it for $7.5 million, reports the mag.
Story continues below ↓ advertisement

The quick sell is prompting some to question whether the singer needs to reel in her free-spending ways, but according to OK!, it was her sixteen-month-old son's preference to stay put at Spears' Malibu house.

"Britney says that Preston preferred living at the Malibu property," a "source close to Britney" told OK! "It has more land and huge garden — it's a better environment for Britney to raise the boys."
Well no wonder Britney's all f'ed up – she hates her new house!
There's also a story that Britney tried to book a hotel room but was denied because she had only part of her credit card number written down on a piece of paper and no cash or other cards. She was in standard form and drank heavily, shaved her legs by the pool while wearing cowbooy boots, and tried to switch bikinis with another woman. When she was told she couldn't stay there without a proper credit card she cried and said "Nobody wants me anymore." Bald Britney was seen in two different cheap wigs, one blonde and one bright blue.
It's possible that someone confiscated Britney's wallet in an attempt to save her from herself, or that she just lost it in a drunken bought of forgetfulness. I doubt that her credit has been cut off. The girl has an AmEx black card with no limit.
Britney later hit bars on Sunset Strip while wearing the Halloween-quality wig and was said to have stormed out of the The Roxy when someone played her old song "Hit Me Baby One More Time." Another report had people singing Karaoke to it, and not recognizing Britney or realizing she was actually there.
With a bald head, no career in sight and only occasional visits to the studio, how long is it going to be before Spears goes the way of MC Hammer? Britney also recently blew off several recording sessions with Pharrell. Then again, she doesn't really have expensive taste otherwise and with K-Fed cut loose she'll be spending less overall. Still, she could get creamed in the divorce settlement, and that seems more likely every day she leaves the house.
What do you guys think: is Britney broke or soon to be?