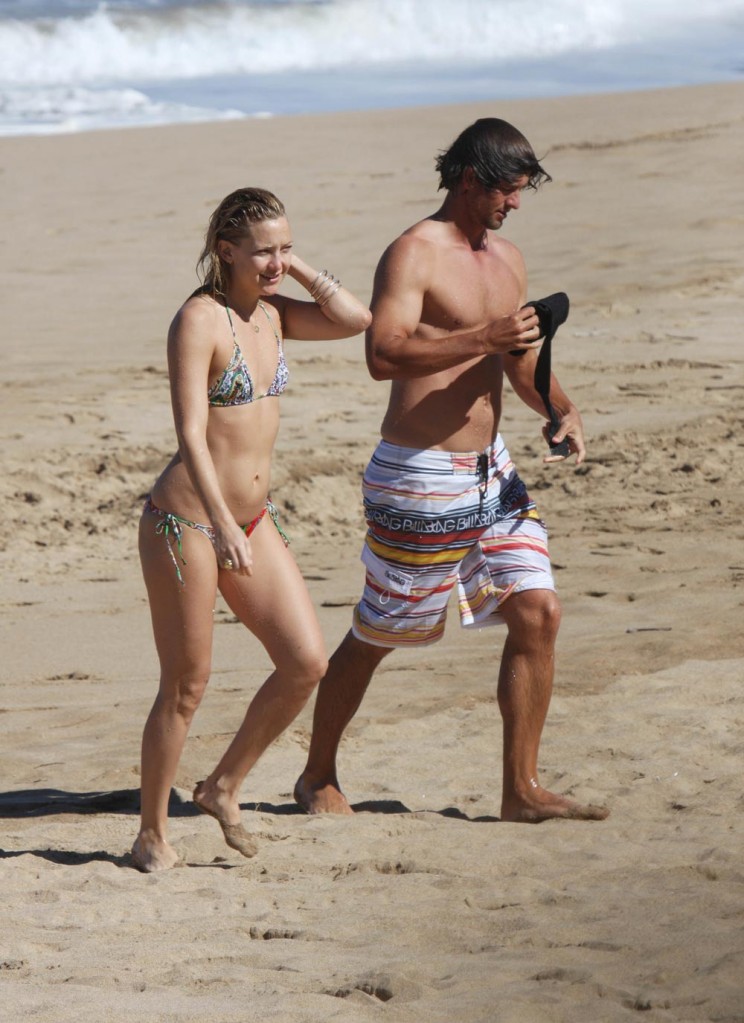 Kate Hudson gets a lot of bad press for serial dating and jumping into relationships right away. She's said that she moved in with her ex husband, Chris Robinson, a few days after meeting him, and has also made it known that she doesn't really date. She wisely didn't talk to the press about her relationship with Lance Armstrong, but they did meet each other's families quickly and were photographed out together multiple times in their brief relationship. The same thing happened when she was dating Dax Shepherd in 2007. Other celebrity couples manage to avoid the paparazzi for a while, but maybe Hudson is just a hot commodity.
It sounds like Hudson believes things happen naturally in a relationship and it's either meant to be and all-encompassing super romantic or a dud. A lot of people agree with her and have found lasting love that way. I've seen many friends get hurt like that though. There's a good reason why we have so many self-help relationship books for women that all advise that we lead with our head, carefully evaluate a guy and take our time before jumping into a relationship.
After being spotted on a dinner date with Madonna's ex, Alex Rodriguez, Hudson jetted off to Hawaii, where she was photographed looking cozy on the beach with a hot Australian golf pro, Adam Scott:
Though golfer Adam Scott recently denied their relationship, pictures of a sexy bikini-clad Hudson with the smoking-hot Aussie on the beaches of Maui Monday afternoon confirm that the two are definitely more than friends. The 28-year-old Scott is widely considering in Australia as one of the most eligible bachelors, his good looks, wealth, and professional success on the golf course make for a perfect package for the gorgeous and recently lovelorn Hudson.
[Photo description from Fame Pictures]
I like Kate Hudson and I don't get the ire for her that a lot of people seem to have. She's a beautiful successful woman who adores her son and is trying to find a partner. Hudson shows that it doesn't matter how gorgeous and rich you are and that it's hard for everyone to find love. It seems to be a little harder on the heart, though, when you don't think it out and take your time.
Here are photos of Kate and Adam on the beach on 1/12/09. Kate's four year-old son, Ryder, was also photographed on the beach that day with his nanny, aunt Erinn Bartlett (Hudson's sister in law) and cousin, Wilder, and there are a few photos of them together. Ryder's grandmother, Goldie Hawn, 63, was also seen on the beach the day before. She looks great! I guess that means that Hudson is introducing her latest boyfriend to her whole family, or maybe they just met on this vacation.
Credit: KKP/Fame Pictures