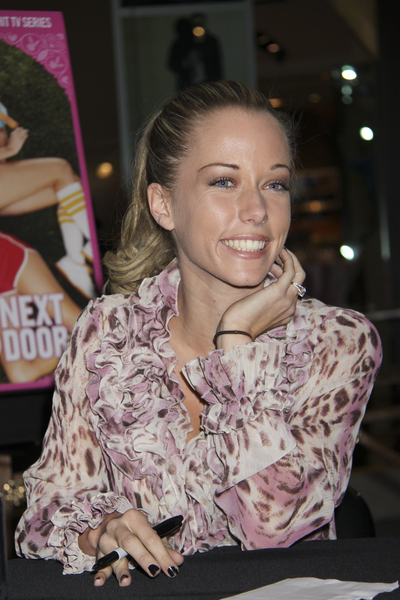 Kendra Wilkinson is dishing on life at the Playboy mansion in the latest issue of US Weekly. It sounds like Kendra is saying that she didn't have sex with Hef, but was expected to stay faithful to him and found the restrictions too hard to deal with long term. She's now engaged to football player Hank Bassett and was sneaking out to see him while she live under Hef's paternal thumb:
Kendra Wilkinson has opened up to Us Weekly about her relationship with Hugh Hefner … and how she cheated!!

"I had to have sex every now and then, so I had to kind of sneak it," she said, noting that Bridget and Kendra stayed faithful to Hef. "I was like 'How the hell can you do that?' I had to have [sex] so I could feel my age, like a healthy human being."

She also says she didn't spend a lot of time with Hef. "Besides the nights we went out, I only saw Hef, like, once a day walking through the halls to his office — there were never solo dates … The most we kind of say to each other is, 'I love you,' 'Love you too,' 'I hope you have a good day,' 'Did you have a good day?'"

Kendra also bitched about Hef's notoriously controlling ways, saying it was "way more strict than my life has ever been" and that it drove her "insane" that staff members would keep track of the girlfriends whenever they left the Mansion. In fact, staff would note the times they left and returned to the mansion in a book, and Hef would review it each morning. And they weren't allowed to spend the holidays away from the Mansion. And the paycheck? An allowance of $1,000 a week. I kind of have trouble believing that. Shit, their hair extensions alone had to be like $3K a month in maintenance. And the wardrobes?! Those girls were definitely spending more than a grand a month.

Kendra said, "I hate putting my hand out, but we couldn't have jobs other than getting appearance fees. Hef was kind of like my best friend, but a sugar daddy at the same time … Hef made me feel beautiful. Now I'm totally against [Hefner's] way of life, with three girlfriends and all of that."
[Quotes from US Weekly, presumed to be print version, January 26, 2008, via Evil Beet]
It's widely assumed that Holly was the only one of the three who regularly had sex with Hef, and that's probably true because Bridget has said that she was celibate for months. I wonder what kind of creepy deal Hef's new girlfriends, the 19 year-old twins and their college student doppleganger, made in order to get a roof over their heads, free food, and the infamy that goes along with being linked to a dude old enough to be their great grandfather.
I really enjoy "The Girls Next Door" and part of the appeal of the show is the pure excitement all of the women have for the great things they get to do. They all seem genuinely thrilled at the fun experiences they have and it offers a lot of vicarious fun. I doubt that the show will have half the appeal with a new, younger cast of barely-legal women that are likely used to getting their way and take more for granted. Hefner had a great cast of women and although his latest co-eds are some compensation, it's probably like switching from eating at The Olive Garden to McDonalds. One at least has the surface level semblance of class.
Holly, Kendra and Bridget are shown on 12/20/08 at their book launch. Credit: PRPhotos