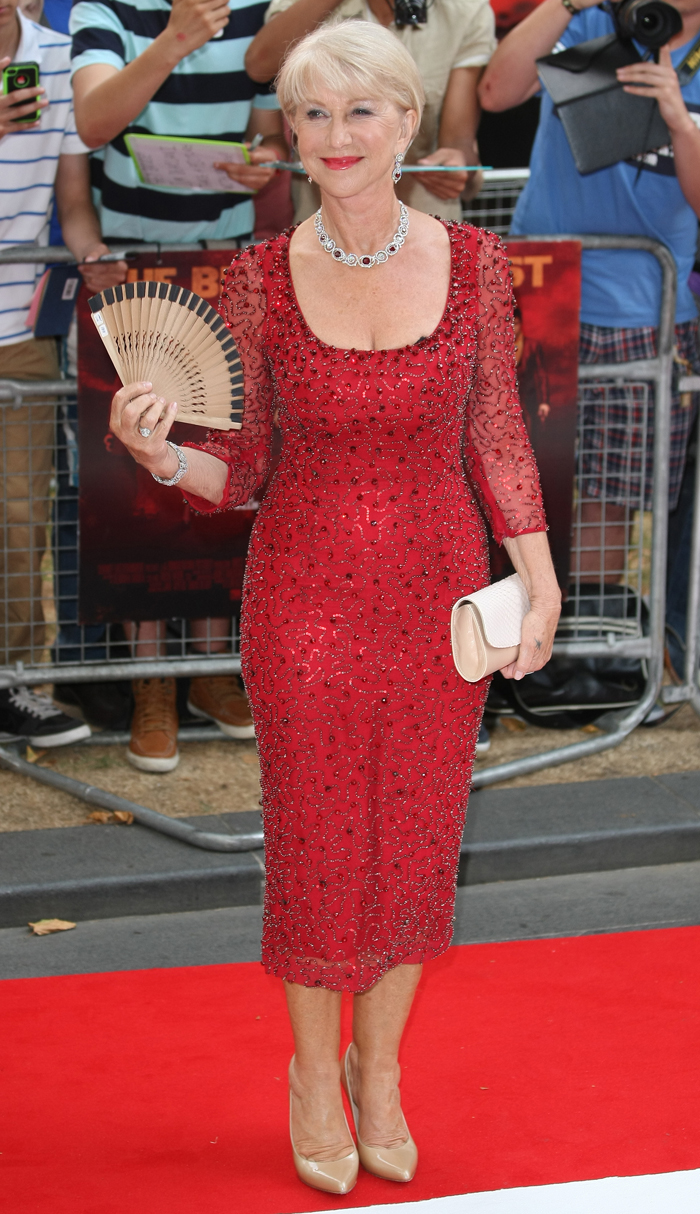 Now that's more like it. Dame Helen Mirren may have looked perfectly regal at the Los Angeles premiere of RED 2, but she brought the glamour big time for the London debut of the film. Helen wore an absolutely stunning, scarlet red Jenny Packham dress with beaded detail, sheer sleeves, and a form-fitting silhouette. That smile! That body! And look how she's being all coy with that fan on the red carpet. Classic Helen.
I always want to describe Helen as "lovely," but I am attempting to refrain from doing so in this post because Helen has given an interview to the Mail, and she constantly says "lovely," so I will just let her have the word for now since she undoubtedly utters it in a more distinguished manner. And Helen even manages to sound proper while cursing, which she also does in this interview. There's no audio version, so we'll just have to imagine how she sounds while explaining that she'd have told her fictitious daughter to say, "F— off" at the earliest opportunity: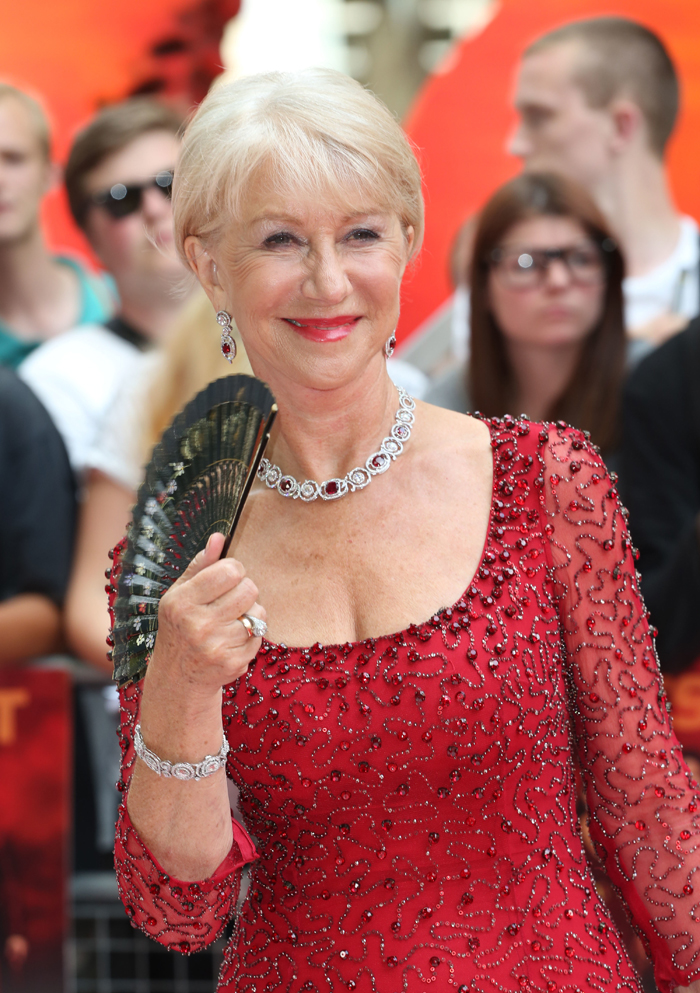 Dame Helen loves Yanks: "Americans are very, very flattering, aren't they? I mean, it's lovely, but I always take it with a pinch of salt because I think they want you to feel good. They're much more polite than Brits are; they don't want to hurt your feelings, so they always say very nice things about you."

On sexism in film: "The 60s were not great, the 70s were really crap; the 60s and 70s were pretty ghastly, I think. And into the 80s, as an actress, you would be the only female on set, apart from the continuity person, who was always a woman, and maybe your own personal wardrobe person. Otherwise it was completely male, and a particular kind of testosteroney male that was quite hard to deal with. You had to have a sense of humour, put your head down, you were never going to be one of the boys, if you know what I mean."

Has Hollywood changed its ways? "Oh yes, a great thing that I have noticed changing is behind the camera, especially in the electrical department, which I find very exciting, to see girl grips, girl camera… whoops, sorry, not girl, female. I've seen contemporary actors of mine have fantastic careers up to the age of about 45, 50, and then suddenly, as they reach the zenith of their ability… there's nowhere for them to do it. Whereas comparatively mediocre male actors can go on working."

Her advice to young women: "If I'd had children and had a girl, the first words I would have taught her would have been 'F— off.' Because we weren't brought up ever to say that to anyone, were we? And it's quite valuable to have the courage and the confidence to say, 'No, f— off, leave me alone, thank you very much.' You see, I couldn't help saying, 'Thank you very much,' I just couldn't help myself."

Why she did RED: "I'm still rather star-struck to be in a movie with Bruce Willis and John Malkovich. The challenge in doing something like RED, and it's why someone like Bruce (Willis) is so brilliant in these movies, is that there's a great self-discipline. The first time I was offered the role I was going 'ooh gulp, is this really the right kind of thing to be doing, Helen?' But Victoria's such a lovely character, isn't she? It's always a bit of a miracle when you can do something that hasn't been seen before — that sort of very refined character who has this other life."

On her battle gear: "Our wonderful costume designer kept bringing me gorgeous Dolce & Gabbana camouflage outfits. I said: 'No, I want them to be real secondhand army fatigues.' They had to scour the army shops for camouflage with short enough legs to fit me."

Will she ever retire? "The work is still worrying and challenging and nerve-racking and I think that's why I can't stop doing it. I have just done six months of theatre, so I have had enough of that for a while, I feel liberated at the moment and I can't wait to get back on a film set. You know, you have your dream of what it's going to be like being retired. My husband and I have been building this house in Italy that's sort of our retirement dream, but in reality, whether we ever will actually do that, I don't know. It's hard to let go of our business, of the creativity involved. It's also hard to let go of the attention. You don't think that you're addicted or in love with that attention, you think it doesn't mean anything to you, until suddenly you don't get it. But maybe, in the end, it'll be lovely to do that."
[From Daily Mail]
I love how much respect Helen has for her co-stars. Of course, she's absolutely correct to note that very few women make it to an "advanced age" and continue acting while men barely have to pass muster to continue on with their established careers. Naturally, these men's cinematic love interests just keep getting younger and younger too.
Let's do a bit more fashion, shall we? But first, I have to admit being slightly disappointed that John Malkovich didn't show up in London for this premiere. Little known fact — you can dissect every single crush on behalf of Kaiser and myself, but she and I will eventually fight to the death over Malky. It will be like a much classier version of the duel between Malky and Keanu at the end of Dangerous Liasons. Shhh.
Oh right, back to fashion. Mary Louise Parker wore a really cute Alberta Ferretti dress with a flirty shape to show off her arms and legs while also enchanting with silver lace and beading. Her shoes are Jimmy Choo. Even though Mary Louise has been in the industry for decades, she says she's quitting Hollywood soon because of terrible internet comments. Really? Hmm.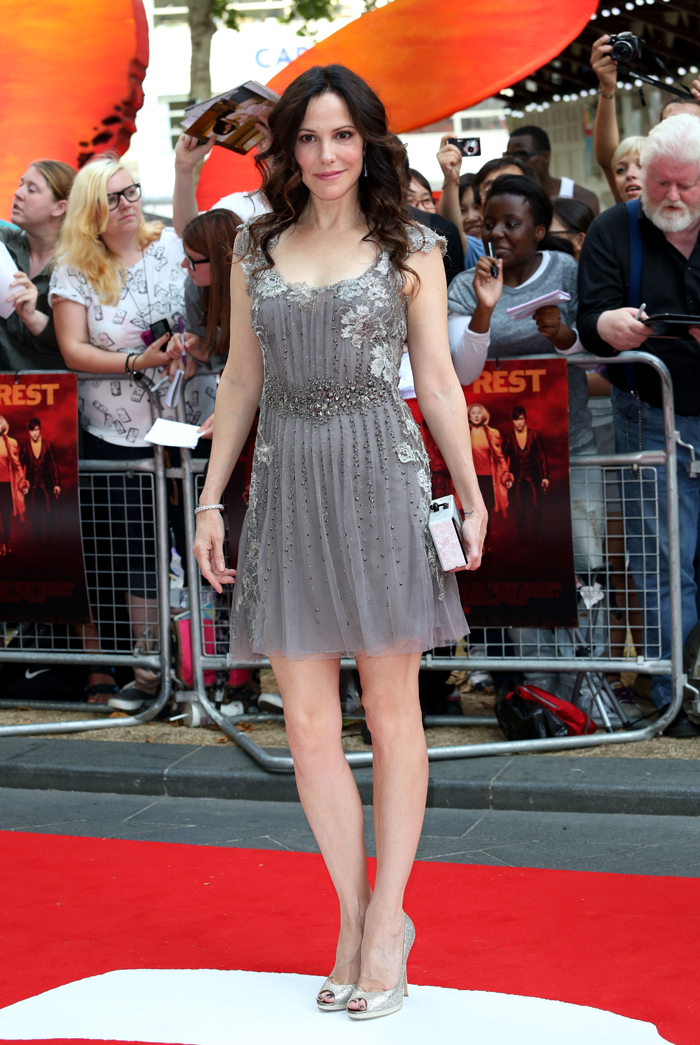 Bruce Willis is always so boring on the red carpet. He's also in a million movies these days, and no one really gets excited to see him, so I'll just follow Bruce up with more interesting Dame Helen photos.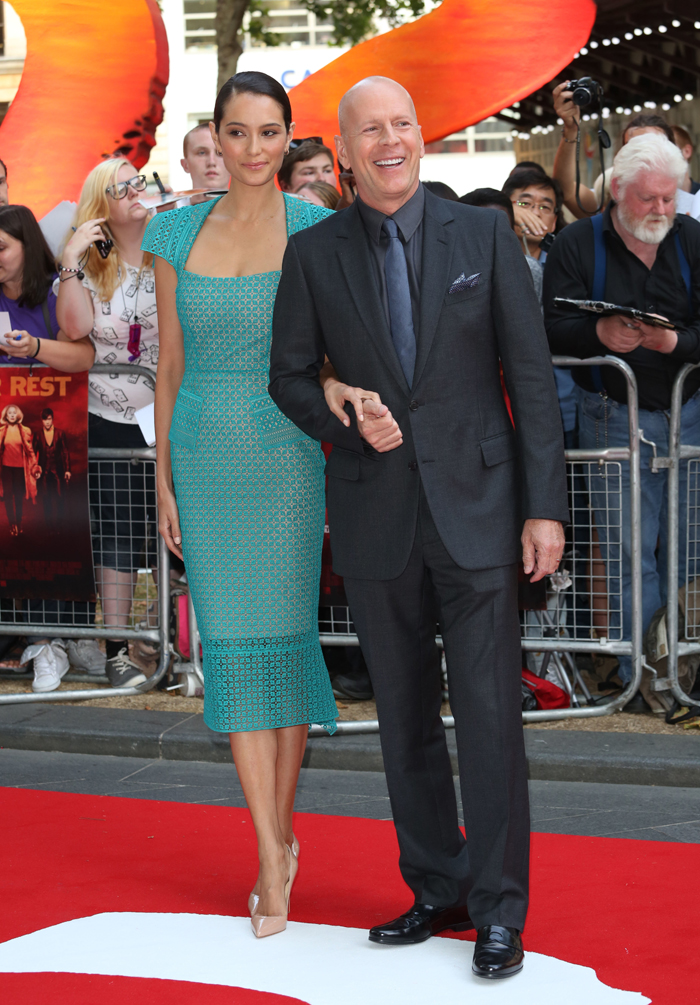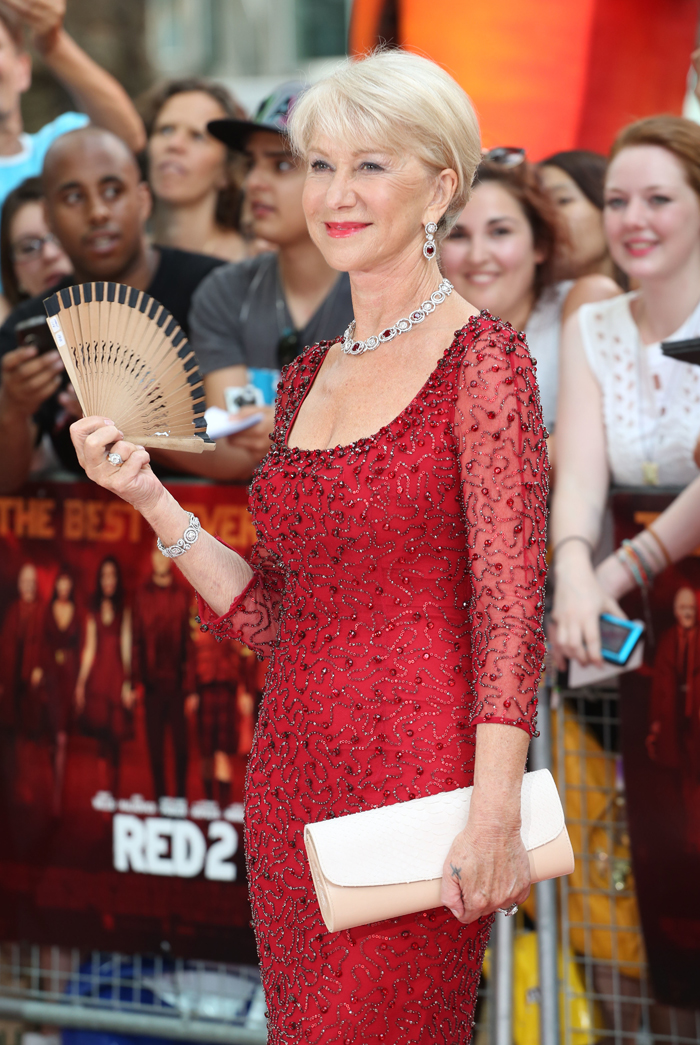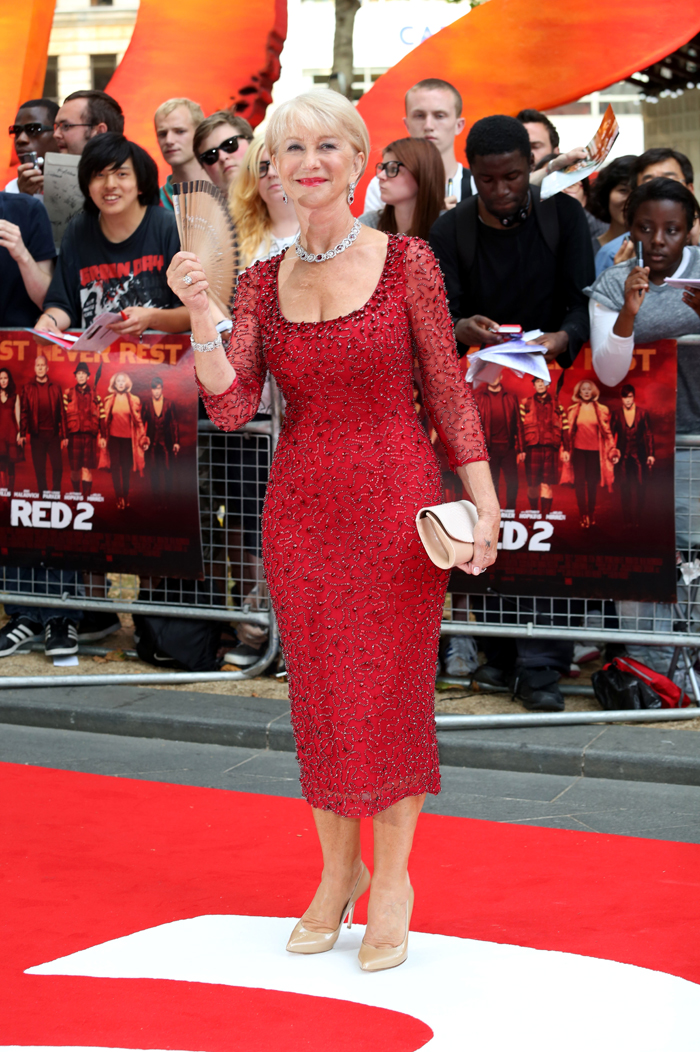 Photos courtesy of WENN