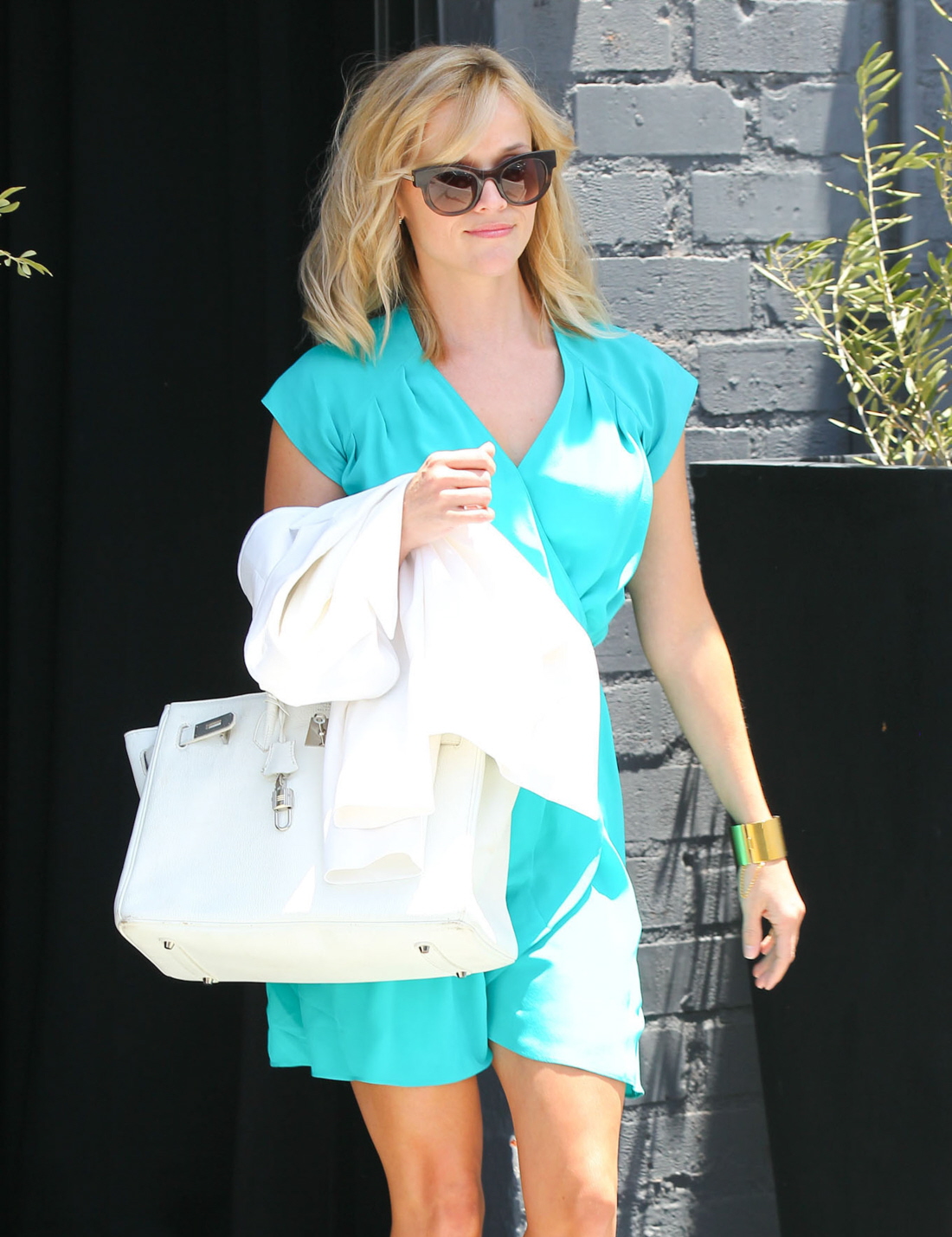 Whenever I write about the any celebrity's financial excesses, readers tend to fall into two camps. One camp will simply say "Blah, it's their money, they can spend it however they want." The other group loves gossip. The other group is like "OMG, they are simply insane to spend that kind of money on whatever [a pair of glasses, a watch, a home, etc]." To be fair, I see both sides. It's your money, I'm not going to tell you how to spend it. But I am going to judge you if you spend a crazy amount of money on something stupid. Let's take Reese Witherspoon, who recently had to dye her hair a mousy brown shade for a film role. She went back to blonde more than a month ago, but I guess she's still trying to find the right hairstyle for her new persona as a drunk-and-disorderly diva. So she got a new haircut and it cost… $1500!!!!
Our girl Reese Witherspoon, the Legally Blonde bombshell and mother of three, was snapped yesterday leaving the Rossano Ferretti Salon in Beverly Hills. The salon and its owner delivers its own patented method of cutting hair called the Ferretti Technique, which is why Reese's new 'do cost her $1,500.

According to a press release from GSI, Reese visited the salon in Wednesday and was able to meet Rossano personally at the conclusion of her appointment, which was a huge privilege. Rossano rarely comes to the United States, unless it's for a celeb client like Reese.

During her visit, the hair stylist worked on Reese's locks using their specific method, which treats each strand of hair differently with the belief that each strand acts alone to create the full look. According to the salon's website, "Each strand of hair has its own structure and movement… With sensibility and care, the designer treats each strand its own way, in order to achieve the most natural effect. This belief is why haircuts by Metodo Rossano Ferretti are so subtly carved, to create a harmonious image each time. A haircut that is like a work of art."

That sounds like a whole lot of faith put on a pair of scissors and a head of hair. Yes, Reese's hair has helped define her as an actress (remember when she suddenly went brunette a few months ago? We nearly died!), but we're sure something a wee bit less expensive could have sufficed.

According to GSI, other actresses such as Angelina Jolie and Salma Hayek also stand behind the technique.
Salma Hayek and Angelina Jolie cosign this mess? I doubt it. I mean, I doubt that they have spent $1500 on a regular basis for a HAIRCUT. Maybe once or twice to see what all the fuss is about, and even then… don't you just feel like you just got grifted when you're paying $1500 for a haircut?
Maybe it's just me, though. I don't think I've ever paid for a haircut in my life. When I was younger, I cut my hair myself. Then I got friends or roommates to do it, and currently I get my mom to cut my hair. It's not as weird as it sounds – I have long, mostly straight hair, and my trims are pretty basic. Plus, my mom always dreamt of being a hair stylist, so she loves cutting hair. But even if I ever went in and wanted a professional haircut (ugh, what's the point), I think my cash limit would be… what? $40, maybe. And that's including a tip.
The photos of Reese in turquoise are her exit from the hair salon – her hair does look pretty good in those photos. Not $1500-for-a-haircut good, but good. I guess the photos of Reese in red are from a few days later, after she washed her hair and she realized that she spent $1500 on a haircut that basically looks the same as a $60 haircut.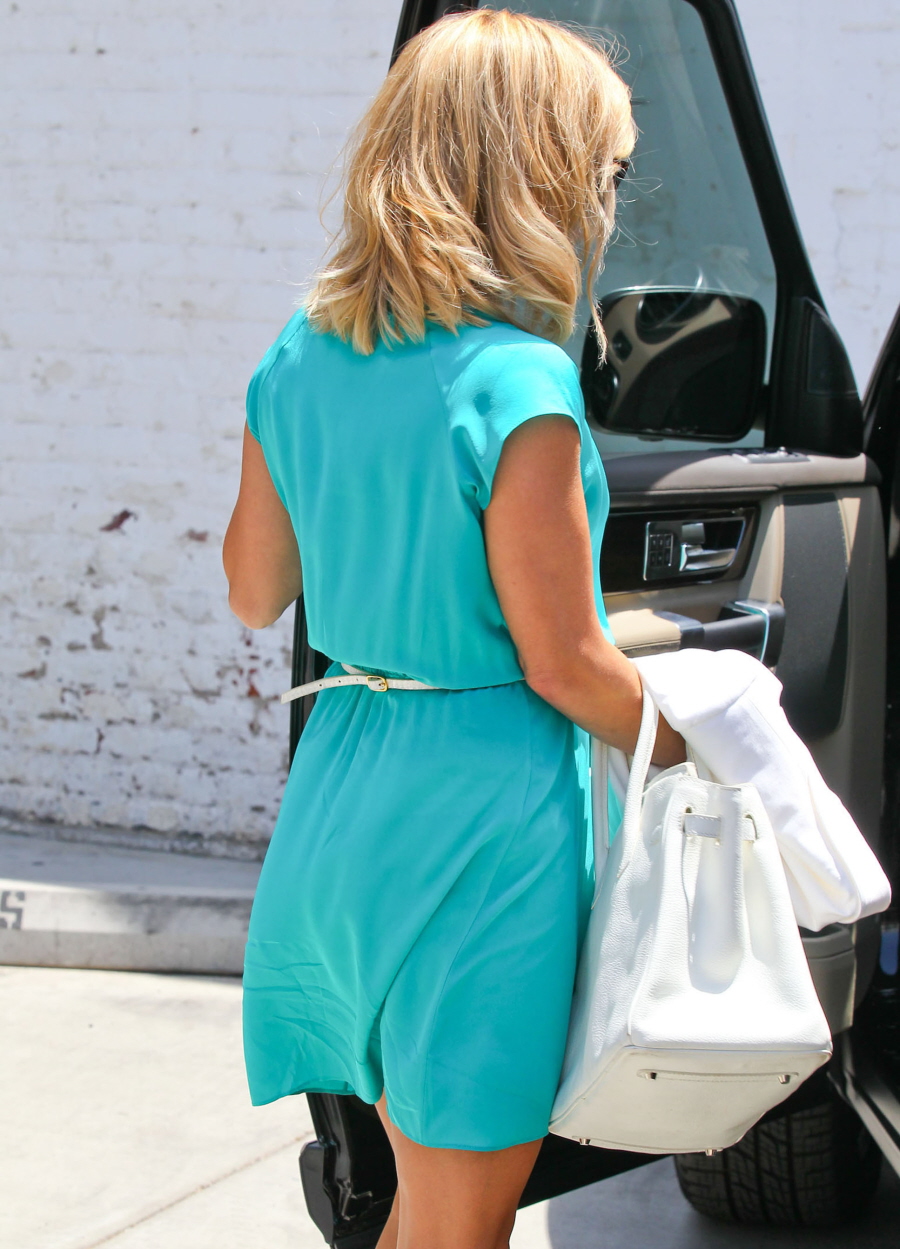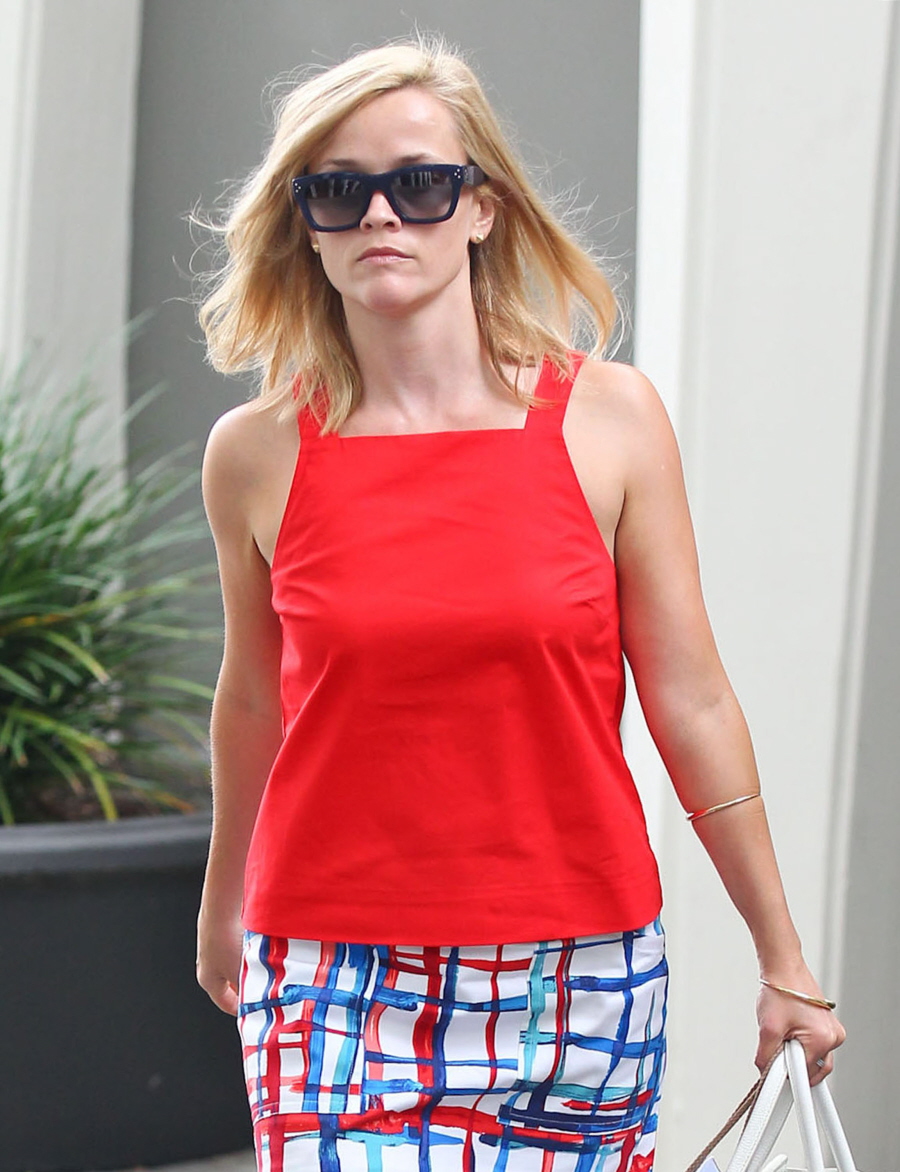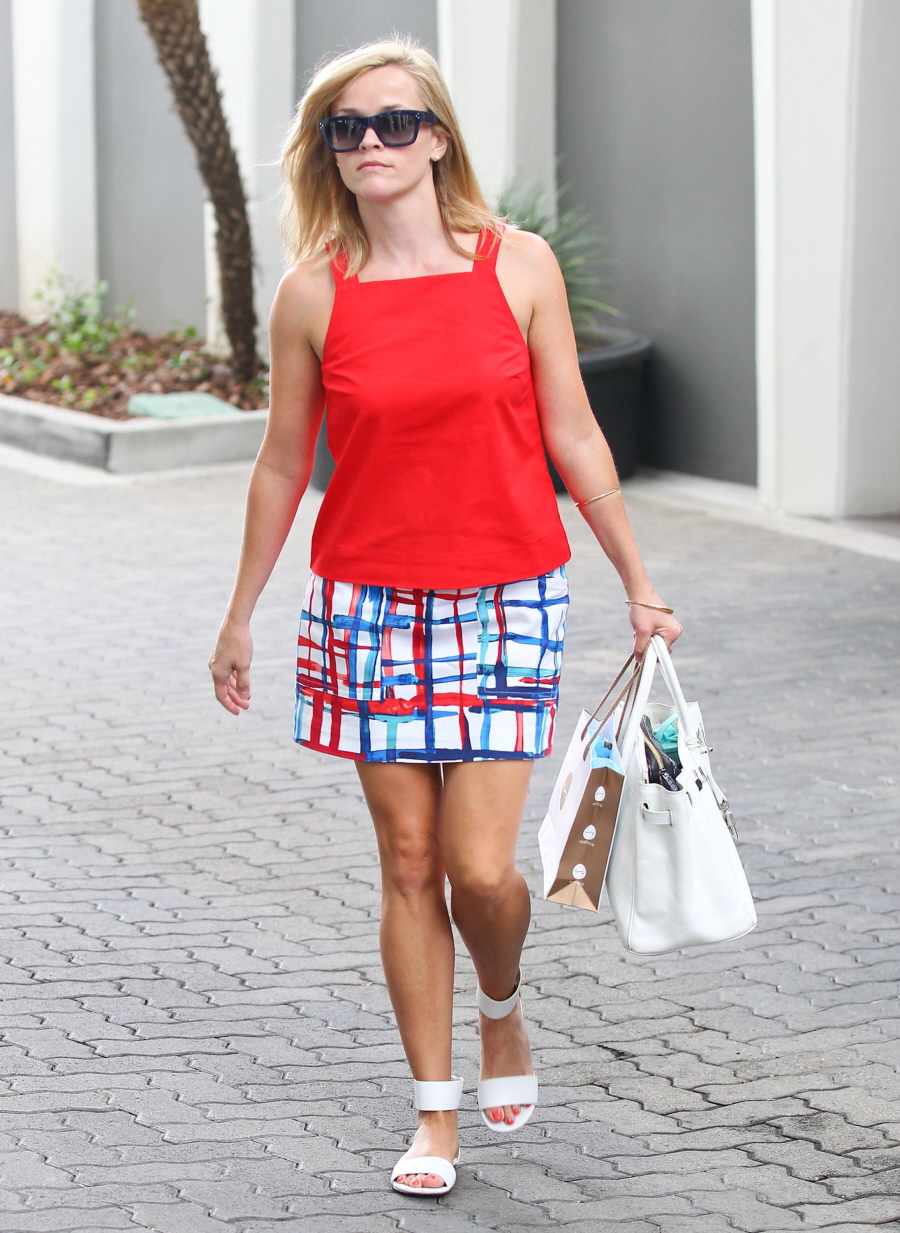 Photos courtesy of Fame/Flynet.