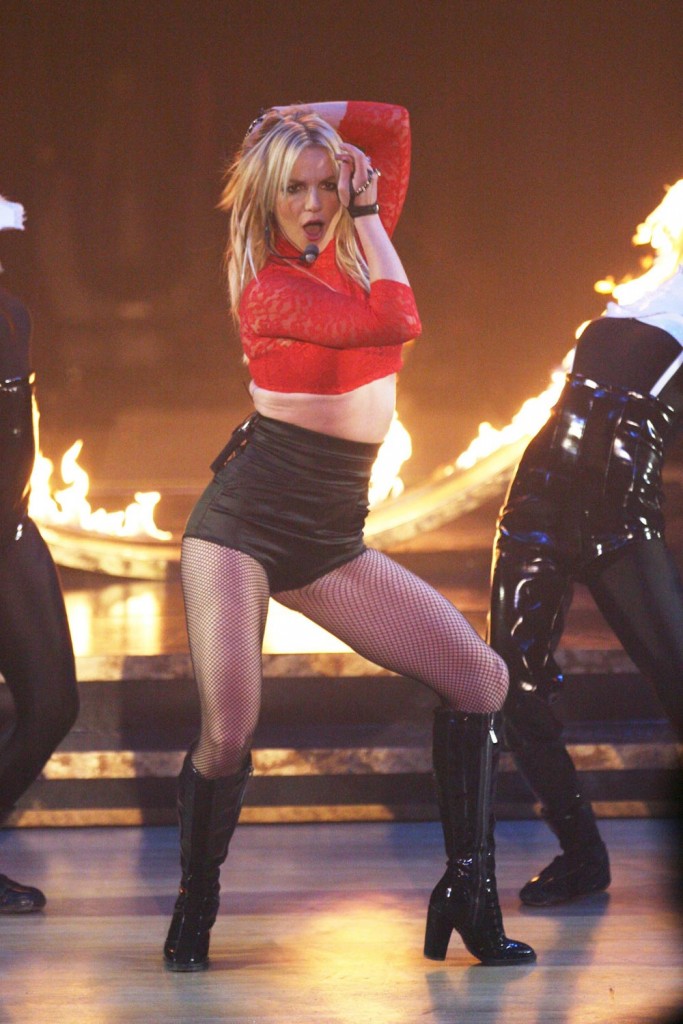 We've heard a lot of speculation that Britney Spears isn't ready to embark on her world tour, which starts March 3 and features 44 performances in 33 cities over 14 weeks. It's a lot for even the most seasoned and motivated performer to endure.
Britneys two long term choreographers quit just last month. Then her former music manager went on the record with US Magazine to express his reservations at how she's being pushed to perform when he feels she's just not ready. It's been just a year since Britney's high profile breakdown and it seemed like the moment she started to clean up and work on herself she was thrust back into the spotlight again.
According to the National Enquirer, Britney knows the tour is going to be a lot to handle and she's threatening to drop out. She's said to feel overwhelmed by the pressure and annoyed at her ex, K-Fed, who is pitching a reality show based on tagging along with Britney's tour:
Britney Spears has infuriated her father and ex-husband by threatening to abandon her $100 million concert tour – throwing her comeback into chaos…

"Britney doesn't want to do it, and she's telling her father Jamie that," an insider tells the Enquirer. "All the dates are booked – and $100 million would be lost if she bails…

"Both her father and ex-husband Kevin Federline are telling her she has to go on for the sake of her kids and their financial future. So Britney is really feeling the pressure, and she says she can't handle the tours whirlwind schedule…

"She is already exhausted getting in shape for the trip. And her focus has changed, too – Britney just wants to be a stay-at-home mom to her two boys. Britney feels like she is being forced to tour. Jamie has made it clear he wants to get her back to where she was."

But Britney, 27, hates the tour's set-up, which includes Kevin – who has custody of their boys – tagging along. That concession was the only way she could have the boys with her, so she reluctantly agreed…

"Kevin is working on a deal for a reality show based on following her 'Circus' tour."
[From The National Enquirer, print edition, January 26, 2008]
You can't blame Britney for not wanting K-Fed to bring a bunch of cameras with him on her tour. It's the only way she will get to see her sons throughout that time, though, so maybe she feels like she has no other choice but to let him have his way. It also sounds like she was railroaded into this tour by her people and really didn't have a choice. She seems happy enough to perform a single song on a show, but a full set like that night after night with only a day or two break in between is a lot to handle. If she doesn't want to do it, her dad should have talked to her about it before all that money was invested. It all sounds like a recipe for disaster.
Britney Spears is shown performing on "Good Morning America" on 12/2/08. Credit: WENN