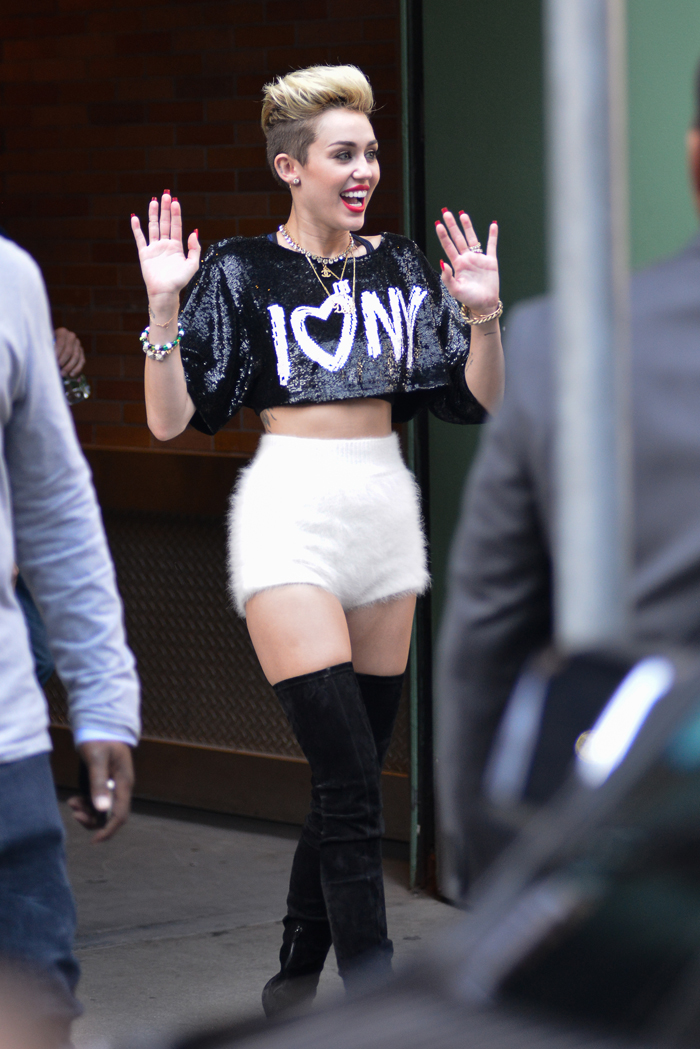 Bless Larry Rudolph's heart. The man has such a talent for smoke and mirrors that I keep forgetting that he has created the monster that is now the Miley Cyrus publicity machine. After all, Miley signed on with him way back in March, and ever since then, she's been a fuzzy-diaper twerking force of unnatural proportions. Now get ready for this: Miley will soon appear on the Mike WiLL Made It "23" single (along with Juicy J and Wiz Khalifa), and Miley will be "kind of rapping." I can't wait to hear this one and to talk with you all about it.
For now though, Miley has settled back stateside after her whirlwind European press tour, and she has spoken to the Washington Post about — what else — growing up:
Miley Cyrus' transformation from a sweet-faced child star into a twerking, wild-child sensation has garnered plenty of debate, but she says it's not really all that deep – she just grew up, y'all.

"I think people forget what it feels like to be 20," she said in a recent interview. "People just evolve and that's all that's happened to me. But people think a mad scientist somehow cooked up this potion and turned me in to a different human, which it wasn't. All I did was get a haircut and buy some clothes and everyone thinks that I am made into a robot that changes with what's popular every 10 years."

Cyrus has raised eyebrows as she continues to distance herself from her former life as the star of the Disney show "Hannah Montana." Now engaged to actor Liam Hemsworth, Cyrus is concentrating on her musical career and due to release an album in the fall.

Cyrus has one of the summer's biggest hits with "We Can't Stop"; it's now No. 2 on Billboard's Hot 100 chart. In the song's video, which has reached 100 million views on YouTube, Cyrus dances suggestively amid bizarre imagery, including a skull made of french fries. Cyrus says the video was inspired by her own life and the wild parties she's been at.

Besides, Cyrus says acting a little crazy can actually be good for the soul.

"That's why I think some people kind of fall off and they end up going crazy because you don't give yourself time to go crazy," she said. "That's what you're supposed to do; you are 20, you are supposed to be a mess because you haven't figured it out yet, and 10 years from now I am supposed to have it all together."
[From Washington Post]
I actually don't have a problem with Miley's acting out other than her endorsement of illegal drugs as her proof of adulthood. The skimpy outfits and the try-hard behavior are just silly to me, but I see where she's going with her argument about how she should be allowed to be a mess at age 20. However, there are millions of 20-year-old people out there who are attending college, holding down full-time jobs, and/or even risking their lives while defending their country. Miley has absolutely no concept of what pressures most 20-year-olds face.
Miley also talked to the Chicago Tribune about how she's not "going off the rails" at all: "I'm selling records and that's all I'm here to do. I don't care if people don't like my haircut or think I dress too this way or my video's too provocative." She also cops an attitude about her past again: "You know, I built an entire empire for myself by the time that I was 11, but now I'm just the twerk queen." Oh, really? Because the Disney Channel is the true builder of Miley's empire. Sure, she was the cute kid who scored the role (never forget that Billy Ray was an attraction for producers as well) and put in the hours to film "Hannah Montana," but Disney financed, produced, marketed, and otherwise built that "empire" that has allowed Miley to "twerk" to her heart's content these days (and get paid for it). Damn, it's getting difficult to even see where Miley's coming from anymore. She doesn't even write her own songs now but acts like she's so authentic and hardcore about her "urban" music. It just doesn't wash. I really miss the old Miley from as little as a year ago.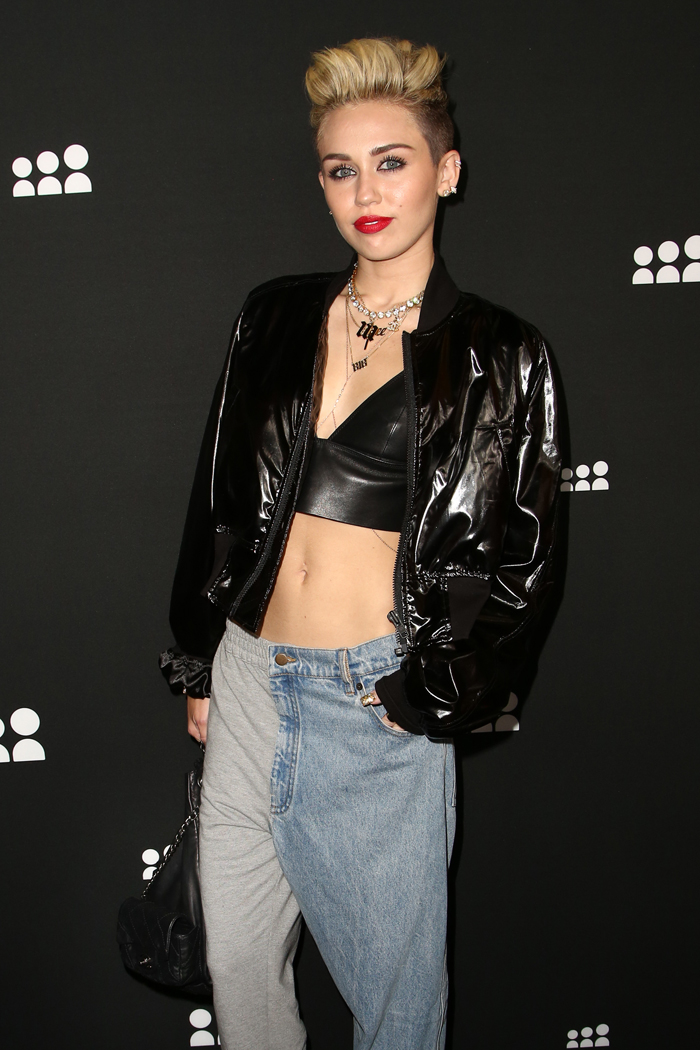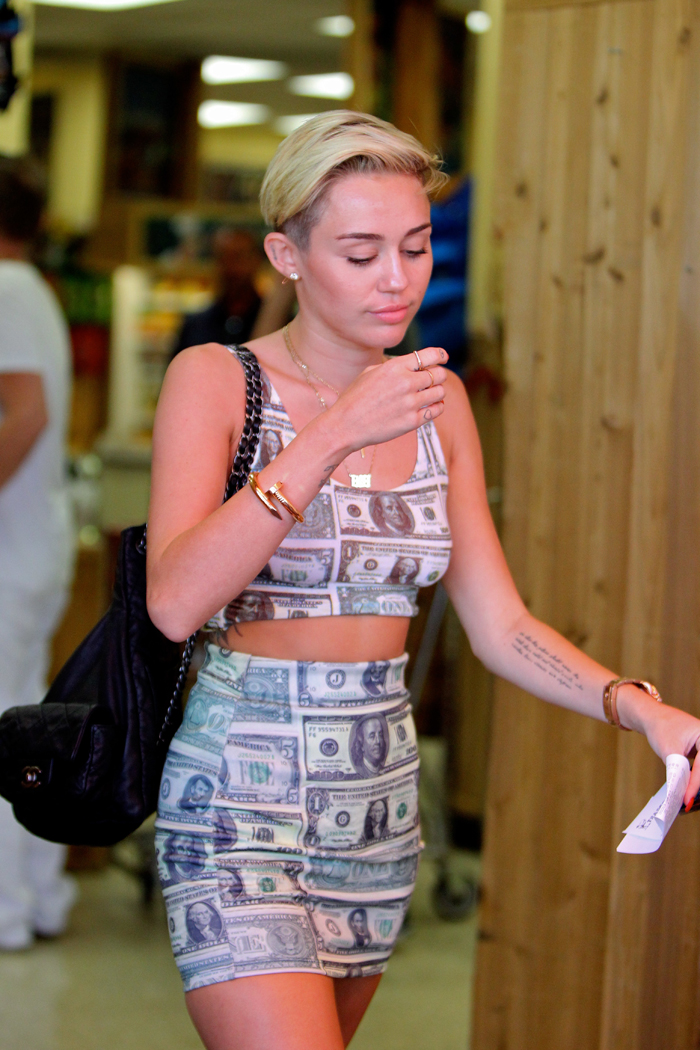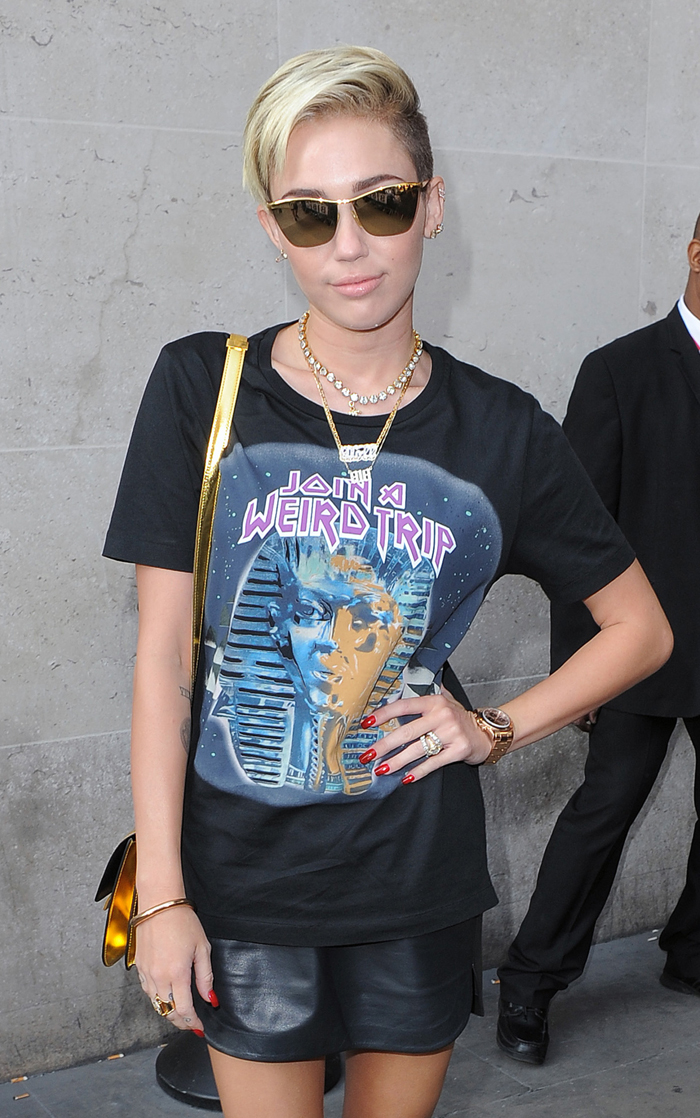 Photos courtesy of WENN