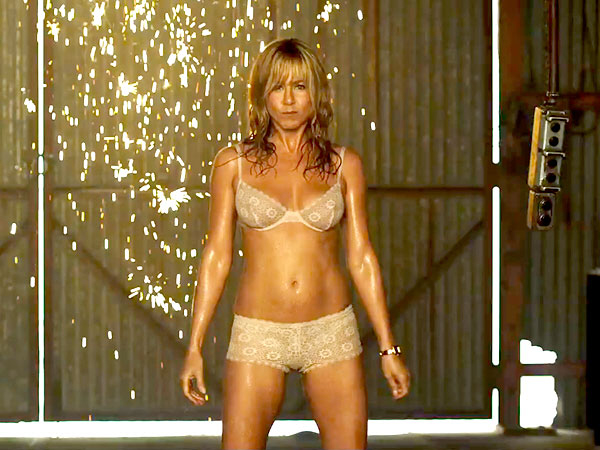 We're probably going to have a Jennifer Aniston post once a day (or more) for the next few weeks, so I have a special project for all of pro-Aniston and the anti-Aniston people: please just take a breath before you start attacking each other or me. It's not my fault that Jennifer is promoting We're the Millers. It's not my fault that she's shooting a film in NYC and the paparazzi are camped out by her trailer. It's also not my fault that she keeps saying dumb shiz.
Anyway, the header photo is a production still from We're the Millers. Aniston plays a stripper who is masquerading as a middle-aged mom so that she can help her neighbor/strip club customer move an RV full of marijuana across the border. It's a comedy. I have to say that. Because that description actually made it sound like a drama. Since the film is a comedy, Jennifer is seen in various stages of undress and in various stripper costumes in the film. So everyone (re: no one) wants to know how she prepared for her "stripper" scenes:
Kale – and lots of it. That's how Jennifer Aniston got in shape for her role as a stripper in her new movie, We're the Millers.

The 44-year-old, who wears nothing but a bra and panties for one scene, says that she put herself on a strict diet.

"I did eat that day," she tells Access Hollywood about filming her underwear scene. "I was on a very like, you know, greens and vegetables and lean proteins and kale."

And she was so serious about looking her best that she didn't even treat herself to a single potato chip or bite of a cupcake.

"When I really wanted to have a cheat day I had to have a kale chip," she admits.

And when she did finally strip down, Aniston made sure that her "kibbles and bits" were covered up.

"There was some major strapping and organizing," she admits. "I had no taping. I really just doubled my bras. I had a thong and then two pairs of underwear. Why I thought that was going to help protect anything is beyond me."
So, basically she just ate what she always eats and she stuck to her diet and her workout program as usual. I would find this more interesting if she actually said "I didn't want to look bloated at all so I had to give up margaritas for two whole weeks. It was really difficult." Because that's what's amazing to me – that Jennifer can "partake" in her recreational substances so frequently and still have a toned and un-bloated body regularly. Maybe this is what we would all look like if we only consumed margaritas and kale chips. Ugh.
Here are some photos of Jennifer yesterday in NYC: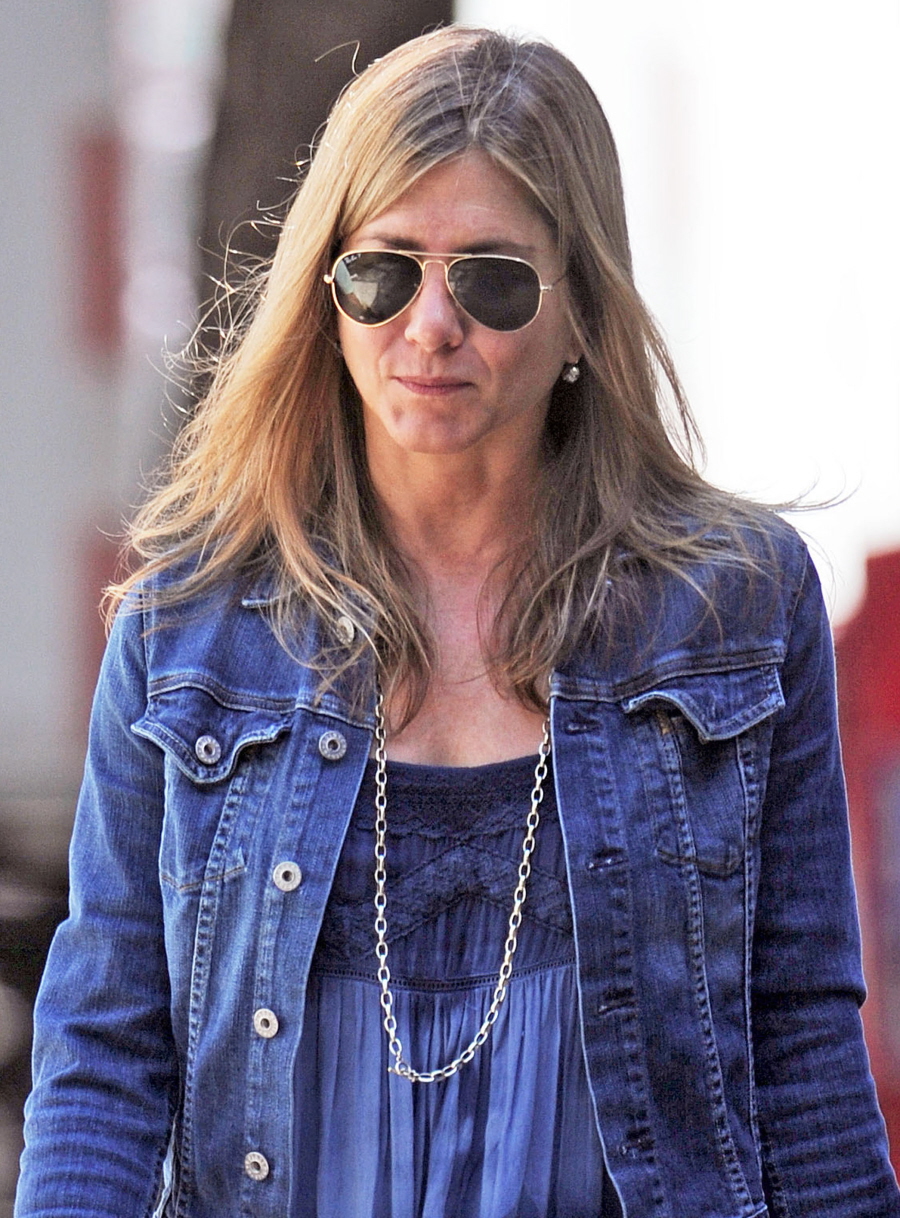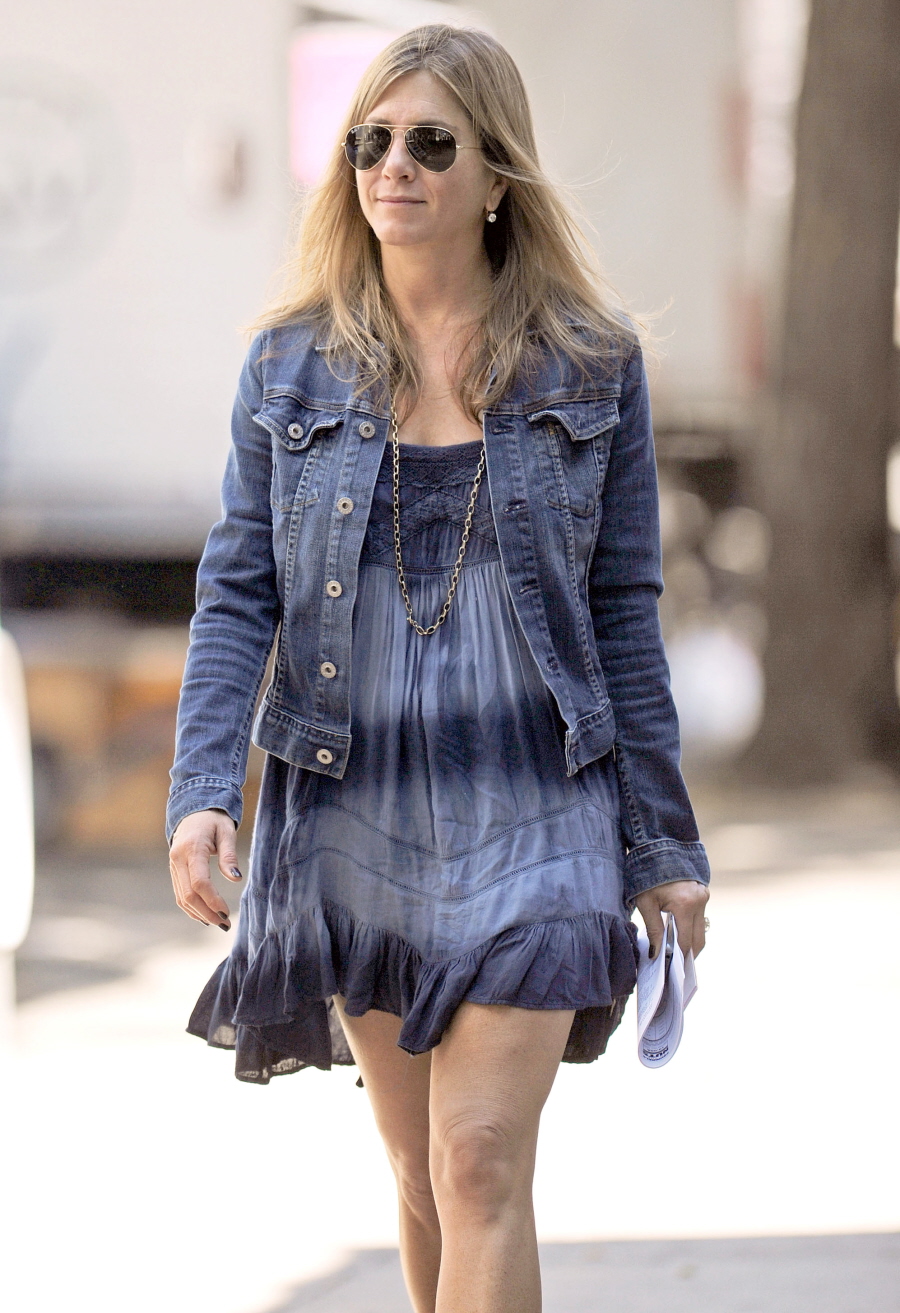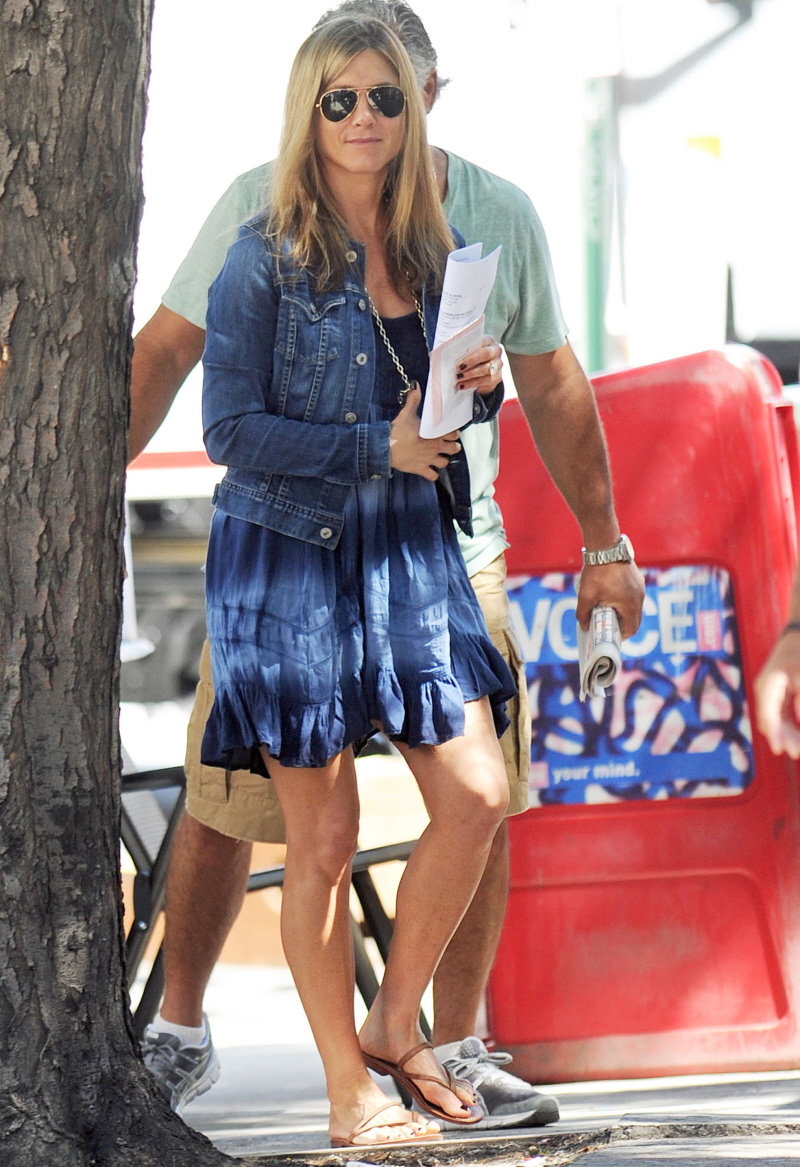 Photos courtesy of Fame/Flynet.