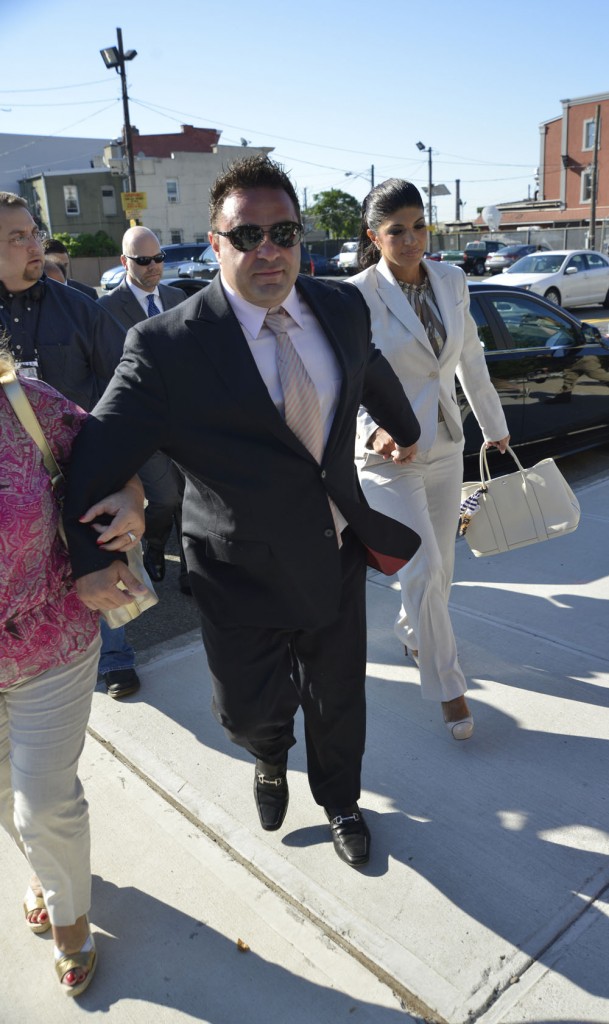 Teresa and Joe Giudice of The Real Housewives of New Jersey were seen outside a bail hearing in Newark, New Jersey yesterday. Joe scuffled briefly with paparazzi outside the courthouse while his father, Frank, told them to go to hell and bent over to show them his ass. (Photos are here.) Bail was set at $500,000 each for the pair, who face 39 federal fraud charges including mail, wire, bank, and bankruptcy fraud. Teresa met her own bond while Joe's father, Frank, took care of his son's bond.
Joe is not a US Citizen, he was born in Italy, and if he's convicted it's possible that he'll be deported back to Italy. He moved to the US when he was one and is a "legal permanent resident." Joe's lawyer told the press that even if Joe is exonerated in this case, it's possible that he'll be deported if he's convicted in his other pending charge, for impersonating his brother to obtain a driver's license. Either way, this guy is going to prison or is going to get shipped out of the country or both. Here's more on their hearing yesterday:
Joe and Teresa Giudice are free on $500,000 bonds each and were required to surrender their passports, with instructions not to leave the states of New Jersey and New York. The couple is scheduled to be arraigned in New Jersey in federal court on August 14.

Teresa and Joe Giudice appeared at a courthouse in Newark on Tuesday morning to set bail regarding their charges of fraud and tax evasion, and RadarOnline.com has all the details.

Surrounded by media, Joe became combative and even swiped a photographer's camera out of his way the NY Daily News reports.

"Calm down, Joe," his attorney Miles Feinstein warned. "Don't do that."

His attorney added that the Real Housewives of New Jersey couple's appearance is strictly routine and they are there to "set bail."

Teresa's attorney, Henry Klingeman, told USA Today that she will plead not guilty to the charges.

"They're presumed innocent," Feinstein said. "They maintain their innocence. They're supporting each other."

As RadarOnline.com reported on Monday, Joe and Teresa were charged with 39-counts of conspiracy to commit mail and wire fraud, bank fraud, lying on loan applications and bankruptcy fraud. Joe is also being charged with failure to file tax returns for 2004 through 2008.

On loan applications, Teresa and Joe allegedly made up fake jobs and salaries to get larger loans. They also allegedly used fake documents in a conspiracy to get mortgages and loans they did not deserve.
If there's anything we learned from Real Housewives of New Jersey, it's that these people are shameless and entitled and will stop at nothing. They declared bankruptcy and yet continued to flaunt their ill-gotten wealth on television for years. There's probably a wealth of evidence against them.
Following this hearing, Teresa's lawyer told US Weekly that she's hanging in there. What a brave little victim she is:
"She's been through a lot, as everybody who watches the show knows," Klingeman told Us. "[There have been] challenges, both personal and professional, and she deals with them in due course and she'll deal with this one."

During the New Jersey courthouse proceedings on Tuesday, July 30, it was revealed that Joe, 43, is not a U.S. citizen, but an Italian one, and if found guilty of the bankruptcy fraud charges pressed against him, he could face deportation.

"The family is handling themselves with great dignity, but it's very traumatic," Klingeman said. "And when you have four small girls, it's tough for everybody, including the girls."

The reality show couple are parents to daughters Gia (born 2001), Gabriella (born 2004), Milania (born 2005), and Audriana (born 2009)…

U.S. Attorney Paul J. Fishman, who initially brought the case to light, told Us that the charges are "serious," and that the investigation into the Giudice's money troubles have gone on "for a pretty long time."
Sure they're "handling themselves with great dignity," Joe is swearing and swatting at photographers and his dad is making lewd gestures at them. I bet that Teresa thinks that she'll get off with either minimal time or probation. I also bet that she'll testify against Joe if it gets her less time. She may be standing by him now, but she'll save her own ass if she thinks it will keep her from getting put away. I could be wrong, she's been surprisingly loyal to him when faced with his multiple infidelities.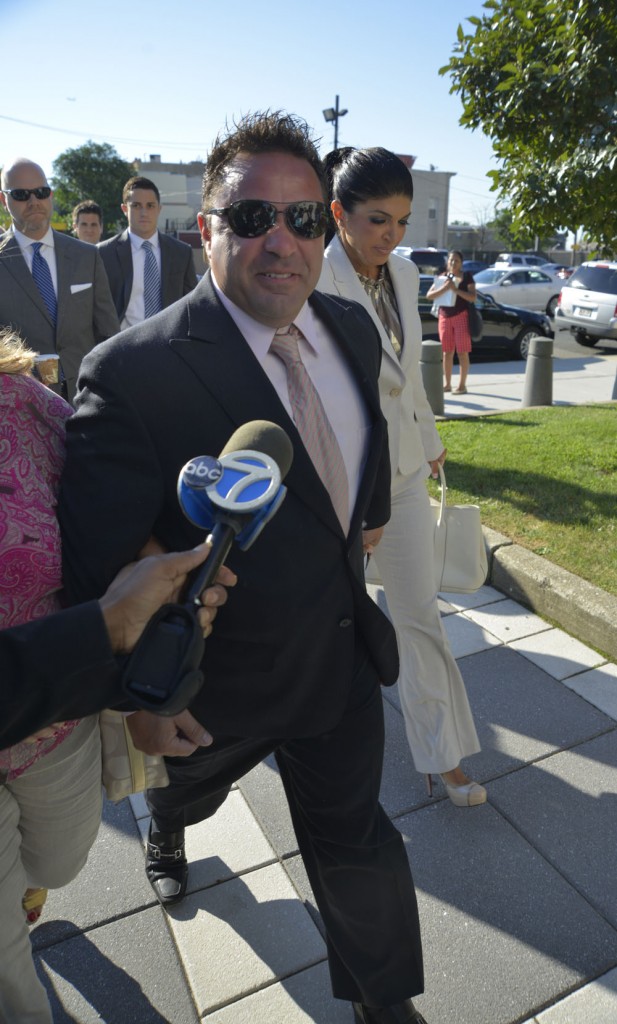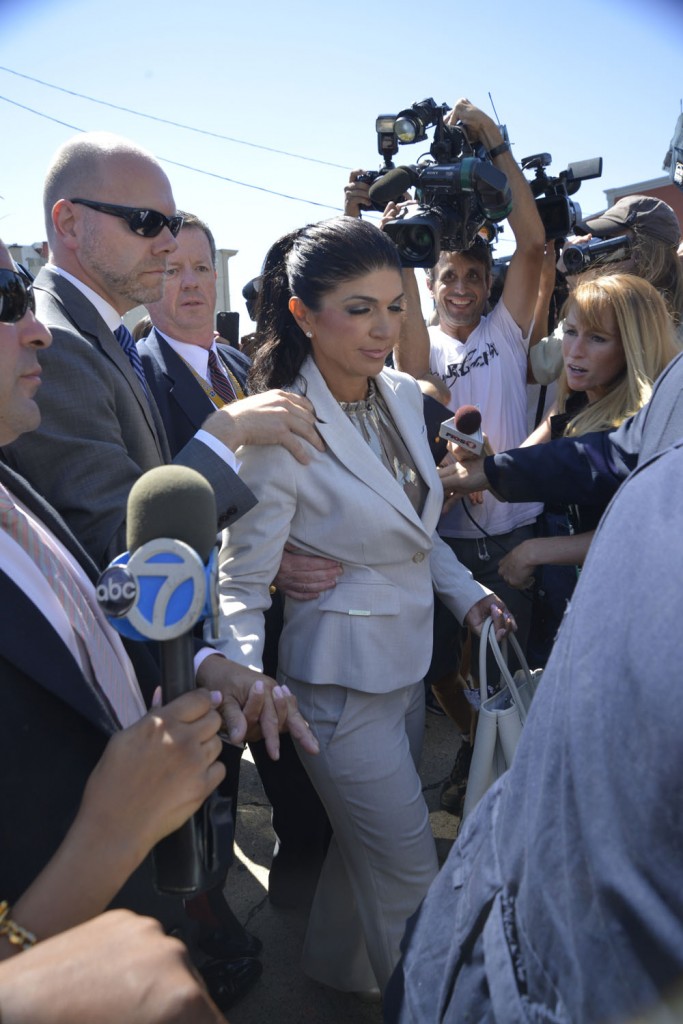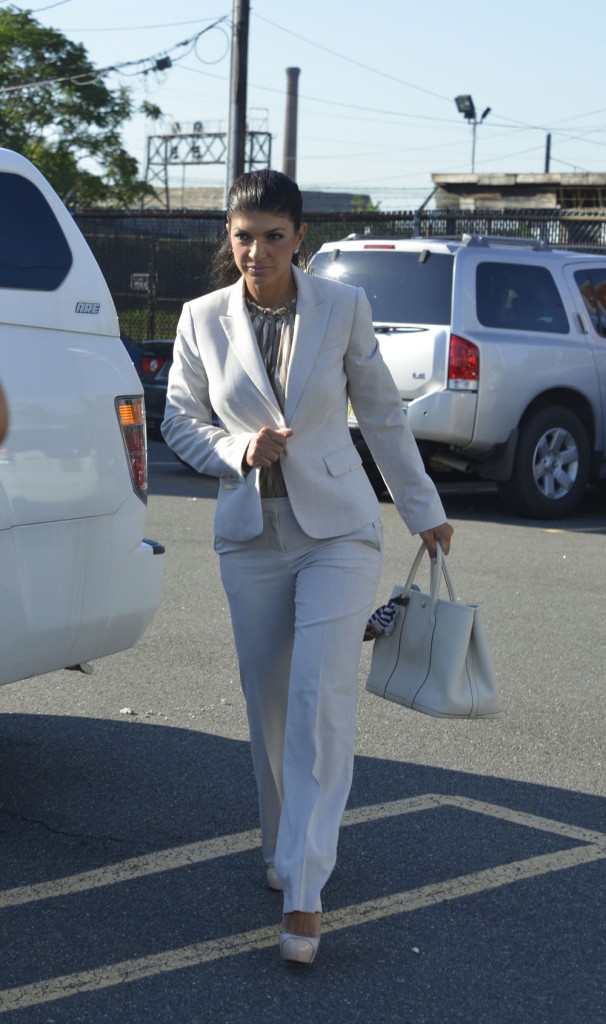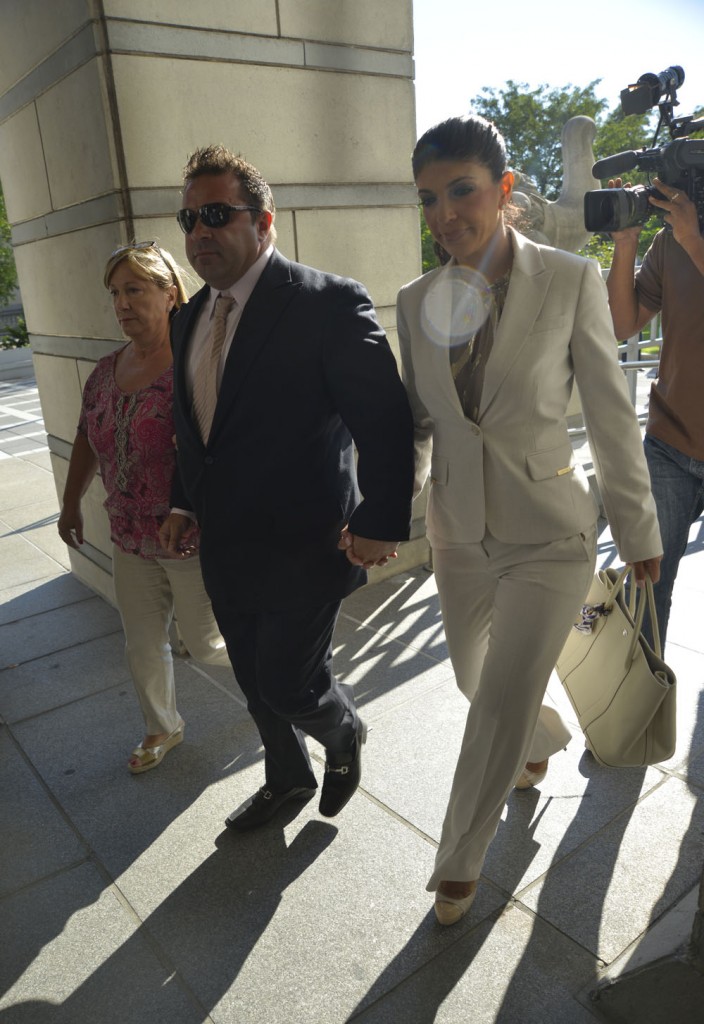 photo credit: WENN.com