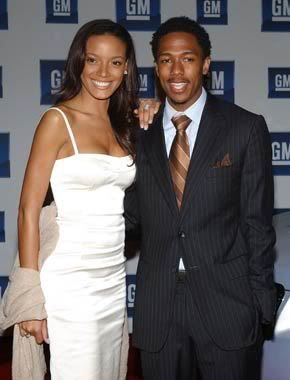 Actor Nick Cannon has married a Victoria's Secret model in a Las Vegas ceremony. Cannon dated Christina Milian for years and was most recently tied to Kim Kardashian. People were saying his relationship with Kardashian was more "friends with benefits" than serious, but Cannon has a reputation as a philanderer and may have just been unwilling to commit to her. When Kardashian's sex tape came out, Cannon said he hadn't seen it and it didn't seem to bother him, but that could have been because they were on the outs anyway. The sex tape may have prompted him to leave her, although there's no evidence of that.
Regardless Cannon, 26, hooked up with model Selita Ebanks, 24, just three weeks ago and stupidly married her in Vegas last weekend.
Usmagazine.com has learned exclusively that Nick Cannon, 26, married Victoria's Secret model Selita Ebanks, 24, in Las Vegas last weekend. Sources say the altar-rushers were staying at the Palms Casino Resort Hotel and enjoying NBA All-Star Weekend when they decided to wed on a whim after just three weeks of dating.

The couple began dating after meeting at Super Bowl weekend in Miami. Says the source, "The weird thing is when he and Kim [Kardashian] dated, he said he didn't believe in monogamy!" The singer and actor split from Kardashian in January.

Cannon and Ebanks are planning to hold a wedding reception party in L.A. this weekend, pals say.
I did about five minutes of research on the gorgeous Selita Ebanks, and along with being a Victoria's Secret model she also appears in the Sports Illustrated swimsuit edition for the first time this year. She was discovered at the age of 17 while she was at a Six Flags amusement park. In an interview with SI she says she likes the strong silent type of guy, and seems to have a preference for athletes.
Athlete that you want to know?
Michael Jordan. I recently met him at a Knicks game and I was so dumbfounded. I love sports so much, I'm pretty much like a jock. When you meet the greats, it's something else. I met Kobe Bryant last year and he signed a jersey for me and now it's framed and is going to go on the wall. I also want to meet Muhammad Ali. He's the best. He could float like a butterfly and sting like a bee. His energy and his personality; he wasn't just an athlete. He demanded attention and respect.

What attracts you to a man?
Confidence. I like a man who doesn't talk too much. Just very well put together and can walk into a room and command the respect that he deserves. I really admire that.
How long do you think this marriage with actor Cannon is going to last?
Update: Page Six reports that Selita's friends say she's also playing the field and that she spent Valentine's with another guy:
But friends of the couple say, "That sounds unlikely." A pal of Ebanks laughed, "She just spent Valentine's Day with another guy who got her all this stuff from Tiffany and Cartier. She's a player and just having fun since she signed her $17 million contract with Victoria's Secret."
Here are a bunch of pictures of Selita from SI.com.