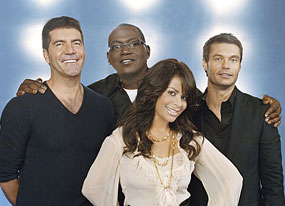 So you have to be at least sixteen years old to try out for American Idol. But what if you really have the talent and you think you can make it?
Well the greedy marketing group known as FremantleMedia and Simon Fuller's 19 Entertainment have decided to create a summer camp for those between the ages of 12-15.
Idol Camp will cost aspiring Kelly Clarksons and Clay Aikens $2,900 for a 10-day session, four of which will take place this summer at a private school in Massachusetts. Some attendees will be eligible for scholarships, however, so that a broader mix of backgrounds will be able to come together.
Wow, that's great they're only gouging those that can afford to be gouged. Even though you're shelling out three grand for a little over a week's worth of training, and you get to see celebrity guests, Idol contestants (William Hung, is that you?!) and other "important people"
…completing a session of Idol Camp does not guarantee a golden ticket to Hollywood or a spot on the inside track during tryouts.
So basically this is like any other performing arts dance/song camp. To justify the decision, Mark Brittain, head of Idol's commercial division for 19 Entertainment says,
"Utilizing the power of the American Idol phenomenon, we can provide a truly one-of-a-kind experience."
What he failed to mention was how much of a kickback he gets from the 700 kids each shelling out 2900 bucks for the camp.
Damn, so if you want to go to Idol Camp, you better get started on that Pet Walking Business and Lemonade Stand.