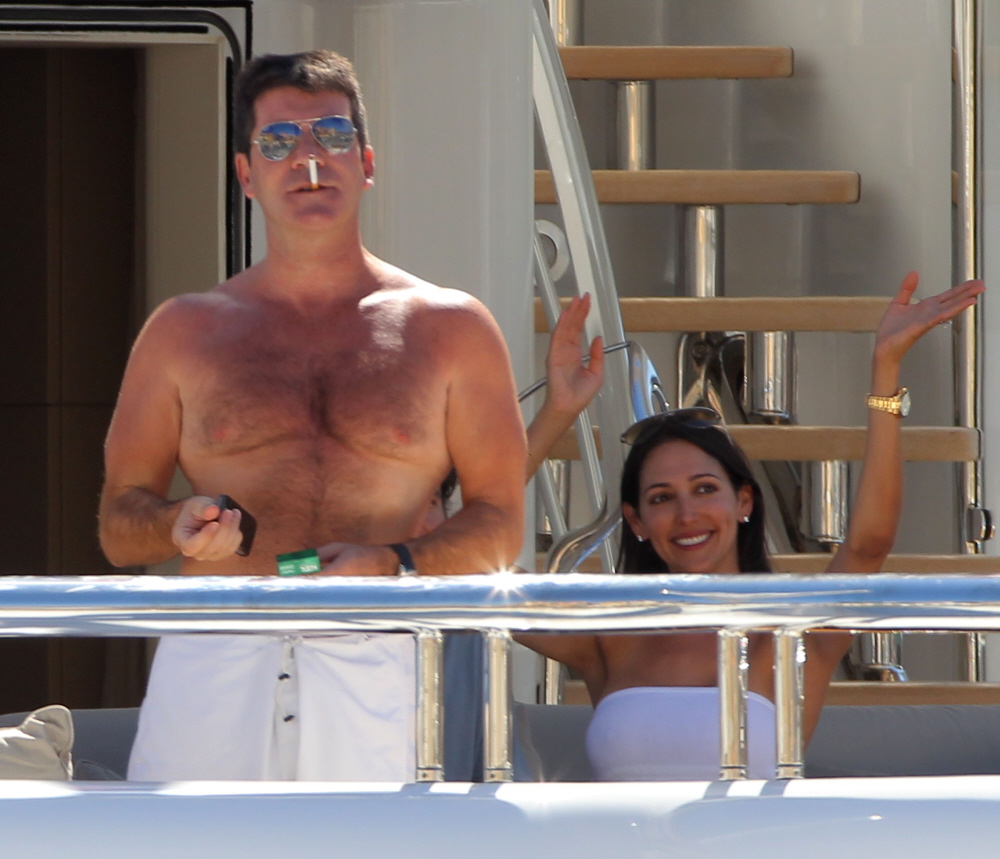 I covered most of this weekend's Simon Cowell-Lauren Silverman drama yesterday – go here to see the post. From what I can tell, Simon has decamped to St. Tropez with two of his ex-girlfriends (his "harem") for some rest and relaxation. He's also getting his head together and trying to figure out how to deal with a married pregnant woman (whom he impregnated) who has TMZ and Us Weekly on speed-dial. I do have to admire Lauren's game here – she's coming across as a clinger and a golddigger, but seriously, this story is so much fun because the conventional wisdom is that Simon's chickens are coming home to roost.
Meanwhile, Lauren and Andrew Silverman are in New York – I think she's in the Hamptons, and Andrew has been coming and going, maybe? They seem to be talking, although everything seems to be in flux. The new story coming out of the Silverman Camp is that they're trying to work out some kind of divorce settlement privately (with leaks to TMZ and Us Weekly just in case, I suppose). And now TMZ reports that Simon wants to be left out of the legal crap:
Simon Cowell is upset … very upset he's in the middle of what is becoming a bitter divorce between Andrew Silverman and Simon's soon-to-be baby mama Lauren Silverman, and he's pressuring her to settle … sources with direct knowledge of the situation tell TMZ.

We're told Simon HATES the bad publicity, which he feels is making him look like an underhanded cad. Our sources say Simon has painted a clear picture to Lauren — the money she'll get from Andrew is minimal because of their prenup, so any significant cash will come from Mr. X Factor himself.

We're told Lauren is nervous and doesn't want to upset Simon, so she's feeling the heat. Her problem — she and Andrew are at odds over custody of their 7-year-old son, and she feels she may have to give too much in order to end things and appease Simon.

Although both sides have said they want to resolve the divorce amicably for the sake of their kids, we can tell you there's a lot of bad blood on both sides and it's getting really nasty.
If Lauren is feeling like she's giving up too much, then Andrew Silverman is playing this really well. While I think it's scandalous/good gossip to report that Andrew had "no idea" Lauren was banging Simon, I actually think he probably knew. I don't have any proof or anything, I just think Andrew probably took it as a compliment that Simon was banging his wife (some men are like that). And now Andrew is playing the victim of his tarty wife and her douchebag lover, and that's fine. It's a great legal strategy.
Other stuff – the NYDN has a story about Lauren having an "affair" with a married teacher when she was 16 years old, but I consider that either statutory rape or simply gross on the teacher's side. And the NY Post (another outlet getting a lot of strategic leaks) says that Lauren and Simon weren't using protection because she thought she couldn't get pregnant. Uh-huh. I wonder if that's what she told him.
Simon Cowell's married squeeze didn't trick him into knocking her up — because "the truth is that she didn't think she could get pregnant," a source told The Post yesterday. Two-timing wife Lauren Silverman — who has a 7-year-old son with cuckolded hubby Andrew — "had been trying for a long time for another child in the past when things were better between them, and she had suffered a few miscarriages," the source said.

"She and Simon were not using protection because doctors said she couldn't get pregnant," the source said.

The brunette beauty allegedly began bedding the tart-tongued "X Factor" judge in 2011, after Cowell befriended Andrew and began socializing with the couple. The source also said that Lauren's parents "are delighted she is pregnant with Simon's child, partly because there's a baby on the way, but more that the father is a wealthy celebrity who will take care of her."

"The only fear is that because of her history of miscarriages that she might lose the child and end up with nothing," the source said.

Sources also knocked down a report that Cowell dumped Lauren six weeks ago, before learning that she was expecting his child. One source said the two were spotted together in London a few weeks ago, while another said Lauren has been bragging to her friends in New York that she and Cowell are "together, and I want him to marry me."

Cowell flew out of Los Angeles on a private plane Friday night to escape the paternity scandal and is planning to spend at least a month cruising the Mediterranean on a yacht with friends.

"He is running away from the whole situation," a source said.

But another source said Cowell's quick getaway doesn't mean he plans to kick Lauren to the curb.

"There is not much Simon can do at the moment," the source said. "He can't be with Lauren while she is still sorting out her divorce."

Despite slapping Lauren with divorce papers in which he accused her of adultery with Cowell, Andrew spent the weekend with his wife and their son in Bridgehampton. Although Lauren is expected to score between $3 million and $4 million under a prenuptial agreement with her betrayed husband, the couple is reportedly gearing up to battle over child custody.
This quote is really bothering me: "The only fear is that because of her history of miscarriages that she might lose the child and end up with nothing." Um. She's not worried about the emotional or physical tragedy of miscarrying. She's worried that if she miscarries, she won't get all of the money she wants. And that Simon won't marry her. Gross.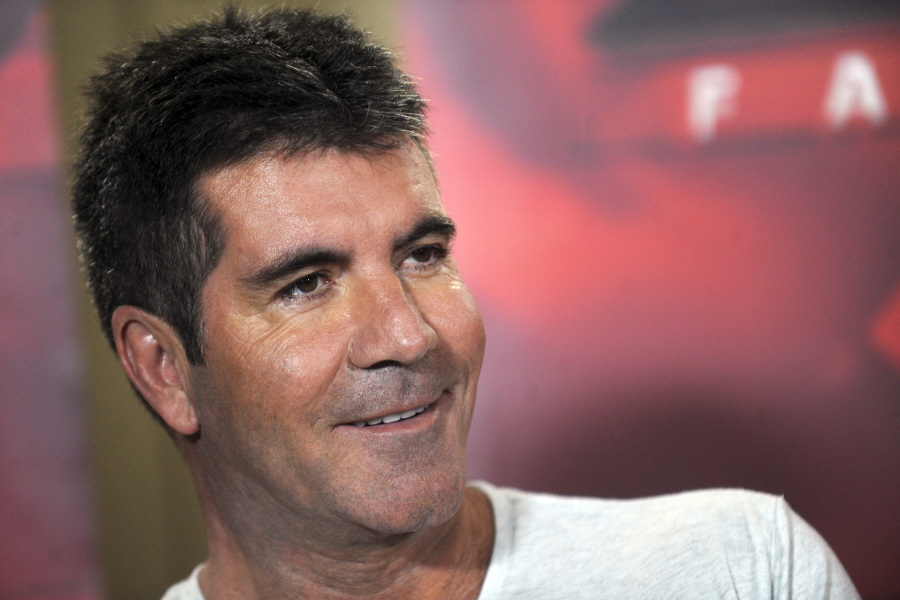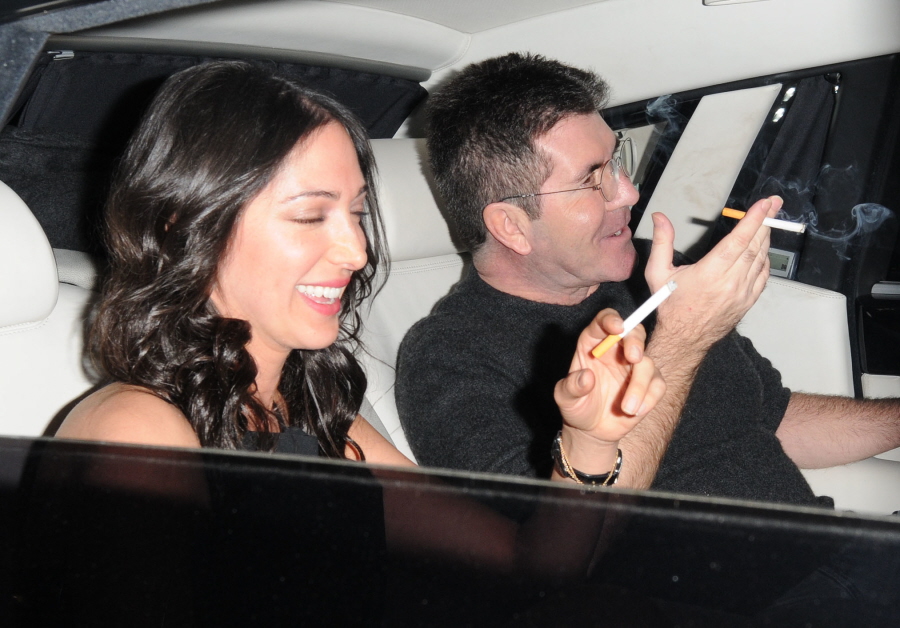 Photos courtesy of WENN.