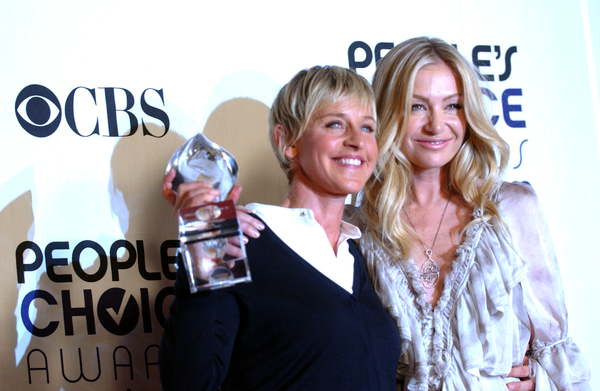 For us Arrested Development geeks, Portia de Rossi is a goddess. She played crazy, lovable loser Lindsay Bluth, sister to Buster, Michael and Gob of the Bluth family. Before AD, I had been "meh" about Portia, but after that show I realized how insanely talented she is – she has a real gift for comedy and slapstick. When she found personal happiness in a relationship with Ellen DeGeneres, I was surprised. Ellen is more than a decade older than Portia, and I didn't want my girl to get hurt. Ellen made as honest woman out of Portia, as the couple were married last year to much fanfare.
Portia de Rossi has a new interview with People magazine in which she talks about how happy Ellen has made her, and how much marriage changed her life. It's a really nice interview, but unfortunately she doesn't discuss whether there will actually be an Arrested Development movie. Oh, well. Another time.
Five months after her wedding to Ellen DeGeneres, Portia de Rossi is declaring that marriage has "completely changed my life."

"Marriage is a different way of being together," the actress told People Friday while promoting her upcoming ABC series Better Off Ted at the Television Critics Association event in Pasadena, Calif.

Even though the couple have been together since 2004, tying the knot strengthened their bond. "There's a peace to [being married] and a sense of togetherness that we just didn't have before. And I didn't even realize it would change as much as it has, but it's so lovely," said the actress.

"It's legal, and it's real, so there's that kind of formality to it that makes it very valid," added de Rossi. "I think the emotions that went with that as a gay woman kind of surprised me – that I would be that relieved to have my mother be present at the ceremony to bless the union, and to call [Ellen] her daughter-in-law."

The actress said she's also emerged as a more confident woman in recent years, both in her life and her career. "It's so important to live an honest, open life and I didn't really realize that until I started doing it," she said.

De Rossi also holds out hope that other gay and lesbian couples will ultimately be able to enjoy the right to be legally married, a right that was repealed in California last fall shortly after their nuptials. "Every day of our lives is a protest against the passing of Prop 8," she said. "We're a happily married couple. It was kind of devastating, actually, when it passed."

One element of their post-wedding life de Rossi isn't looking forward to is taking the hot seat as a guest on DeGeneres's daytime talk show, which she will "unfortunately" do to promote her new series.

"I say 'unfortunately' because it just seems like a very awkward kind of interview. She'll make it flawless, and I'm excited to talk about the show," she said. "I just hope she doesn't ask any personal questions. That's off limits!"

But doesn't her spouse already know all the intimate personal details? "No, she doesn't," de Rossi said laughing. "That's what I'm worried about. She could ask anything she wanted."
From People
I tend to think that this is what the gay marriage cause needs – not simply protests, bans, campaigns, etc. The cause needs more gay couples to come forward and really talk about marriage, how getting married changed them, and how happy they are or would be married. It puts a human face on the issue, and demystifies it for many people. I think it's really sweet that Portia likes that her mother can call Ellen her "daughter-in-law" – it's the kind of little thing that would never occur to me.
Ellen DeGeneres and Portia de Rossi are shown at the People's Choice Awards on 1/7/09. Credit: PRPhotos