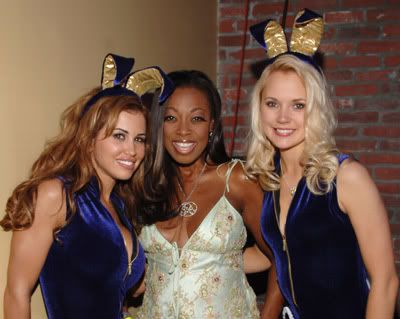 Everyone was speculating that Star Jones wasn't long for The View after straight-talking Rosie O'Donnell was handpicked by Barbara Walters to replace Meredith Vieira. It turns out that people were right, because Page Six is reporting that an insider has confirmed that Star will be exiting the show.
STAR Jones Reynolds has been told to hitch up her hefty wagonload of freebies and waddle off into the sunset, sources say.
ABC will announce this week that the big-boned talking head is out at "The View," a source close to the inner workings of the late-morning gabfest tells Page Six. What network brass won't say is that she's being unceremoniously ousted at the direct behest of the show's grand dame Barbara Walters and the incoming Rosie O'Donnell.
"It was always Rosie's condition of joining the show, and Barbara agreed to those conditions from the outset," our source said. The network and Jones are now concocting a face-saving scenario in which Jones will be touted as moving on to pursue important new projects.
How Jones' star has fallen – just a few weeks ago, she had hoped to succeed Meredith Vieira as the moderator of the crew.
But Walters wasn't going to let that happen because "she hates her. Really can't stand her," a source told us last week. O'Donnell was recruited quickly after Vieira announced she was jumping to "Today."
Oprah's best friend, Gayle King, is said to be considered for Star's soon to be vacant post. We can't wait to see what crappy non-job Star gets next. She'll probably be out of work for a while until she breaks down and becomes the spokesperson for a diet or fitness-related product. She's already shilling payless shoes, and has no scruples about what she'll endorse to get free shit or cash.
Here she is with her husband at the The Playboy Club party on 5/5 hosted by the 2006 Playboy Playmate of The Year. At least she doesn't have to worry about him checking out the bunnies.