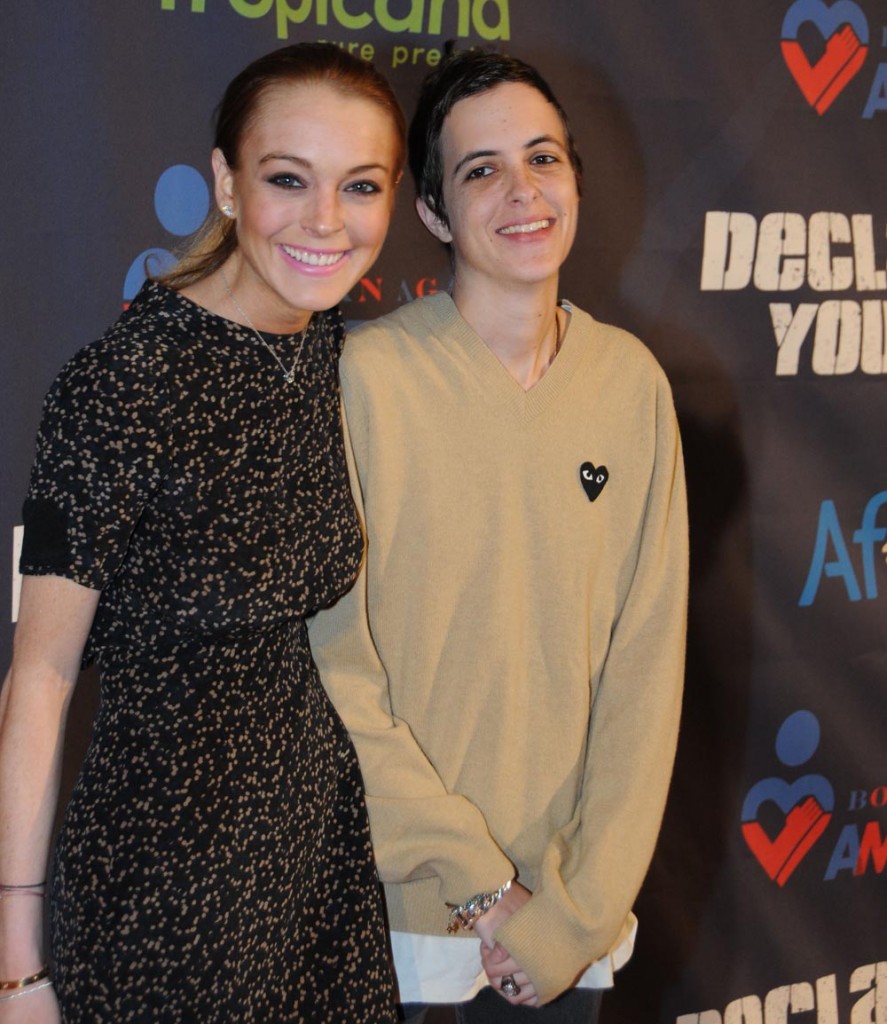 Lindsay Lohan and Sam Ronson are back on! (Hurray!) The two appeared together at the "Declare Yourself" event in Washington. Sam was the DJ, Lindsay was there to… pose for pictures? Lend moral support? Perpetuate the drama? I know we all speculate about Lohan being back on *something* but the girl has been looking pretty good lately. Lohan wore a tight-fitting black dress, with her hair in a ponytail. And, as always, it looks like Lohan wasn't wearing a bra. What is it with this girl and bras? She's got nice tatas, but if she doesn't take care of them, girl's going to be very saggy by the age of thirty. OK! has the details of the Lohan-Ronson appearance.
Looks like the game of "Are They or Aren't They Together?" between Lindsay Lohan and gal-pal, DJ Samantha Ronson is in full-on "They Are" mode after the pair, who have weathered numerous breakup reports in recent weeks, made the scene together in Washington, D.C., on Sunday.

According to witnesses at the Declare Yourself event — one of several A-list bashes leading up to Tuesday's inauguration of new U.S. President Barack Obama — LiLo and SamRo "looked very happy together… very much the happy couple… All signs of any lovers' quarrel appear to be gone."

Perhaps in keeping with the historic events unfolding in the coming days, or maybe just trying not to overshadow her more camera-shy girlfriend, who was on-hand to DJ the Jessica Alba and Jamie Foxx-hosted event, Linds looked very demure in a conservative black dress and ponytail as they strode the Declare Yourself red carpet together.

When it came time for a nervous Sam to pose for the paparrazzi, Lindsay offered her support, asking her girlfriend, "You want me to join you?" before sidling up to Sam for some shots together.
From OK! Magazine
Aw, that's cute. As I've said before, I don't really hate La Lohan, even though I think the girl's a train wreck. Sam is good for her, I hope. I'm so happy they didn't split up. Just think – Lohan's longest relationship ever has been with Sam. That's got to count for something. Now Sam needs to work on getting Lohan into a bra.
Photo credit: Splashnewsonline