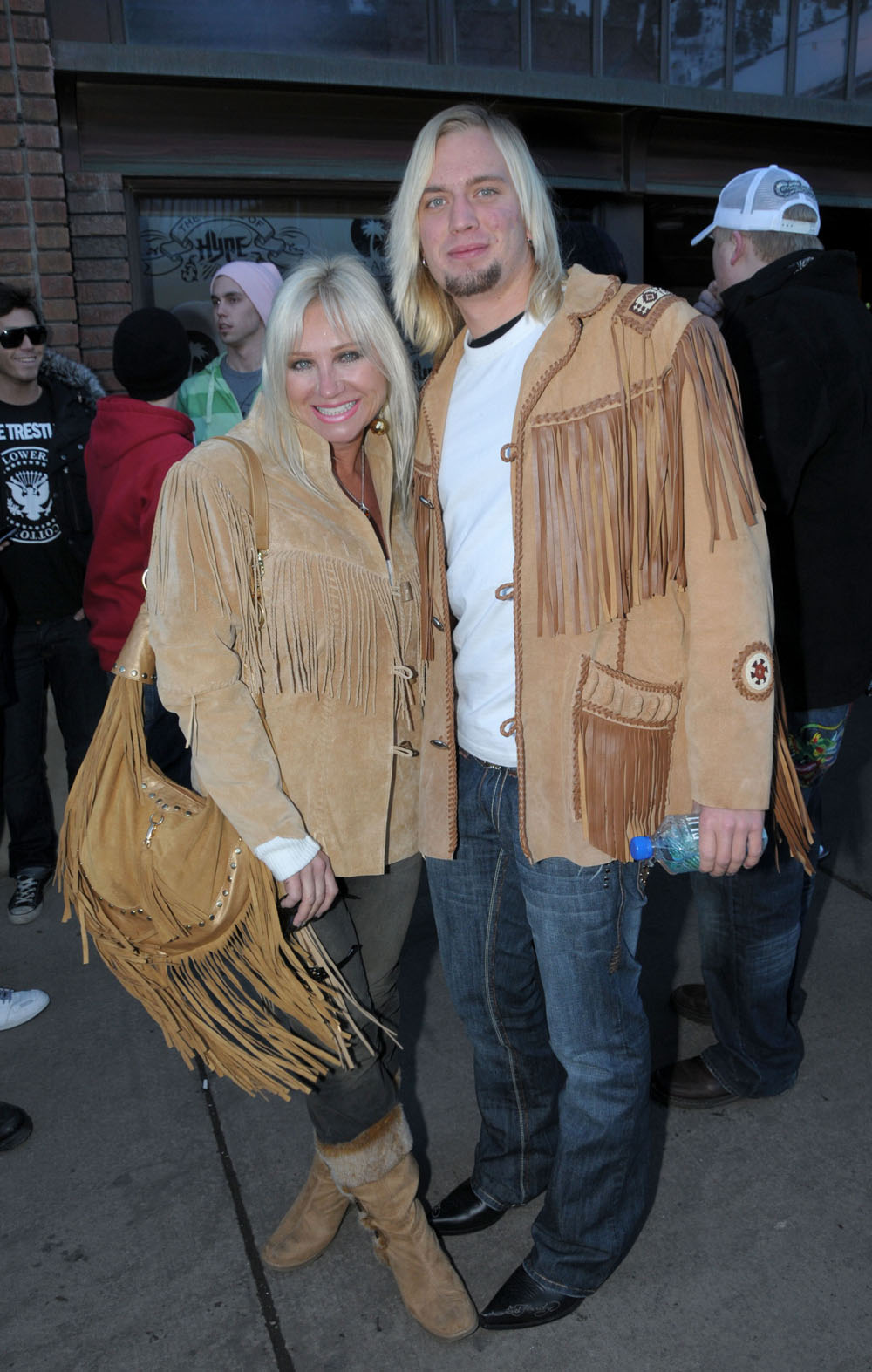 Linda Hogan is getting really serious with her 19-year-old boyfriend (heavy emphasis on the "boy") Charlie Hill. Linda's in Park City, Utah to celebrate the Sundance Film Festival. And I use the word "celebrate" because I'm not sure what other verb to go with to explain why she's there. Linda's not an actress, she's barely a celebrity – really the only reason she's famous at all is for her sorta famous, soon-to-be ex-husband Hulk Hogan, and her poor parenting and family drama. Oh, and being tacky.
And to make sure she upped the tacky, Linda made out with her young lover all over Park City. Likely causing an unprecedented wave of vomiting throughout the city.
Pop Tarts noticed that the one woman getting most of the attention in the oddly quiet (and much warmer than normal) Park City on Saturday was none other than "Hogan Knows Best" star, Linda Bollea [Hogan]. So what was she doing at a film fest? Like most celebs in town, a whole lot of nothing.

Donning a terrible fur coat and pink lipstick, Bollea paraded her 19-year-old boytoy Charlie Hill up and down Main Street to fully utilize the photo op and at one point traffic controllers had to stop the cars in every direction as so many "fans" and paps were crazily rushing to get a snap of the happy-to-pose twosome. Although perhaps it was more a case of follow the pack as most snappers were asking "Who are we taking a photo of again?"

But Ms. Bollea isn't as "blonde" as she may come across, and the reality star was smart enough to cash in on her (already-expired?) fifteen minutes of fame by stopping off for some swag at House of Hype, St. Ives Spa and the Hollywood Life House for a free (of course) Fake Bake tan. Linda even asked the vendors if they wanted to take her picture. How gracious.

Linda's jailbird son Nick also attended the festival and seemed to have no problem with his mama consistently making out with (not to mention canoodling intimately with) her boyfriend who was actually his high school pal. Let's just say their behavior would have been better left for an area of privacy rather than for the pedestrians of Park City.

"He isn't Linda's boytoy anymore," a source close to Bollea told Tarts. "Things between them are very serious."
[From Fox News' Pop Tarts]
Well… I feel sick. Nearly every story about the Hogan family causes a wave of nausea to course through my body, but this one really ups it. How in the world is Linda Hogan getting so much attention? She should not be entitled to swag. Nor should she fake and bake anymore than she already has. And Charlie Hill gives me the creeps. Not just that he used to be good friends with Nick Hogan, or the large age difference between he and Linda… there's just something about his face that gives me the willies.
Really, Linda, could you possibly make yourself more unbecoming? If you want to shove your tongue down your boyfriend's throat, it's gross as hell but no one can stop you. But keep it to yourself, for everyone else's sake.
Here's Linda and Charlie arriving for the Sundance Film Festival n Park City on Saturday. Images thanks to Fame and Bauer-Griffin.