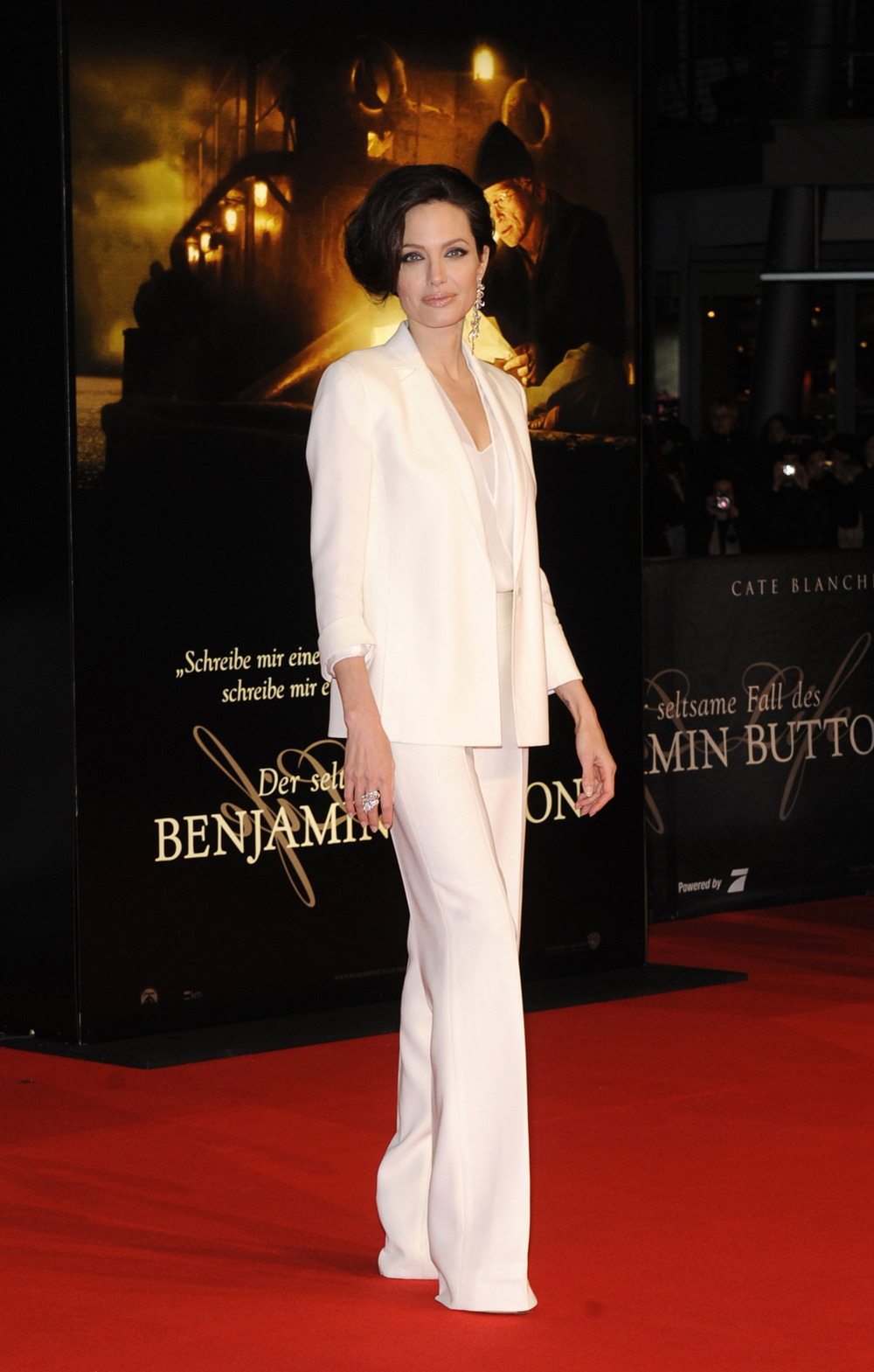 Brad Pitt and Angelina Jolie arrived at the Berlin premiere of The Curious Case of Benjamin Button, both clad in suits. Brad's outfit was typical – a well-tailored dark suit. Angelina's look is shoulder pads shoulder pads shoulder pads. I mean, her suit was a lovely, crisp white. The pants were wide-leg, the jacket a loose-fit, open style that I enjoy. But the shoulder pads! And the big hair! No! Angelina's never been some fashion icon, but for the past five years she really seems to be getting her fashion act together. And now, this. The Shoulder Pad Debacle of 2009. When did the Dynasty look have a resurgence? But I should have known – Angelina's cover shot on last year's Vanity Fair seemed to be a slight homage to the Dynasty era too. The Gossip Girls have all of the details about Brangelina's big night out.
They made a trip to the red carpet for the German premiere of "The Curious Case of Benjamin Button," but that was only the beginning of Brad Pitt and Angelina Jolie's night out in Berlin on Tuesday (January 19).

The "Mr and Mrs Smith" co-star couple were escorted out of the CineStar Sony Centre movie theater following their red carpet stop, with Brad toting a beer in-hand like a true German.

Up for a bit to eat, Brad and Angelina were then swept off in a chauffeured vehicle to VAU Restaurant, located in the midst of Berlin's historical, reconstructed Mitte district.

The red carpet night out will reportedly draw a close to the Jolie-Pitt's stay in Berlin, where Brad has been filming a new Quentin Tarantino movie titled "Inglorious Bastards."
Brad was carrying around a bottle of beer? Instead of going to a really negative place about Brangelina, I'll go out on a limb and say that Brad has probably seen Benjamin Button about a dozen times, at least. Maybe he was thinking something along the lines of "If I have to sit through this movie one more time, I'm going to be mainlining beer." Hopefully it's just the aggressive movie promotion schedule and not something more serious. Like Brad taking one look at Angelina's hair and shoulder pads and thinking, "I need a drink."
Here are Brad and Angelina at the premiere. Images thanks to WENN and Splash.