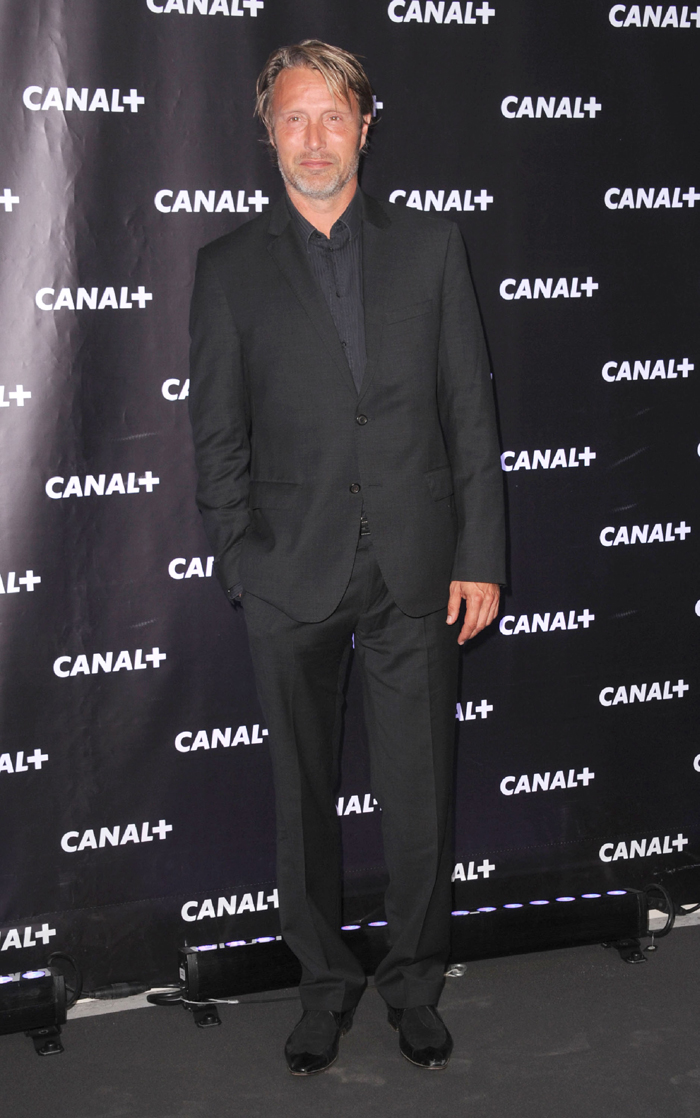 Here are some photos of Mads Mikkelsen last week at the Canal Plus event in Paris. He's looking a little windblown and blustery like he's been a naughty boy by staying outside without sunscreen. Mads is currently making some media rounds to promote the DVD release of "Hannibal," Season One. That's as good an excuse as any to talk about the man and to toss in some glossy promotional stills.
Mads has already talked quite a bit about how he feels that Hannibal is (strangely enough) one of the more positive roles he's ever played. Now he's explaining why in interviews with the Independent and Digital Spy. He also talks quite a bit about Hannibal's special bond with Hugh Dancy's character, the FBI's "prize specialist" named Will; and it sounds like Mads has a bit of a mancrush on Hugh as well. Here are some excerpts: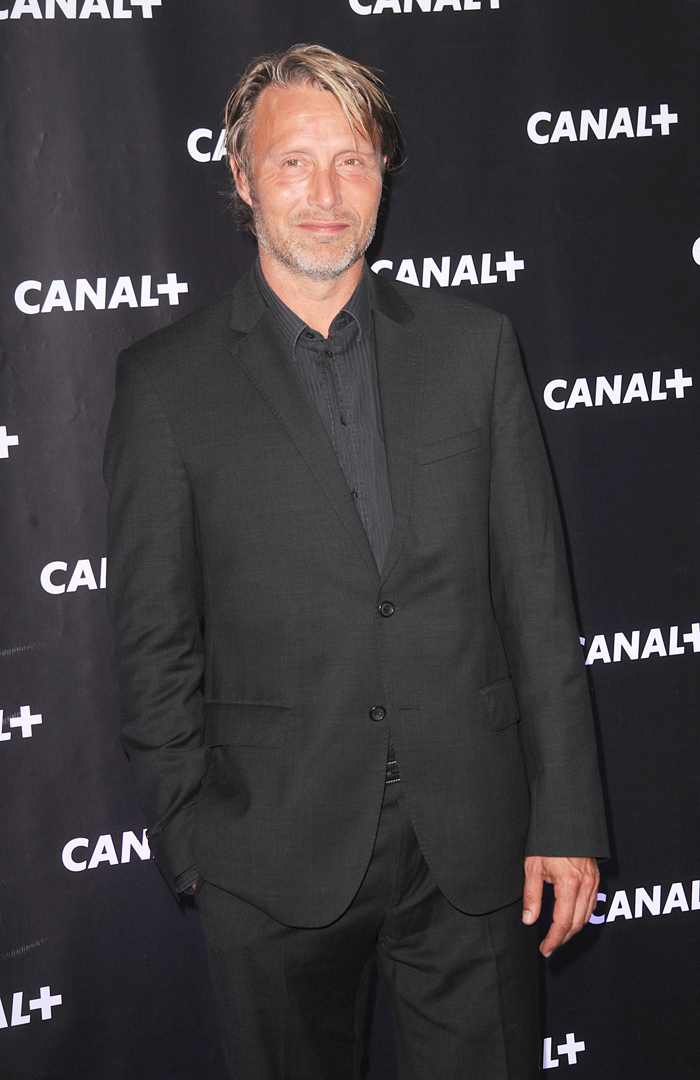 On a different Hannibal (than that of Sir Anthony Hopkins): "When I got the first script I couldn't tell what direction it was going in, so I was reluctant. He did it to perfection, so how should we approach it? But I realised this was taking place before he's captured. Normally when you're dealing with psychopaths, there's a reason they are how they are, and in Hannibal's case it's non-existent. He kills because he finds people banal. I call him the fallen angel: he finds beauty in things the rest of us find horrible."

On Hannibal's relationship with Will (Hugh Dancy): "I think it is in the nature of Hannibal to be quite a genuine man. I don't think we can catch him in any lie – there might've been one, but maybe he's turned and twisted the words around, so he doesn't have to find himself lying – he doesn't like lying. So he's quite genuine with his emotions and he's quite genuine with his empathy, but he's also very much in control – he decides when [those feelings] happen. It's a bromance – I am attracted to Will, in the sense that I see a young man with great potential… maybe greater potential than I had when I was a kid. So therefore I'm fascinated with him and I really have true feelings for him."

Hannibal as a tragic figure: "Well, I do believe to a certain degree that he's a quite lonely character… but at the same time, he's also a very social man. So I don't find him [to be] the lone psychopath who's out there for reasons that happened in his childhood – that is way too banal for Hannibal and also for the character itself. He's doing it because he finds it beautiful, not for other reasons. That is obviously what's so scary about him, and also sad."

On playing an accused sexual predator in The Hunt: "I try not to carry any character back home because that would be extremely frustrating for my family. It stays with you, of course, if for 14 hours a day you're being accused of something you haven't done and you can't get your frustration out anywhere. Whereas with a character like Hannibal, he's probably the happiest man I've ever played, even though he's doing horrendous things. He's a happy duckling and life is beautiful."

On staying in Copenhagen: "There's been no real reason to move to LA. The stuff I've done for America has been done in Europe anyway. We made a decision early on that we'd find our base and not shake the children's world as much as mine."

On Denmark's paparazzi culture: "It's nothing like you guys have [in the UK], but it does exist, and there are some quite spectacular shots of me buying a piece of furniture or cigarettes. It's super annoying every time, especially if you're caught with your family. My kids are at the age where they want to stand on their own feet and if they have a new job somewhere and nobody knows who they are, they like that, and all of a sudden they pop up in a magazine out shopping with dad and then they have to start all over again. They want to be themselves and not be looked upon as the daughter or son of me."
[From Independent]
Mads also sat down recently for a little chat with HuffPo. He admits that one big draw to signing onto this show in the first place was indeed Hugh Dancy. He seems quite taken with Hugh, and I think that translates nicely into the characters that they play. I watched the entire first season during my Amazon Prime trial last month even though I was skeptical of watching anything involving cannibalism (I'm a vegetarian, yo), but it really wasn't that disgusting. Plus, the male eye candy was well worth any gross details.
Just for fun, here's some promotional stills for the first season — because Mads has been looking awfully sunburned lately, and I prefer him all pretty after hair and makeup.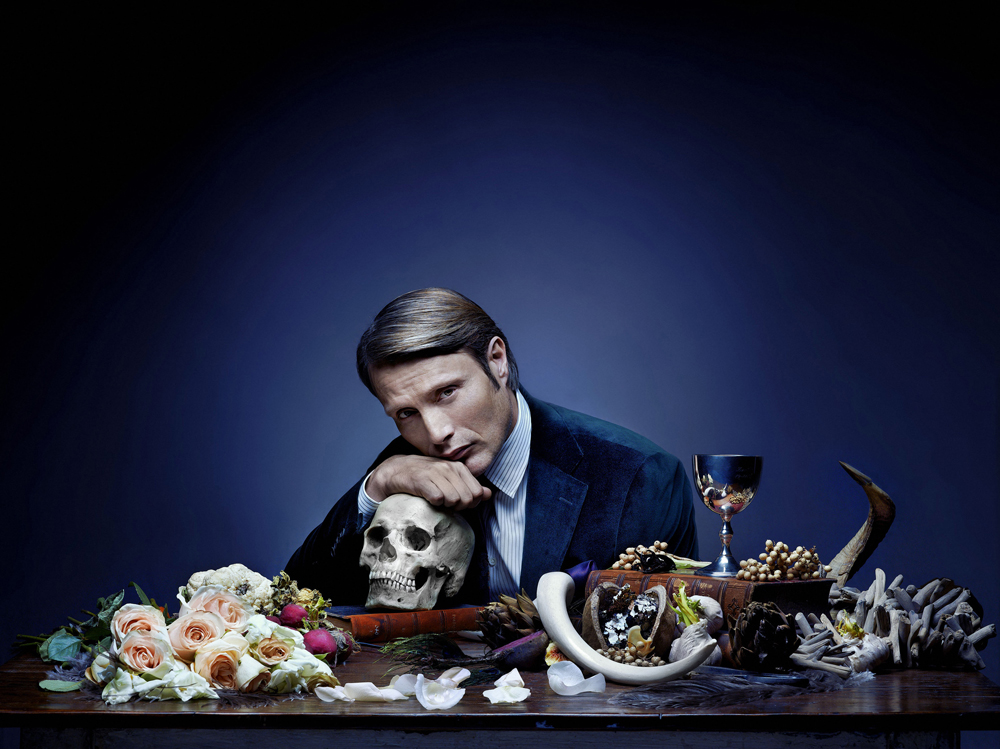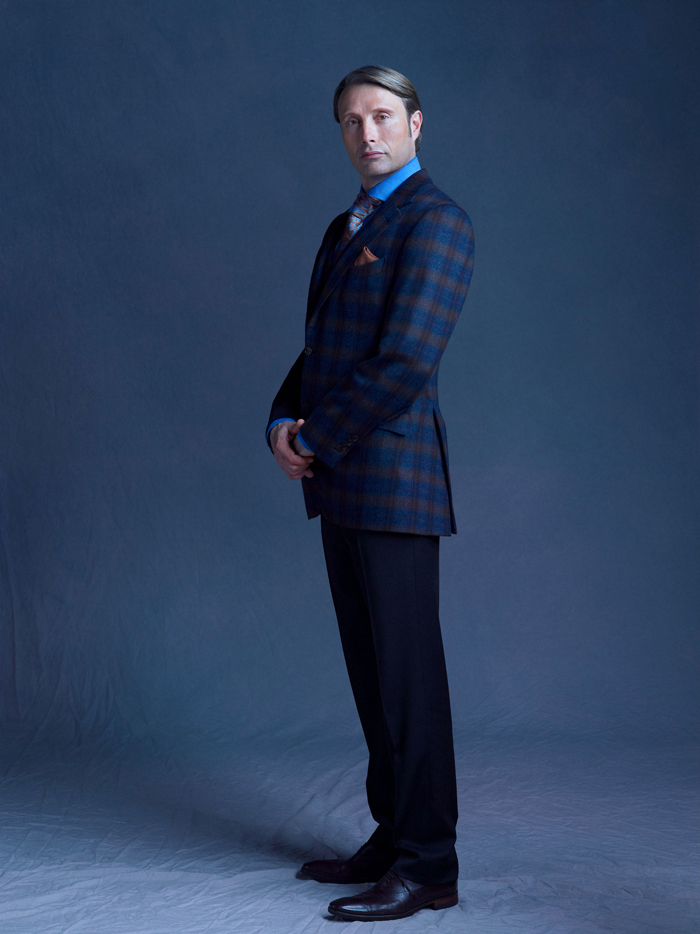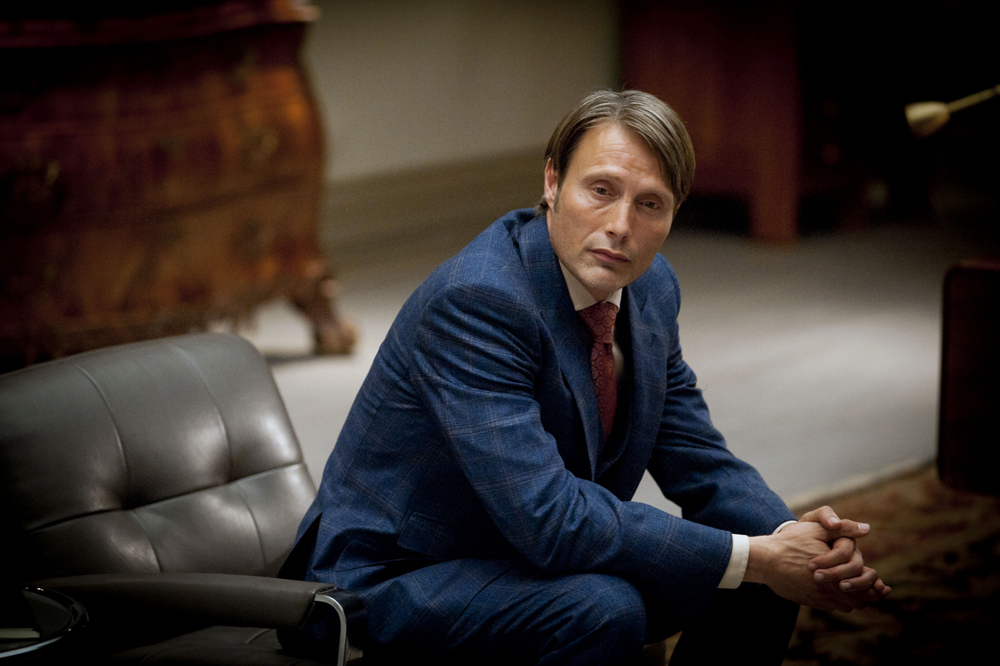 Photos courtesy of Fame/Flynet and StudioCanal