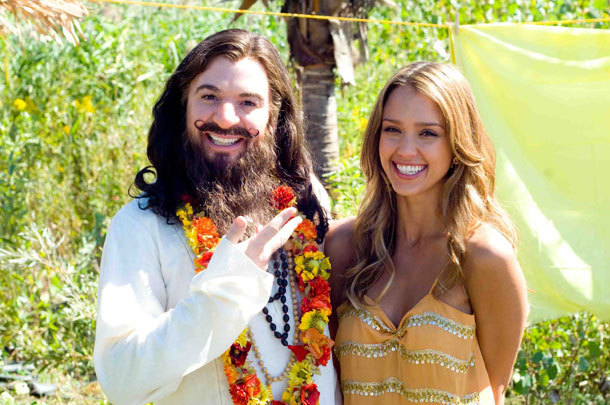 "The Love Guru." Just the name sends chills down the spine of anyone who's ever had to fork over $12 to see a crap-ass movie, and waste two perfectly good hours of their otherwise honorable lives. I was lucky enough never to see this film, but I was forced to endure enough terrible movie posters in subway stations that I feel like I'm still a victim in some sense. Luckily, Razzie voters agree with me. Two weeks ago they released their list of potential nominations, and now it's clear that "The Love Guru" is very much leading the way.
Voters for 2008's worst movies love Mike Myers. They really love him.

Myers' comedy flop "The Love Guru" led the field Wednesday for the Razzies with seven nominations, among them worst picture and worst-acting slots for Myers, Jessica Alba, Verne Troyer and Academy Award winner Ben Kingsley.

The number of nominations for "Love Guru" was appropriate given what a personal project it was for Myers, who not only starred but also co-wrote and produced the movie, said John Wilson, founder of the Razzies, an Oscar spoof that dishes out "dis-honors" for the lousiest stuff Hollywood dredged up the previous year.

"This is one of those auteur-of-the-awful situations," Wilson said. "I think people are tired of him in general. He hasn't really made a good movie in quite some time."
[From the Huffington Post]
Seven nominations? That's nearly a record. They're completely right; Mike Myers hasn't done anything good in a long time. Depending on your comedic tastes, I'd say the last one was the second "Austin Powers" movie.
"The Love Guru" was so bad that it ended up getting a ton of negative press, not just for the film itself, but for Myers unlikable, control-freak personality in general. He comes across as kind and genial in interviews, but all sorts of people who've worked with him say he's actually a total jerk. It seems like people aren't willing to suffer his ego anymore, and those working with him aren't willing to cover for him and create good films.
MSat noted that Hollywood was rooting for "Love Guru" to fail because of Myers jerkish nature. It seems like they all got their wish.