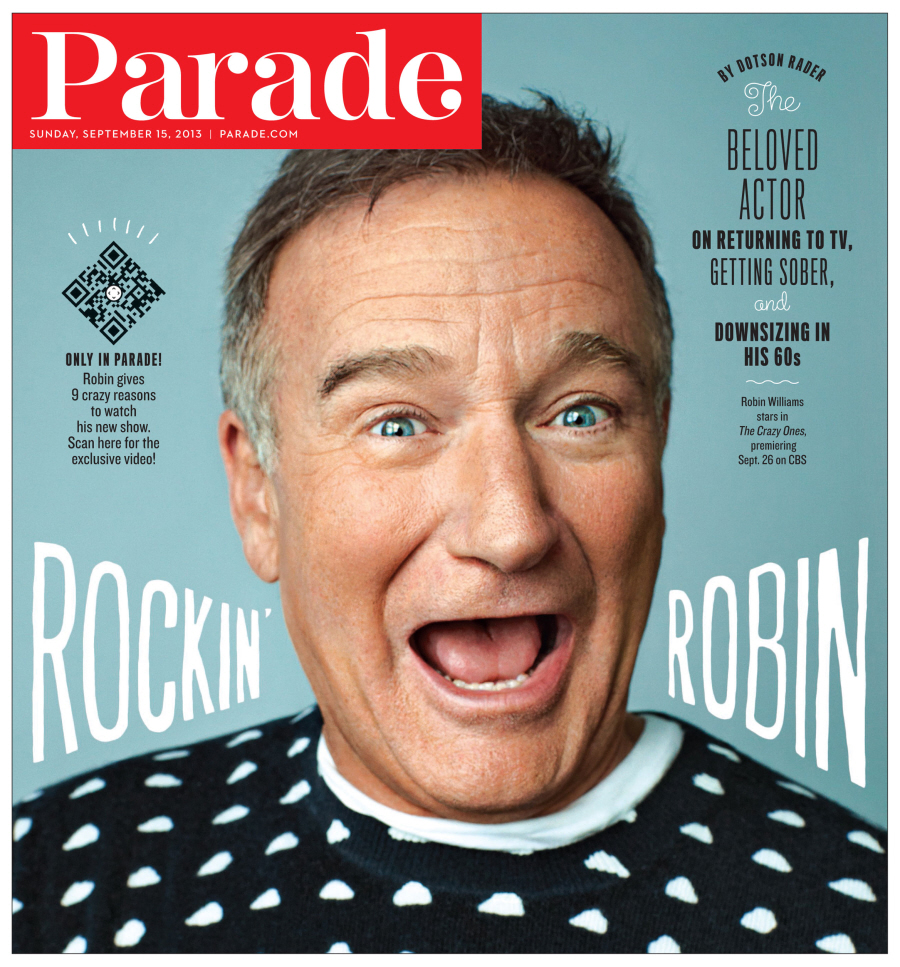 Robin Williams covers this week's issue of Parade Magazine. He's promoting his new TV series on CBS called The Crazy Ones. It looks bad, you guys. Like, really bad. Sarah Michelle Gellar plays his daughter, and they're a father-daughter ad agency. The show was created by David E. Kelley, so it might be okay-ish, but I don't know what to expect considering the commercials made it seem… bad. Here's a behind-the-scenes:
That's painfully uncomfortable, right? Maybe it will be okay. I hope they find an audience, because Robin makes it sound like he really needs the money. I guarantee that this Parade interview is much more interesting than his terrible TV show:
On what it's like being back on TV: "It's fun. I'm having such a blast doing it with Sarah. She's a sweet woman. And the idea of a father-daughter relationship—since I have a daughter, I've done the research on that."

On why this was the right time to return after 31 years: "The idea of having a steady job is appealing. I have two [other] choices: go on the road doing stand-up, or do small, independent movies working almost for scale [minimum union pay]. The movies are good, but a lot of times they don't even have distribution. There are bills to pay. My life has downsized, in a good way. I'm selling the ranch up in Napa. I just can't afford it anymore."

On whether he lost all his money in his two divorces: "Well, not all. Lost enough. Divorce is expensive. I used to joke they were going to call it 'all the money,' but they changed it to 'alimony.' It's ripping your heart out through your wallet. Are things good with my exes? Yes. But do I need that lifestyle? No."

On whether he felt betrayed by Lance Armstrong, who had been a friend: "It wasn't just Lance. [Most of the] team was doping. I haven't seen him since one of the last Livestrong benefits, I think just before the Oprah interview. It was literally like a wake for someone who was still alive, this overall feeling that the dream was over."

On relapsing into drinking, 20 years after getting sober, while filming The Big White: "One day I walked into a store and saw a little bottle of Jack Daniel's. And then that voice—I call it the 'lower power'—goes, 'Hey. Just a taste. Just one.' I drank it, and there was that brief moment of 'Oh, I'm okay!' But it escalated so quickly. Within a week I was buying so many bottles I sounded like a wind chime walking down the street. I knew it was really bad one Thanksgiving when I was so drunk they had to take me upstairs."

On his family intervening to get him into rehab in 2006: "It was not an intervention so much as an ultimatum. Everyone kind of said, 'You've got to do this.' And I went, 'Yeah, you're right.'"

On why he's done USO tours for our troops: "I do those because it's like the real version of Good Morning, Vietnam, meeting people and seeing what I can do to help. They're the best audiences I've ever had. The most powerful experience is visiting the wounded in hospitals. A friend of mine's doing a program in San Francisco at a veterans' hospital, getting them to do improv comedy as therapy. And it's really helping. Comedy can be a cathartic way to deal with personal trauma."

On whether, looking back, he has regrets: "No. Regrets don't help."

On his first experience with Alcohol Anonymous. "I felt so good about the first AA meeting I attended that I went out and drank the next day. And then I felt so bad that I came to the [next] meeting and said, "I screwed up. I can't come back." A friend said, "Why not?" I went, "I drank after the meeting." And he said, "Hey, we don't shoot our wounded. Come back."

On social media. "It's weird today. There are YouTube videos on a daily basis of assassinations, suicide bombers…. You're inundated with images that are so brutal, and it has a numbing effect. The shock wears off."

Tweets? "That stuff kills conversation. And people taking pictures with their phone or recording you, sometimes surreptitiously, is creepy. They come up and just start talking to you, and you can see the red light on their phone."

On whether he would ever run for political office. "Oh, God, no. I could never. And not just because of my past. No, I think it's easier to be outside of it. I saw what [comedian] Al Franken went through with that fight in Minnesota to get into the United States Senate. It's a tough gig right now. Politics is so personal, vicious and immediate, how are you going to get anything done? Even the local politics where I live have gotten so ugly."
He's crazy-honest, right? Instead of that CBS show, they should just give him a documentary series or something. Like, The Real Robin Williams of Napa. Promote it like a Real Housewives show but just let him be Robin – incredibly honest, funny, in need of money, with two ex-wives and all of the alimony payments. I would watch that. His quotes about alcoholism and AA are surreal in their confessional nature… wow. I'm glad he's sober now.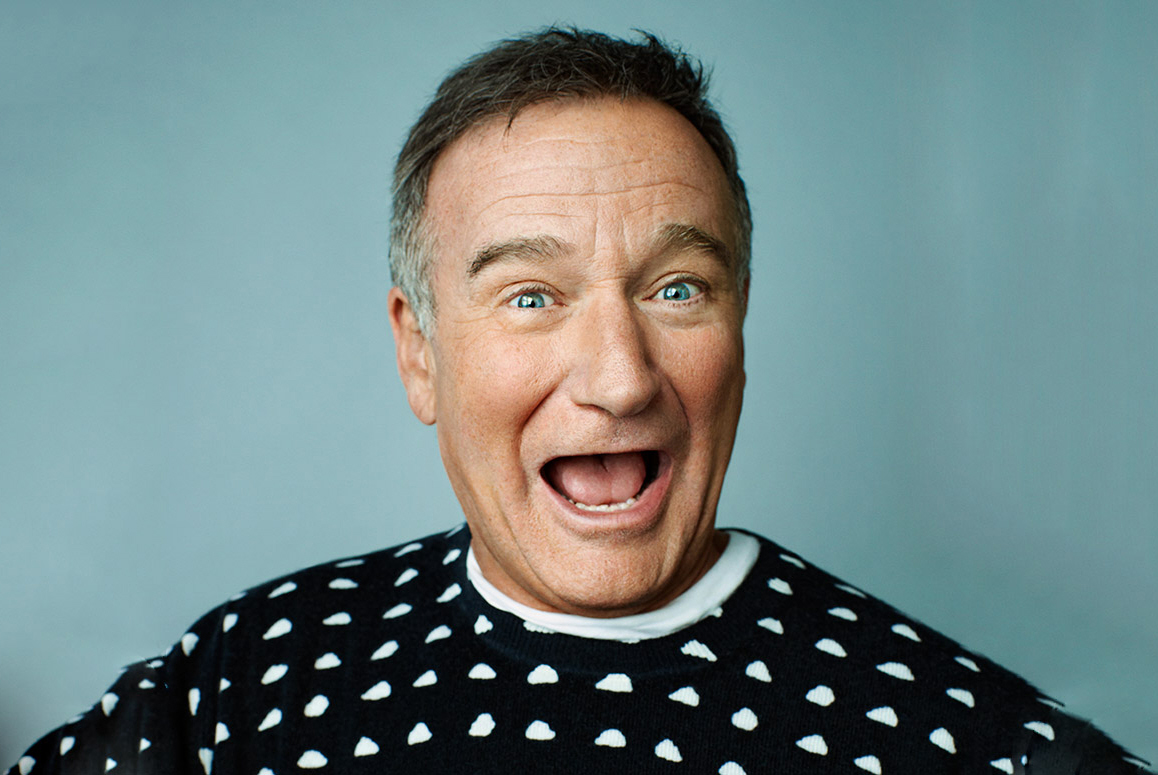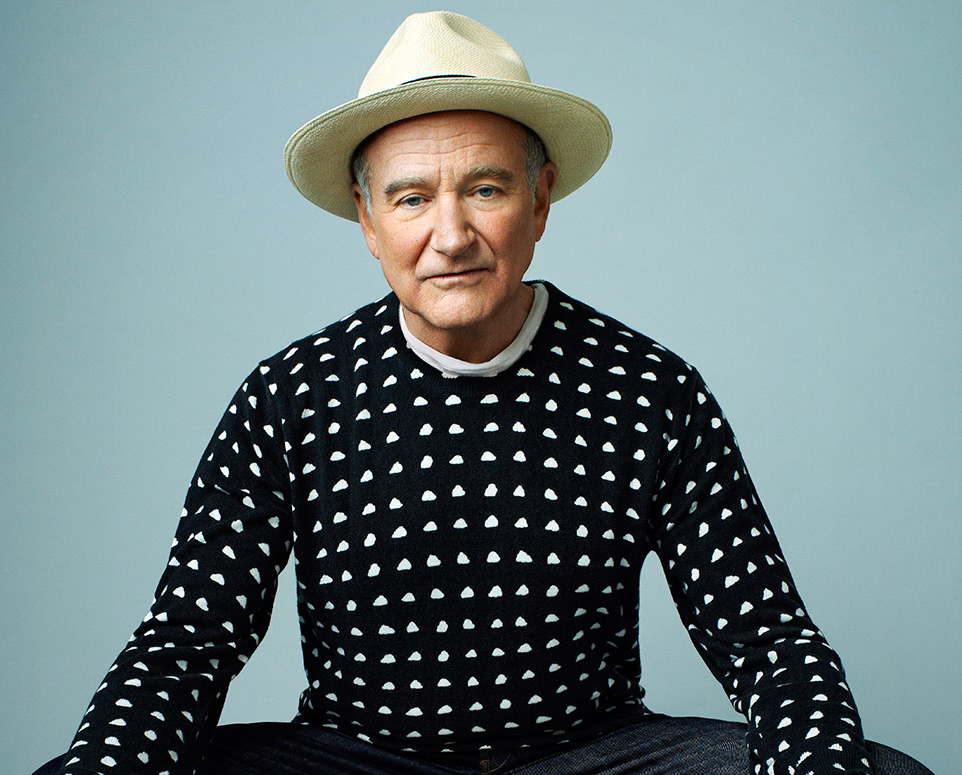 Photos courtesy of Parade.