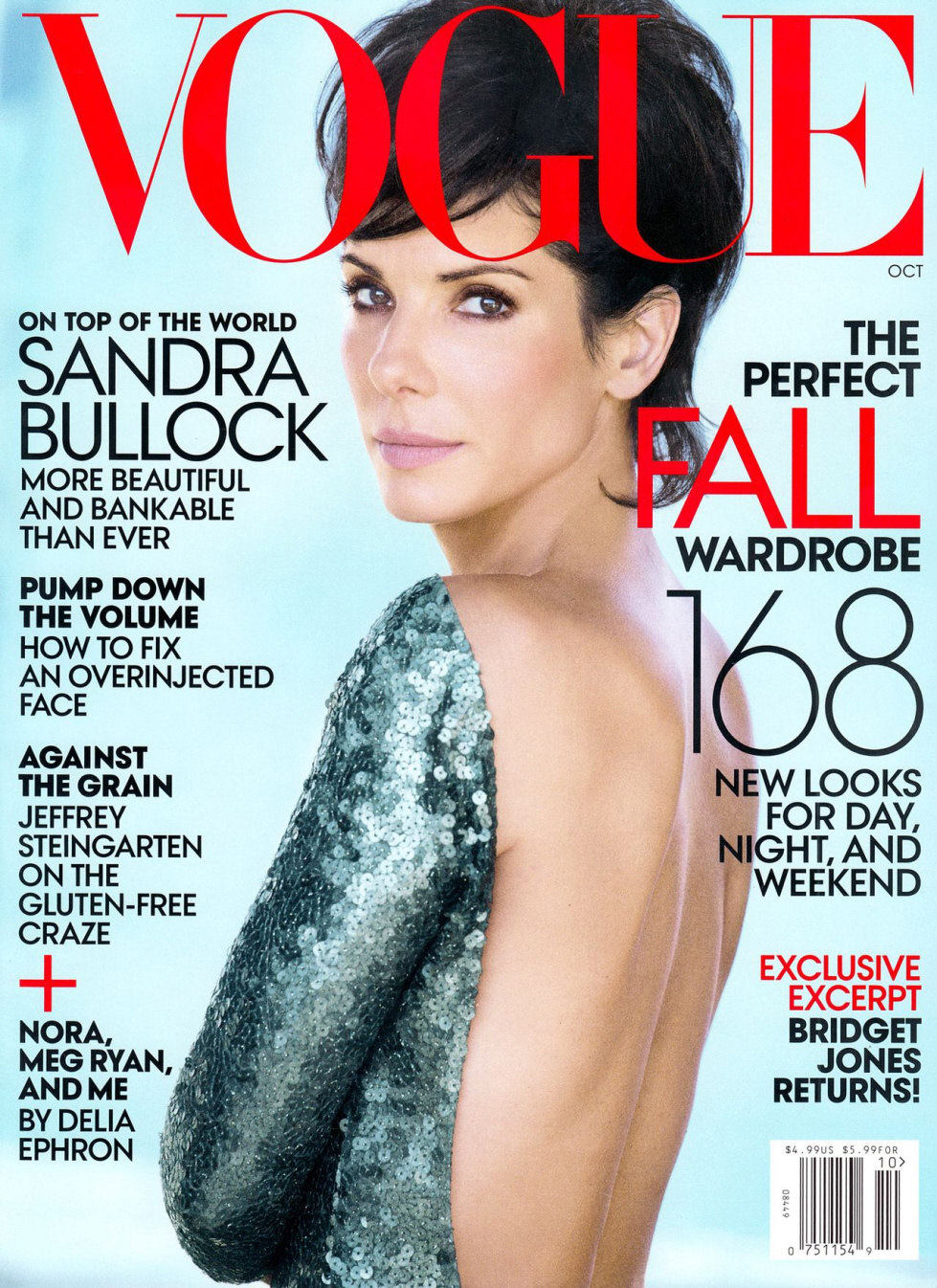 Here a preview of the October issue of Vogue – I'm sure the full interview and editorial starring Sandra Bullock will be out on Monday or Tuesday. For now we just have the cover, which is… okay. I like the idea of putting her in a backless dress and shooting her looking over her shoulder. I like what I see of the dress. I like Sandra's serious expression too – I'm glad she's not doing some mouth-breathing Sexy-face. So what's wrong? I guess it's her hair. It looks like she's wearing an unfortunate wiglet from The Travolta Collection. It's throwing off everything else.
That being said, I am looking forward to seeing the editorial and reading the interview. Since The Badness (Jesse James, Bombshell McGee, etc), Sandra hasn't done many magazine interviews at all (notable exception: the People Mag cover story she did when she introduced Louis to the world). I'm trying to remember the last time she covered a major monthly magazine and I'm drawing a blank. So, if it's been as long as I think, that means Sandra is going to pull out all the stops to promote Gravity. Which means she thinks she might be a contender for some awards. Which should get interesting! When Sandra won for The Blind Side, she was up against Meryl Streep that year. And that will happen again this year.
Speaking of the Oscars and all of that, Sandra gave an interesting interview to The Vancouver Sun when she was at TIFF – you can read the full piece here, and here are some highlights:
On attending the Oscars: "I don't think anybody can honestly feel comfortable at the Oscars. It is such a frighteningly powerful night of emotion, and you have on a dress that hurts somewhere and they're making fun of you, and the fashion choice you wore."

Her director Alfonso Cuaron. "He's been working on this for five years and nobody was sure it would work," she said.

Playing a character who just lost a child: "Who wants to even imagine that?" said Bullock, the divorced single mother of Louis, who was adopted in 2010. "It was horrible to go there, and especially with someone who was not able to show her emotions and who might have been just as happy if she perished." Lucky for her, in between those 14-hour days, "I had the luxury of unscrewing my head, going home to smooch my boy."

On George Clooney: "We've known each other for 20 years, but that doesn't mean we knew we were going to click on screen. George is a life force, and very much like his astronaut, he was born to live and die doing what he's doing." So would they consider doing another movie together? "We would like it to be on the ground — something where we could be in the same room," said Bullock, smiling. "Even if it takes another 20 years, it would be worth it."
Now I'm kind of hoping she will get nominated for some awards. That means the Best Actress race is tightening up a bit too – I think Meryl Streep and Cate Blanchett will definitely get nominations, and the wild cards are Sandra, Amy Adams, Emma Thompson (for that Walt Disney movie), and maybe Marion Cotillard. Sounds about right – last year the Best Actress Oscar went to a "new girl" (Jennifer Lawrence) so it sounds like the Academy might over-correct and give it to someone who has been around for a while.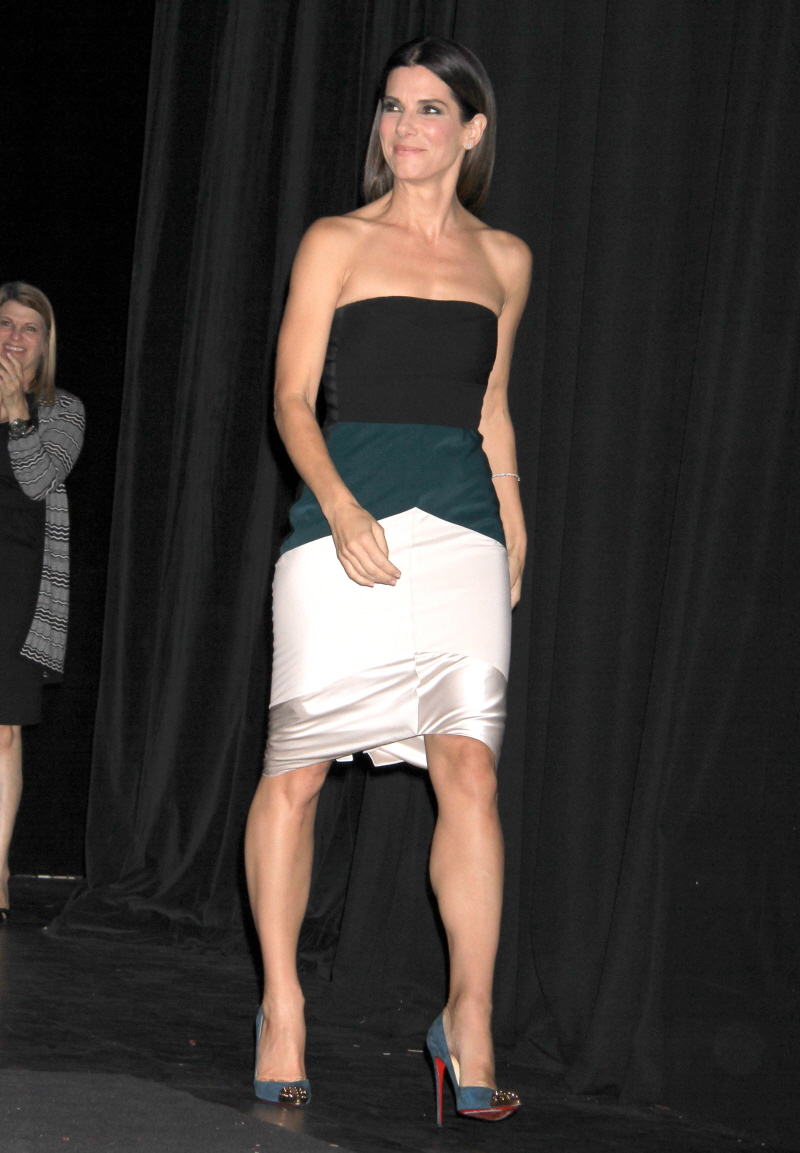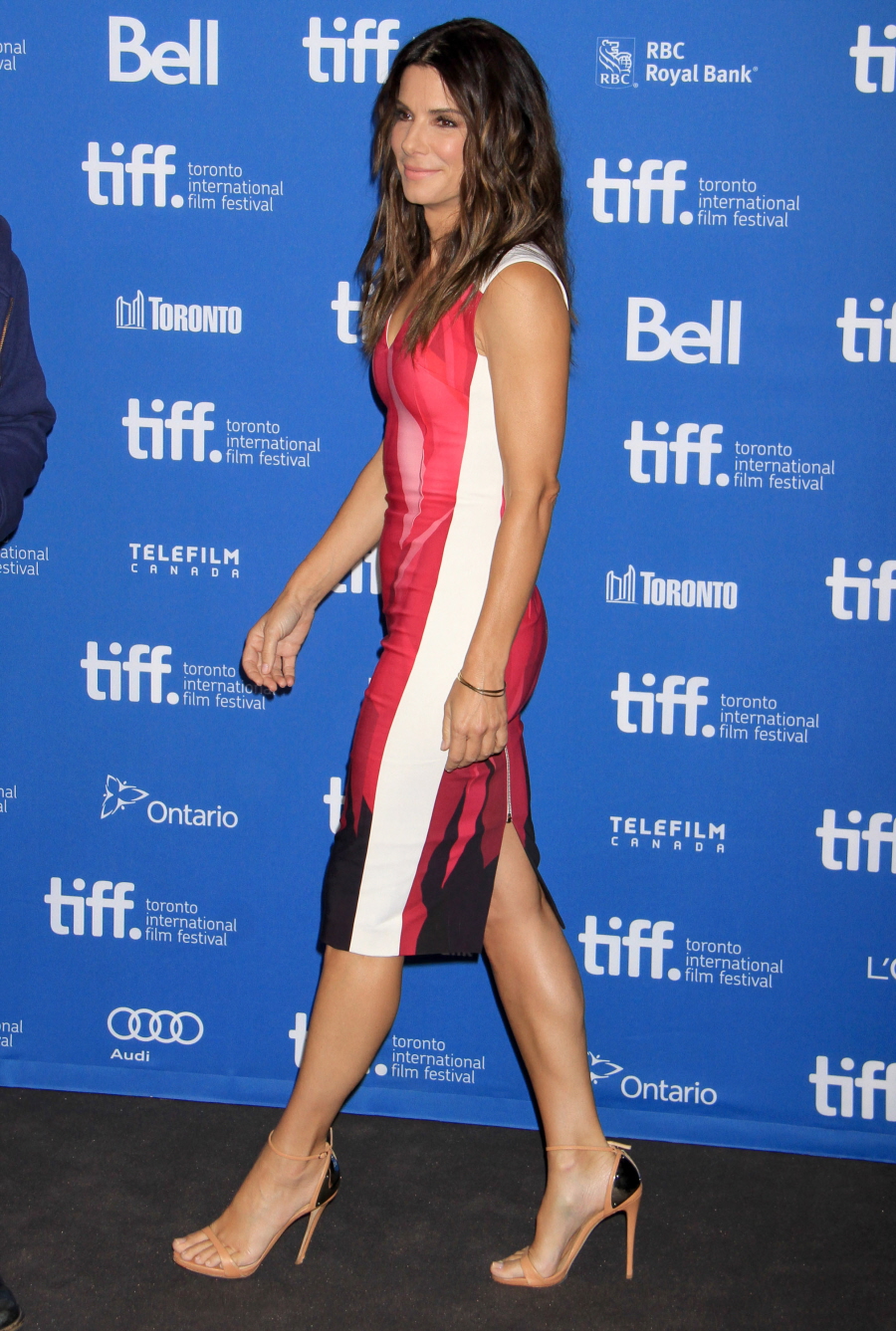 Cover courtesy of Vogue, additional photos by Fame/Flynet.