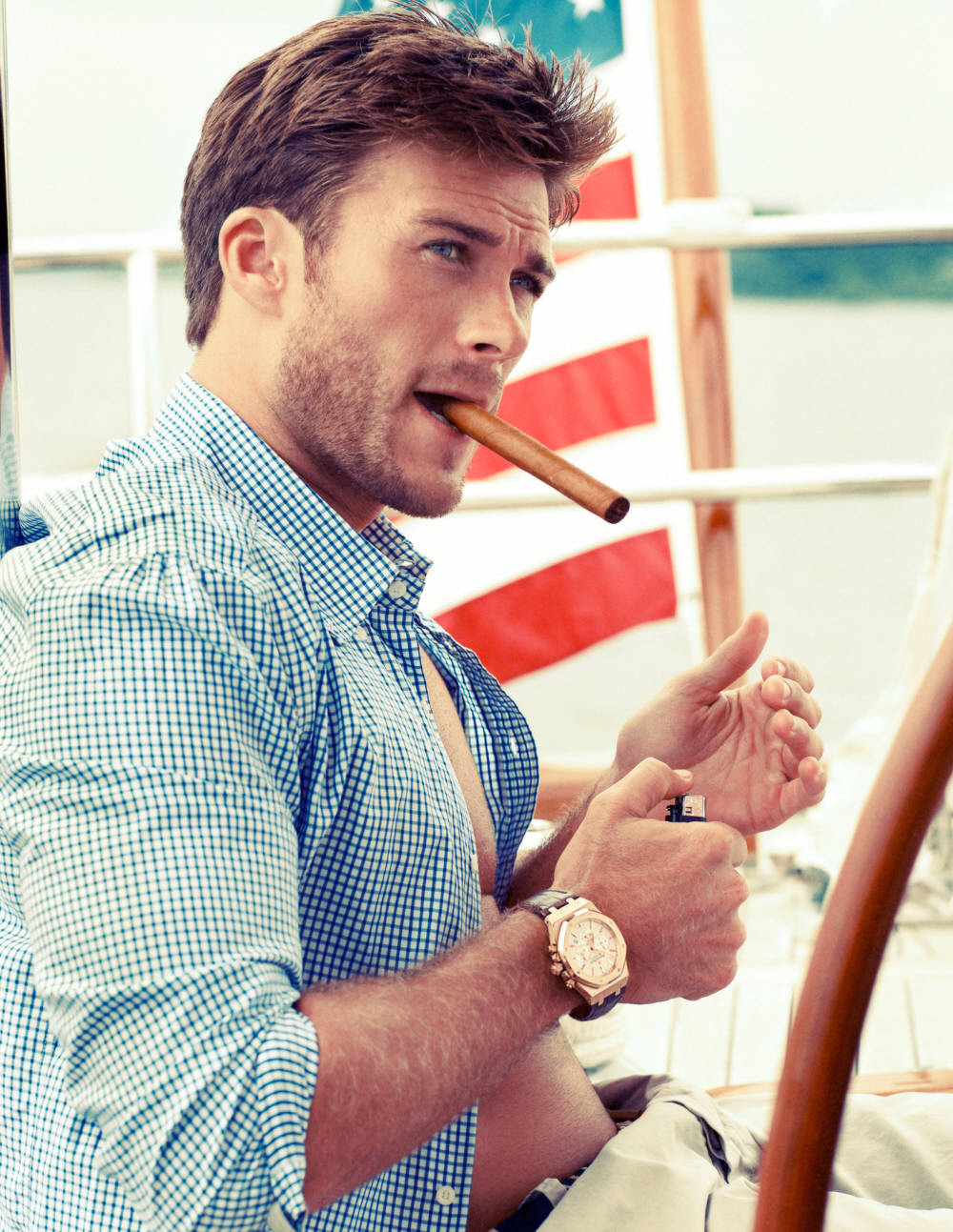 Did you know Clint Eastwood has a son? I didn't know that before yesterday. I thought he just had daughters. But he has a 27-year-old son named Scott, the product of Clint's union with Jacelyn Reeves. I don't know what Jacelyn looks like, because all I can see is Scott's paternity, all over his face and body. He looks SO MUCH like young Clint. Michael K suggested that Scott looks like the love child of Clint and Chris Hemsworth, but do you know who I kind of see in these pics? Some Alex Pettyfer. Scott's paternity is really obvious in profile too, but from the front, he looks more like a frat boy.
Anyway, these are photos of Scott in the new issue of Town & Country. Scott's interview was… eye-rolly. Poor Scott.
On getting his start in Hollywood: "People assumed that I would have everything handed to me, but that couldn't be further from the truth. I was on my own just doing the grind."

On the kind of actor he hopes to be one day: "I want to be a man's man—not a kid actor or a glitzy pop star but a no-bulls–t leading man."

On his father Clint's advice: "As a director and an actor, my dad's motto is 'Tell the truth.' The only way of doing that is having life experiences and being a storyteller."

He co-owns a bar Solana Beach called Saddle Bar: "I'm not a club kind of guy. Dive bars are much more my thing. They're no-nonsense."

He makes his own Eastwood whiskey too: He is bringing his very own Eastwood Whiskey to market, distilled from water found on his father's land in Carmel. Of course he enjoys the product the way an Eastwood man should. "The only way to drink it," he says, "is neat."
I also learned that Scott has a part in Brad Pitt's new World War II movie, Fury. That's the one with Shia LaBeouf. Which dude will Scott spend more time with, Brad or The Beef? Also, how in the world can this dude claim that he was "on my own just doing the grind" while at the same time talking about bringing "Eastwood Whiskey" to market using his dad's distilled Carmel estate water? For the love of…! DOING THE GRIND.
So, would I hit it? Eh. Probably.
Clint when he was younger: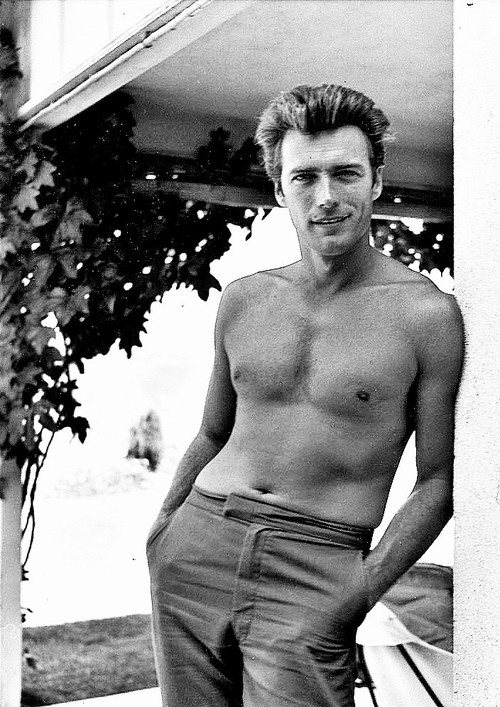 Present-day Scott (I don't understand the nautical p0rn of this photoshoot):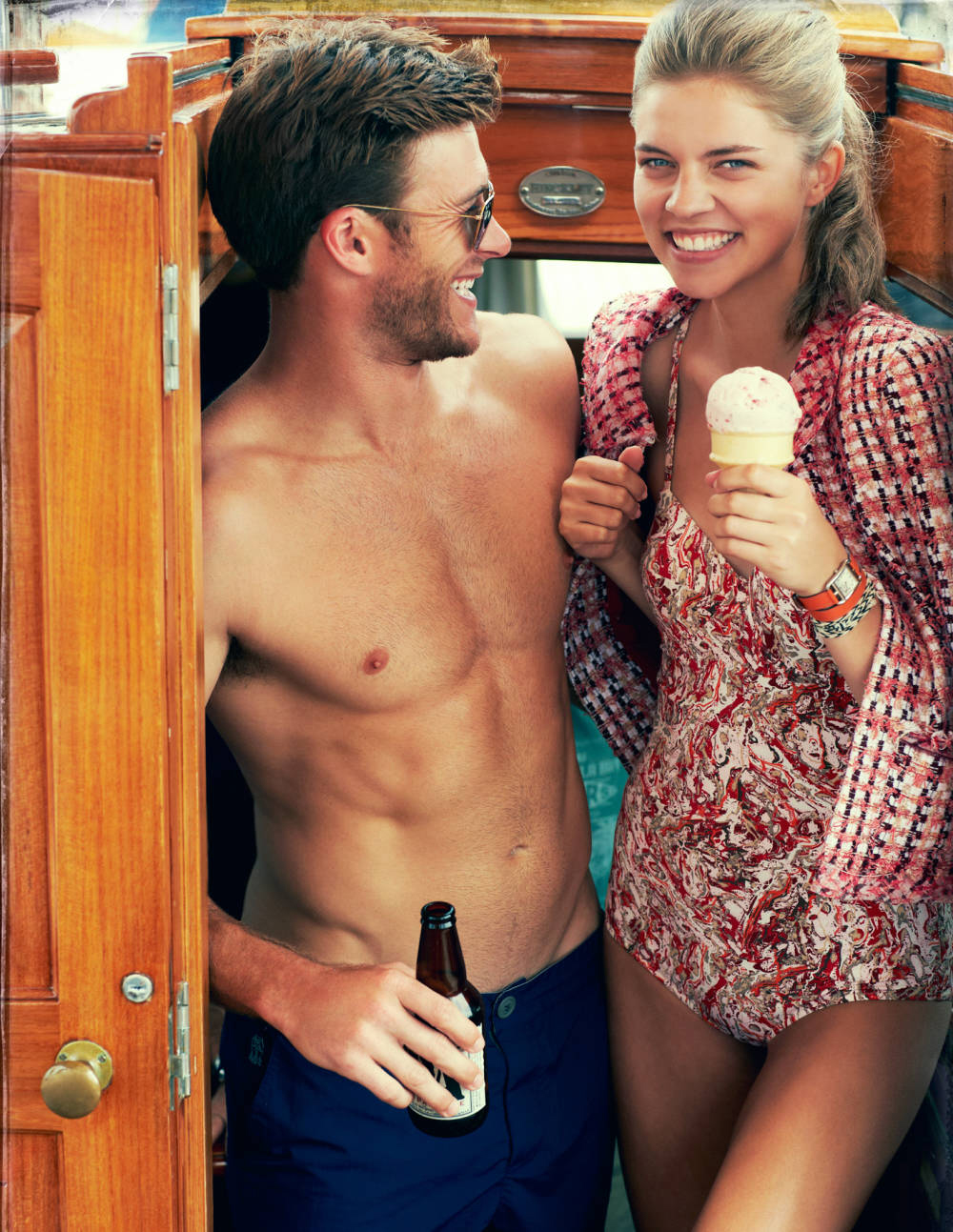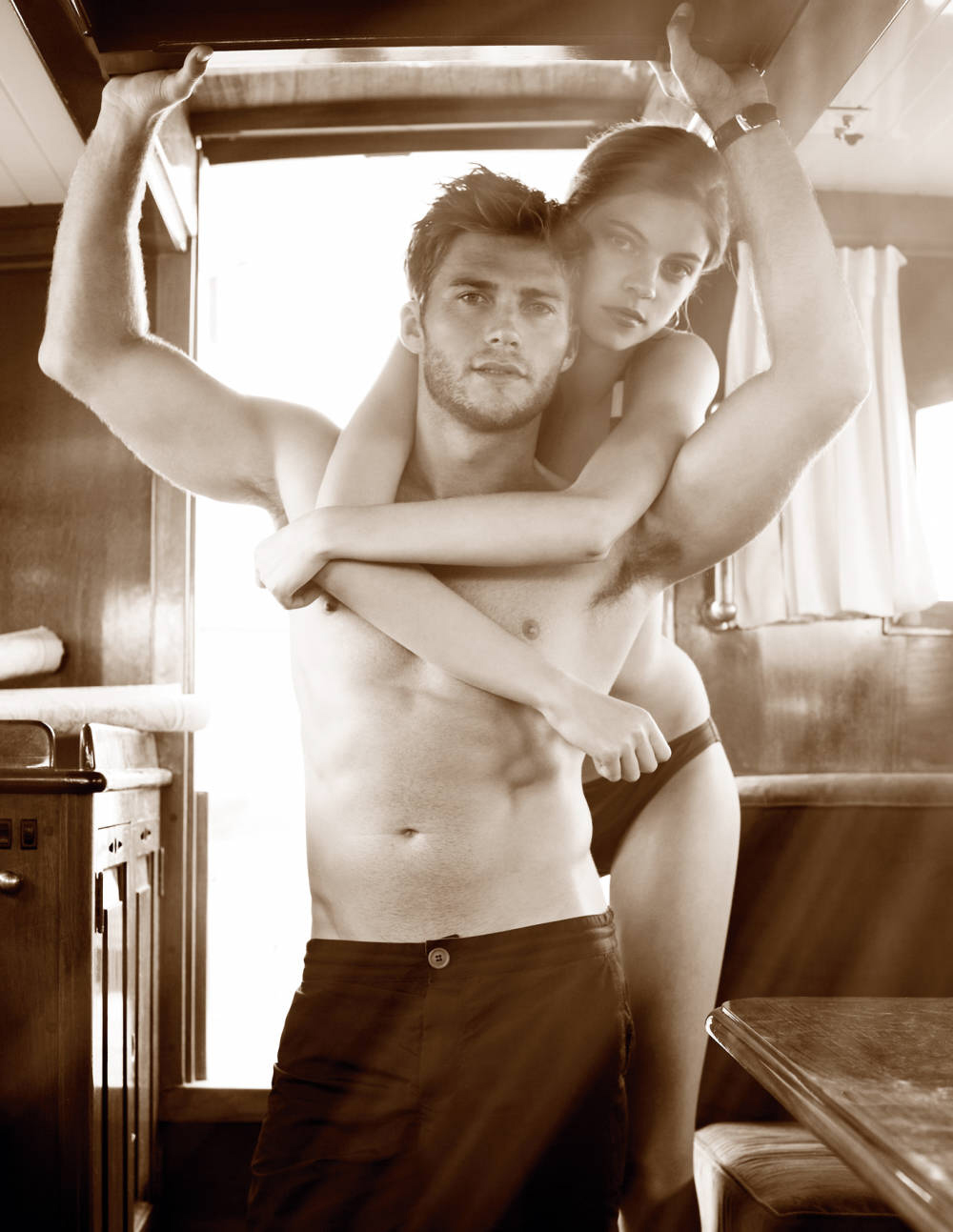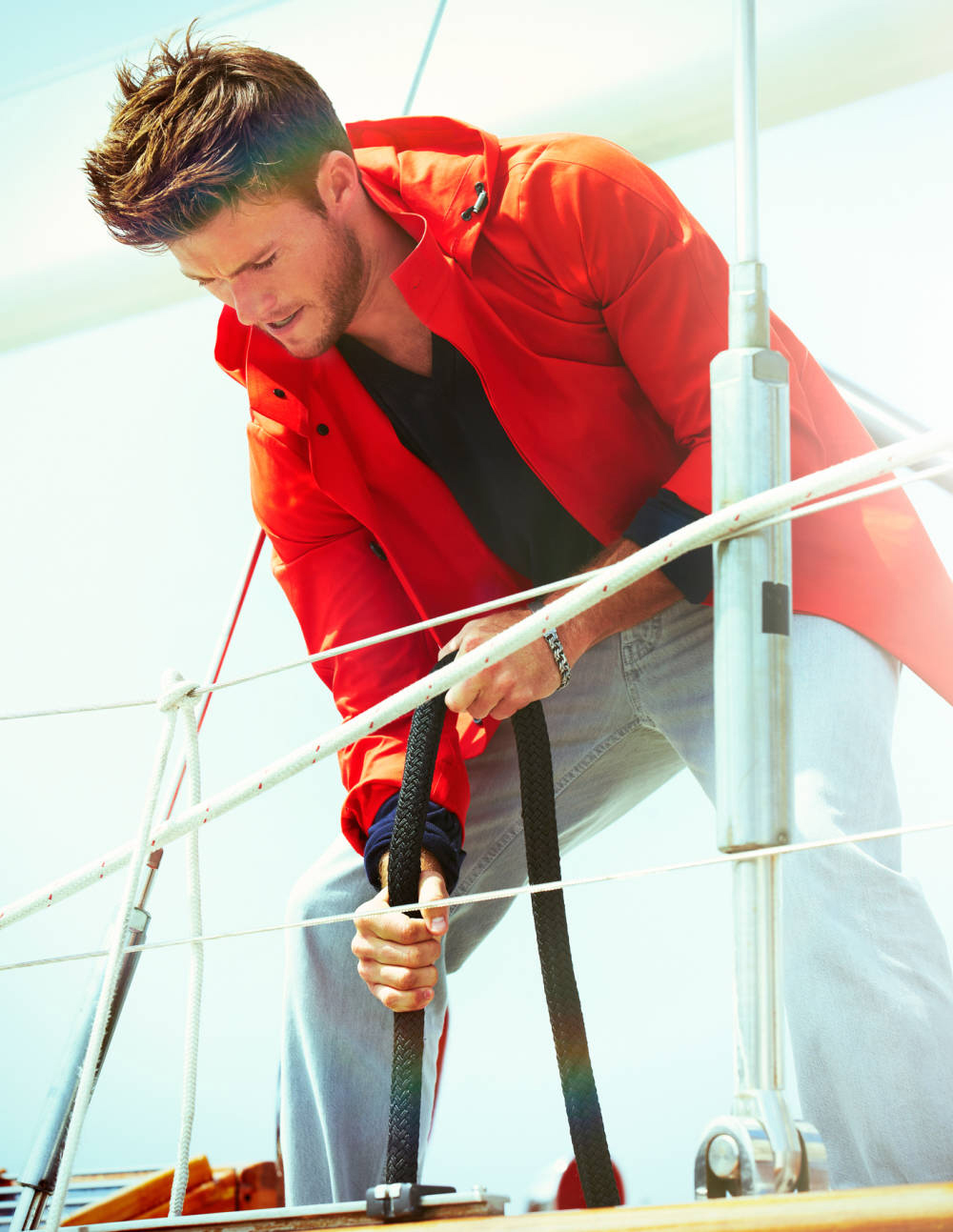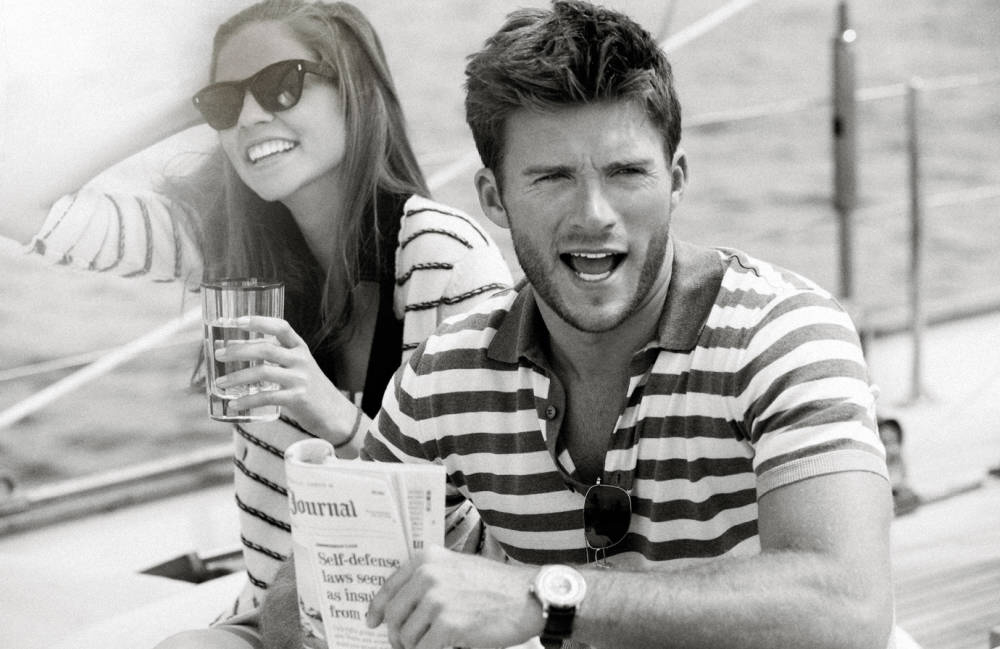 Photos courtesy of Noe DeWitt/Town & Country.