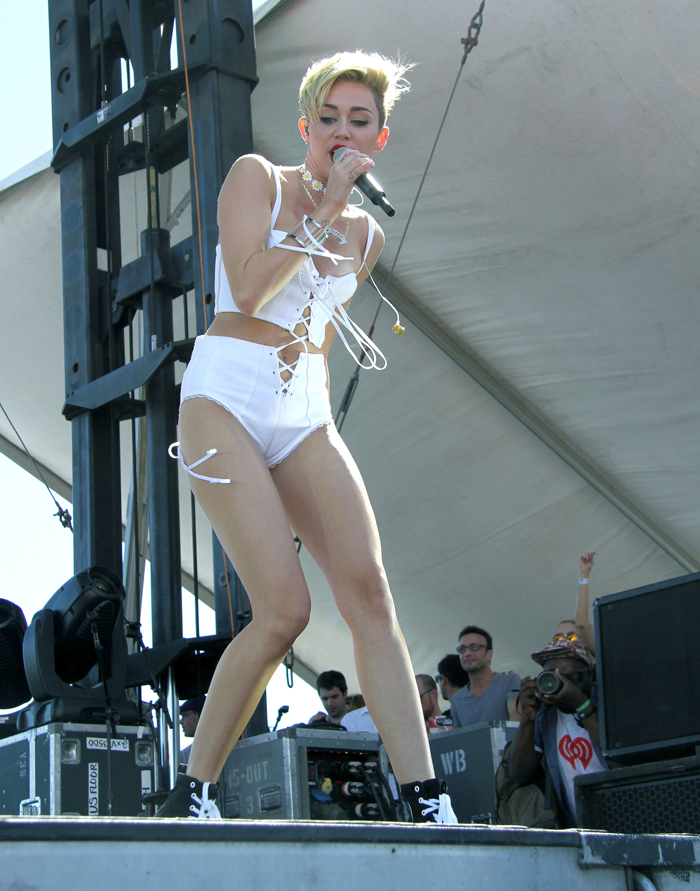 Miley Cyrus kept herself hidden most of last week after her breakup from Liam Hemsworth. In contrast, he stepped out right away with a new lady before flying out of LAX midweek. Now he's on the Mockingjay set where he'll have to memorize more than two lines for the last two Hunger Games movies.
Miley made her first post-breakup appearance at the iHeartRadio festival on Saturday. She wore all while again because she's " on a whole other level of sh-t" than we are with fashion. She also cried at the end of "Wrecking Ball" (you can see that video here). Some outlets are calling it a "breakdown." The speculation is that Miley was weeping about Liam. Maybe she was, but the song isn't about Liam because Miley didn't even write it. I think Miley's a better actress than anyone gives her credit for being. Maybe she figured everyone else was thinking about Liam. Hence the tears. I hope she's not really crying about him.
During her four-song set, Miley danced with little people, mushrooms, and flowers. She said her videos are "getting me in trouble," but "it's just me doing what my heart and soul is telling me to do. Everything is inspired by the music." Here her heart and soul told her to give herself a massive front wedgie. Miley later changed into an even more risqué second outfit. I've included those photos at the bottom of this post.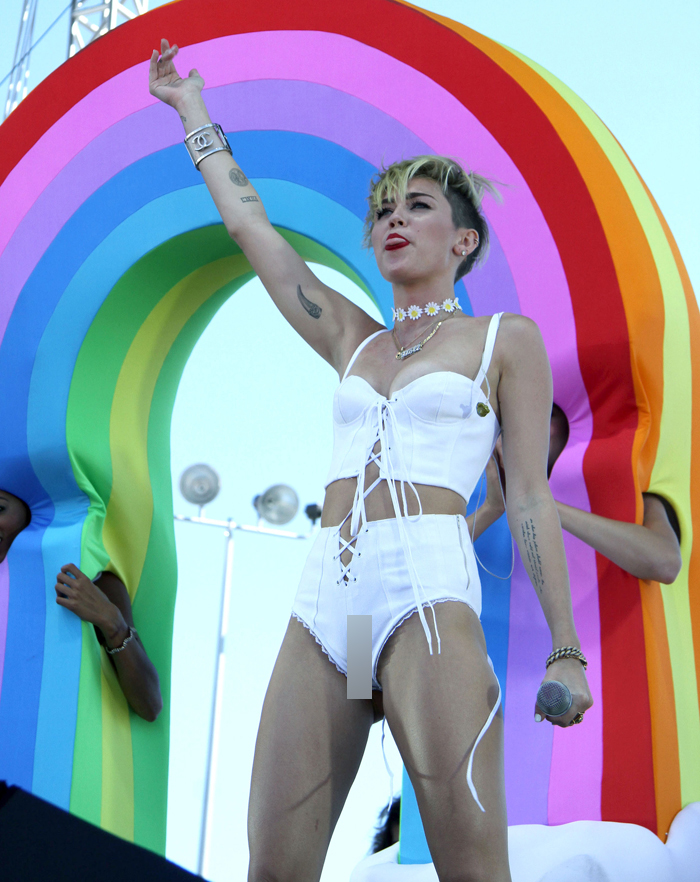 Several new stories are popping up about Liam's new "girlfriend," Eiza Gonzales. They only met about a week ago in Vegas, and he left LA on Wednesday for work. That hasn't stopped Eiza from telling friends "they are in love." A source in Miley's camp says she's insulted at the Liam-Eiza PDA because Liam was always on "this soapbox about keeping things private, now he's breaking his own rules." There's an undercurrent of outlets digging into Eiza's sketchy past. Many sites are also pointing out her (radical?) plastic surgery. Over the weekend, a reporter asked Eiza about Liam, and she left the room during a press conference. Eiza then locked her Twitter account. Huh.
Speaking of jumpoffs, some unfounded rumors are circling about Miley and her producer, Mike WiLL Made it. The Mail thinks that Miley has "confirmed" a relationship with Mike (or is it WiLL?) because she hugged him after her iHR performance. They also posed together months ago at Terry Richardson's house of horrors. I don't see it, but I could be wrong. Miley also hugged Justin Timberlake at the festival. I guess they're doing it too. Someone tell Jessica Biel.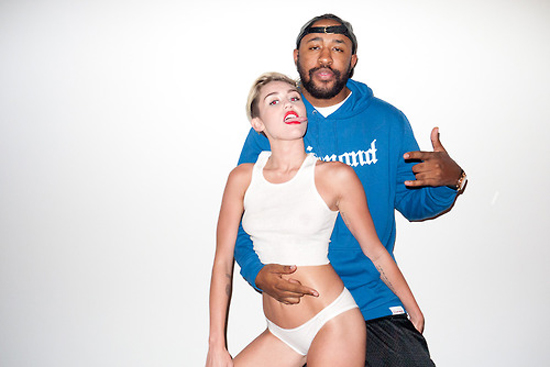 Miley's second outfit of the evening was a disaster. She basically wore a black-and-white thong and black pasties covered in a mesh dress with furry arms. Look at Miley, everyone! That's all she wants in life.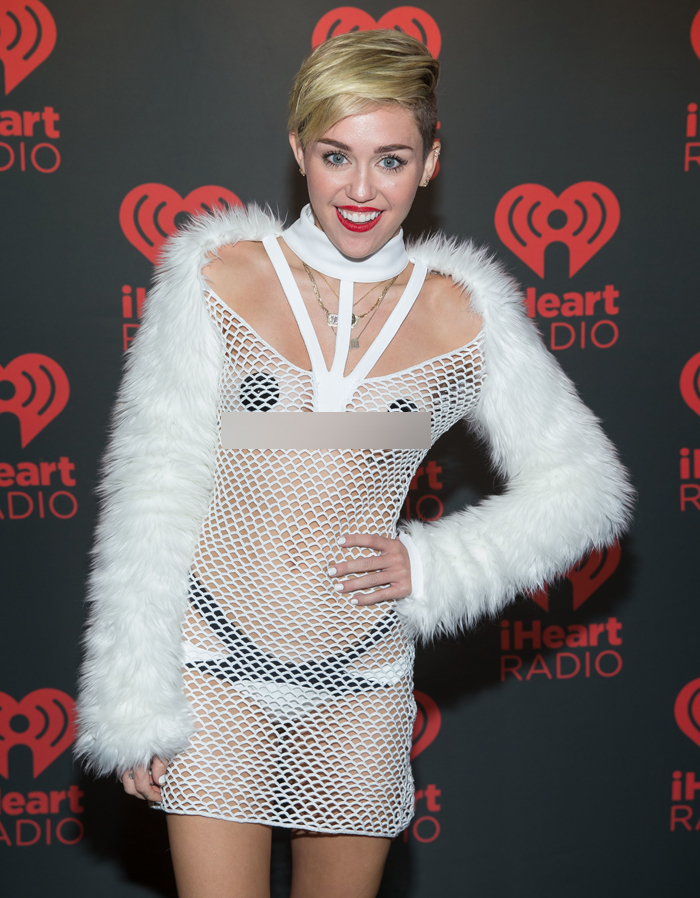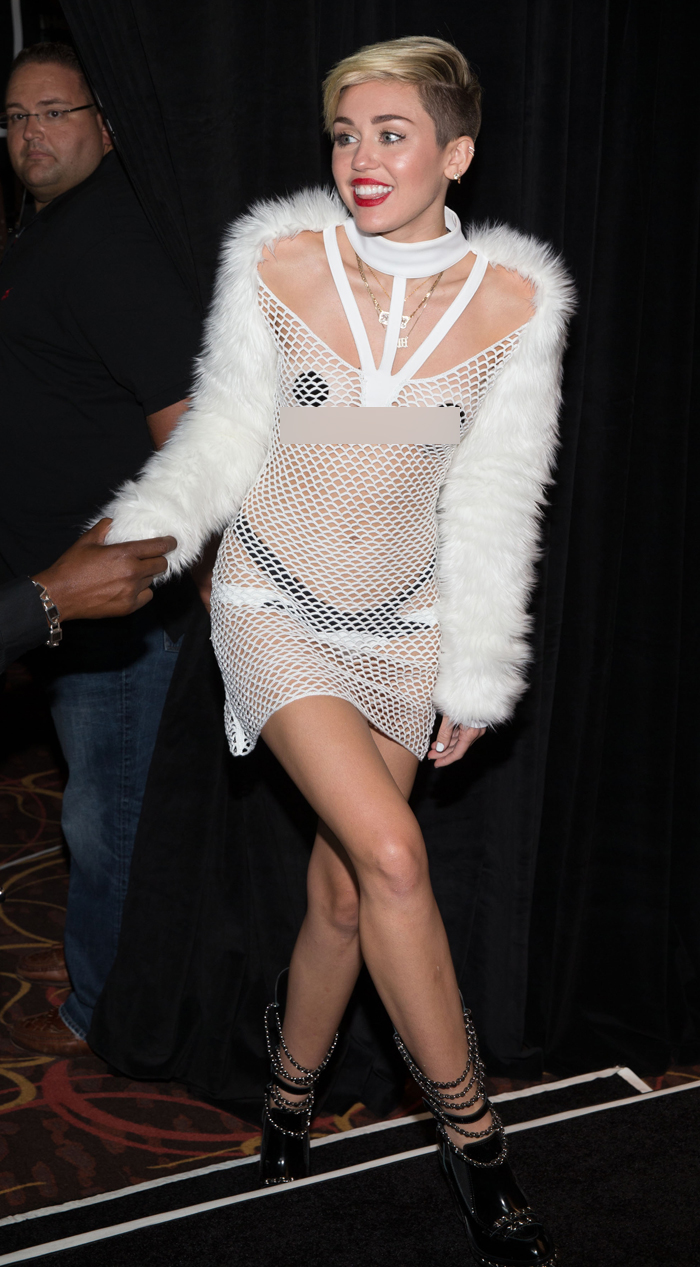 Photos courtesy of Fame/Flynet, WENN & Terry Richardson's revolting diary