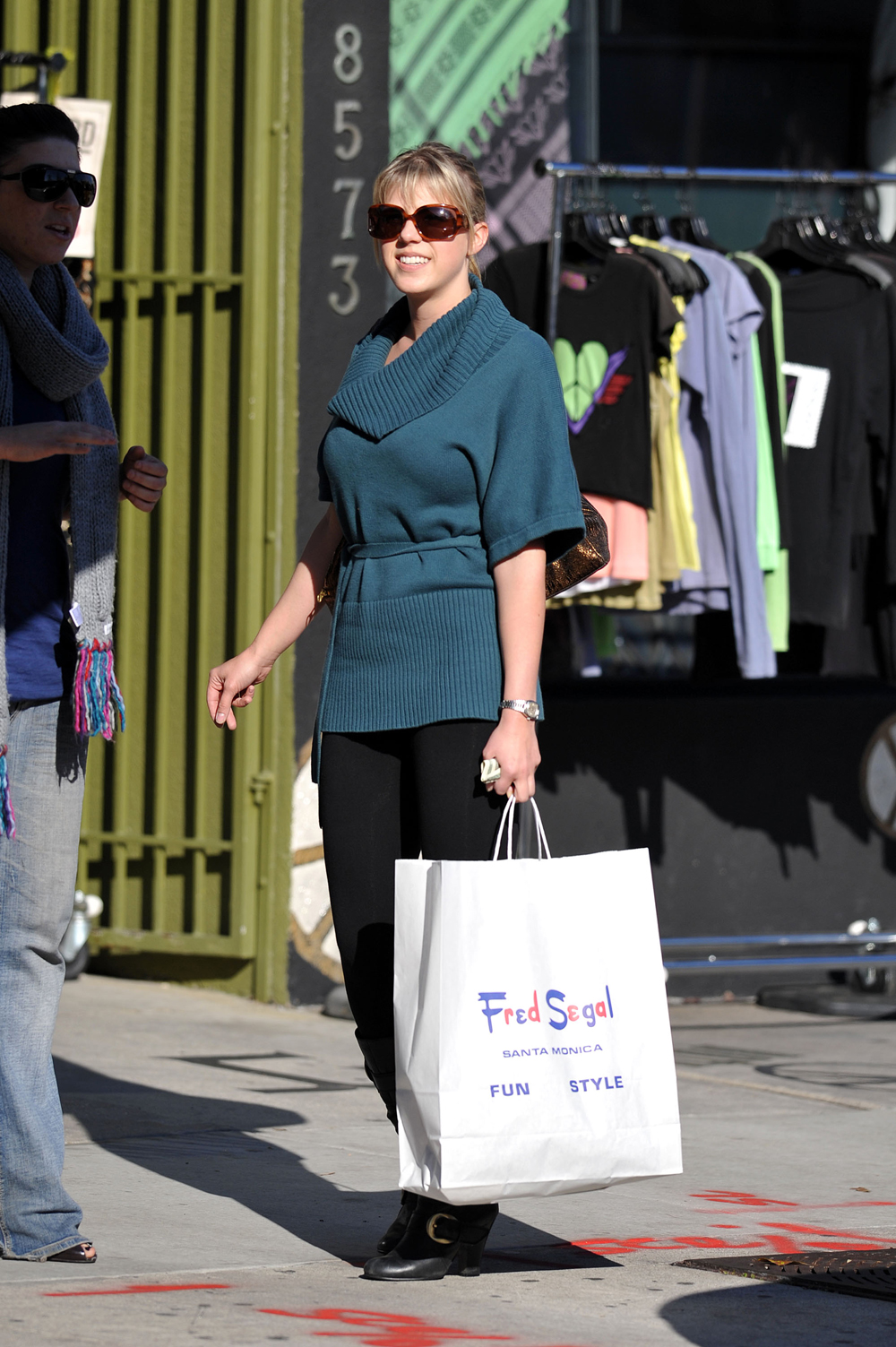 I hate to say it, but it really does sound like former Full House star Jodie Sweetin has fallen off the wagon and started using drugs again. Jodie is in the process of divorcing her husband, Cody Herpin, and trying to get custody of their baby daughter Zoie.
The National Enquirer – which is generally a very reputable source – has a detailed statement from a co-worker on the set of Jodie's last movie. They gave the person a polygraph and everything, and they passed. The eyewitness says they did coke with Jodie and also smelled marijuana coming from her trailer on multiple occasions.
I watched Jodie Sweetin snort cocaine!" Those are the shocking words of a co-worker on the set of the troubled star's latest movie – and the charge could cost her custody of her baby daughter… [husband] Cody has already accused Jodie, 27, of driving drunk with their daughter in the car – and now in a blockbuster world exclusive, The Enquirer has found an eyewitness who claims Jodie was snorting coke while filming the comedy "Port City" just a few months ago!

The eyewitness passed a polygraph exam and said that in late August, Jodie was using cocaine in a trailer shared by cast members on the movie's set in Wilmington, N.C. "The door of the trailer was locked," the source says. "We knocked on the door for a few minutes, and finally some guy let us in. Jodie was sitting on the couch.

"After a few minutes of conversation, Jodie announced: 'I have a surprise for you.' She led us to the back of the trailer where there was a white paper plate with a small pile of white powder and a rolled-up $20 bill beside it.

Jodie said she'd just bought about $50 worth of cocaine from some local guys who'd been hanging out in the seedy neighborhood where we'd been filming. We each took turns cutting a line of coke and then snorting it. I witnessed Jodie snort at least two lines of cocaine."
[From the National Enquirer, Feb. 2, 2009, print ed.]
In addition to all this, Jodie drank and smoked heavily at the film's wrap party. Initially she wasn't going to go because her husband Cody didn't want her to, but he ended up leaving to return to Los Angeles early, so Jodie went to the party anyway. She's claimed publicly – and in court documents – that she's completely sober, but it seems like that defense is starting to crumble. Obviously these reports are a few months old, so hopefully she's gotten clean again. I can't imagine many things more painful than losing custody of your child – especially because of drugs.
Here's Jodie Sweetin in West Hollywood on December 19th. Images thanks to Splash.