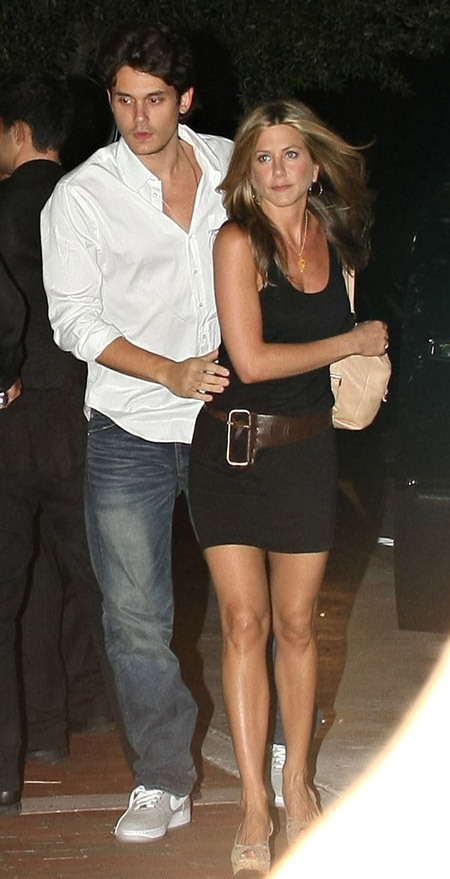 Jennifer Aniston and John Mayer haven't broken up, according to the National Enquirer. But their relationship is on rocky territory. The magazine claims they're planning on getting married later this year, but there's a major sticking point: Jen wants John to sign a prenup to protect her $150 million fortune, and John won't do it. They don't say that John's in it for the money, but more that Jen has good reason to protect her assets because she's got a lot of them. And she's well aware of Mayer's reputation. It sounds like the two have some trust issues.
Jennifer Aniston has found 150 million reasons not to rush into marriage with boyfriend John Mayer. The "Marley & Me" star and her rocker beau have hit a huge speed bump on the road to the alter – she's demanding that the notorious womanizer sign a prenuptial agreement to protect her $150 million fortune, say sources.

But John is balking, and insiders are predicting the predicament could destroy the relationship. "Jen has serious reservations about diving into marriage with John," a source close to the actress told The Enquirer. "She is very insecure, and at the top of her list of her worries is that John is using her to boost his own fame and fortune.

"So she's insisting that John sign a prenup. His pride is wounded, and the dramam over all this is threatening to blow up their wedding plans, and even their relationship." As the Enquirer reported in December, Jen – who turns 40 on Feb. 11 – told pals she and 21-year-old John are planning a star-studded wedding later this year.

"She's on top of the world now professionally, and a prenup is a smart business move to protect her fortune. Even though she loves him, Jen is still unsure of John's trustworthiness because of his reputation for having loved and left half the actresses in Hollywood. After her split with Brad, Jen has had serious trust issues – and for good reason."
[From the National Enquirer, Feb. 2, 2009, print ed.]
Gab as we do, the only people who can really know what's going on in their relationship are the two people in it. Even the close confidants don't have the entire picture. There must be something Jen sees in John that makes her want to look past his "love 'em and leave 'em" history. And she's certainly not stupid, nor is she in denial about his player ways. She must think he's changed to some extent or she wouldn't be considering marrying him. Yet there's obviously still some fear and lack of trust there.
Even if they were on completely solid ground, the disparity between their incomes is at least $125 million. It seems like a prenup is more than acceptable under those circumstances. They both deserve to be in a relationship where they can trust the other person. It seems to me like they should work on those issues before the focus on walking down the aisle.
Here's Jen and John in May. Images thanks to Fame.