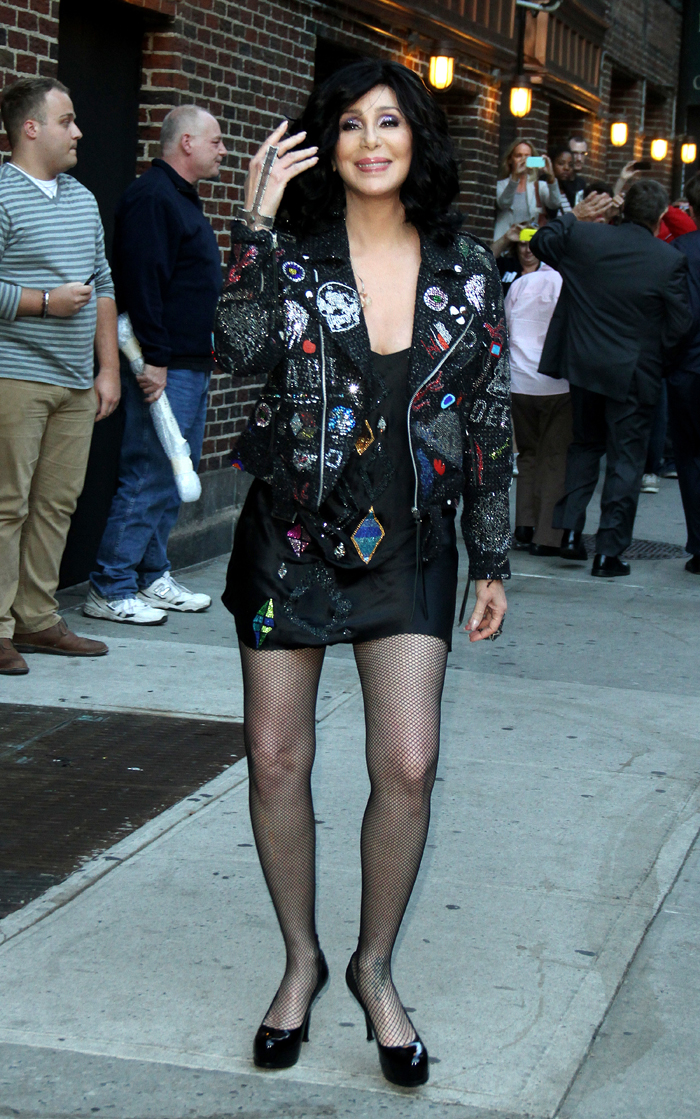 These are photos of Cher visiting the Letterman show on Tuesday to promote her new album, Closer to the Truth. She wore a couple of wigs including one that I'm calling "the Dina Lohan." Cher always wears a wig of some sort, right? I assumed as much.
This is Cher's first record in 12 years, and she's been shilling like crazy. I had a bit of a giggle last week when she jumped on the Miley Cyrus-slamming bandwagon when Cher herself is queen of the ass flashers. One could argue that Cher at least has talent, but I still didn't react well as a child seeing her flash her booty to a bunch of sailors.
Cher whipped up a "25 Things" list for Us Weekly, and she namedrops everyone from Meryl Streep to Steven Hawking to Andy Warhol: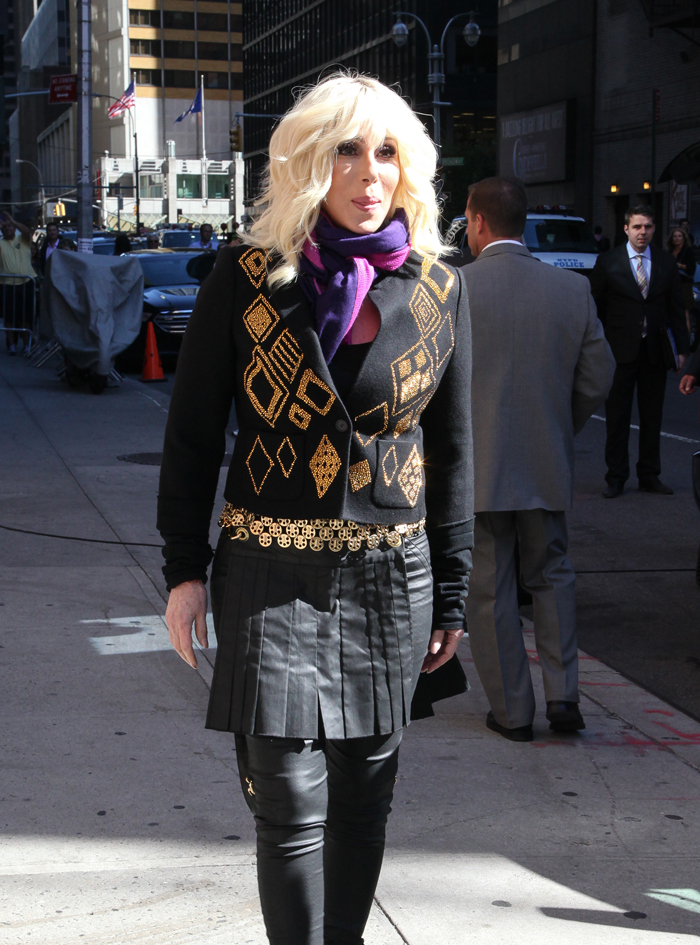 1. Stephen Hawking invited me to lunch one day, and we got into a heated discussion with his students about history vs. math. Stephen said, "Cher, when time travel is perfected, history will be obsolete."

2. Meryl Streep and I saved a girl from a large mugger in New York City.

3. The day I moved out of my home in Holmby Hills, I found a room I never knew existed.

4. There was a time I couldn't afford to pay my gardener for six months.

5. Jack Nicholson helped me through a panic attack just before the famous lunch scene in The Witches of Eastwick. I also have a painting Jack did for me. It's one of my most treasured birthday gifts.

6. I have a collection of elephants.

7. I once crashed in a small plane during a snowstorm.

8. I think David Letterman is in love with me.

9. Someday, I want to build a Balinese-style home.

10. I had two imaginary friends when I was little. They were both lumberjacks.

11. I love to play Wii tennis. I'm also a big football fan. Deacon Jones of the then-L.A. Rams taught me all I know about the game.

12. I am passionate about palm trees. They make me deliriously happy.

13. My mother still tells me what to do and I still don't listen.

14. One time, I threw a dart at a map to decide where I would vacation.

15. I am famous among my friends for my chicken Bolognese. I even use my own Diva Pasta labels when I give out jars for Christmas.

16. I have watched the 1958 film Auntie Mame, with Rosalind Russell, at least 100 times. I would love to play that part in a remake.

17. My cat is named Mr. Big. I first found him underneath one of my tour trucks in Detroit.

18. I love to bead! I make 5-inch-long beaded earrings for all of my friends.

19. My first car was an old red MG convertible.

20. Andy Warhol once showed up uninvited at one of my house parties. Best crasher I ever had.

21. I wear Malibu Cowboy boots (like Uggs, only cooler) whether it's summer, winter, spring or fall.

22. I have driven a taxi through New York City at 4 A.M.

23. I love to read and have taught several young people to read. One of my favorite books is God Against the Gods: The History of the War Between Monotheism and Polytheism by Jonathan Kirsch.

24. I once cried when I lost $100.

25. The night I won my Oscar, you could have spotted me running down the street toward the Shrine Auditorium with my dress sky-high. I was late again, of course!
[From Us Weekly]
Does Cher really have a collection of elephants? Real elephants. That's crazy. I think it's cute how she namedrops all over the place. She's Cher and doesn't have to namedrop anyone. Maybe she's worried about seeming relevant and not being able to pay her gardener again.
Here's a clip of Cher on Letterman. She rode in on a swing in a sea of fog machine madness. Maybe Dave really does love her.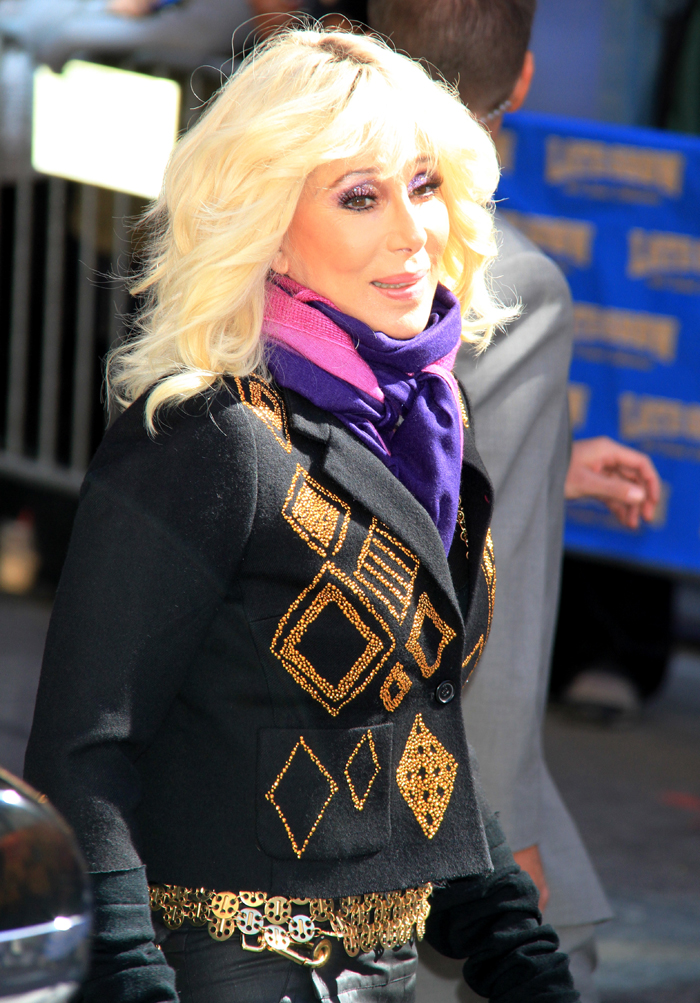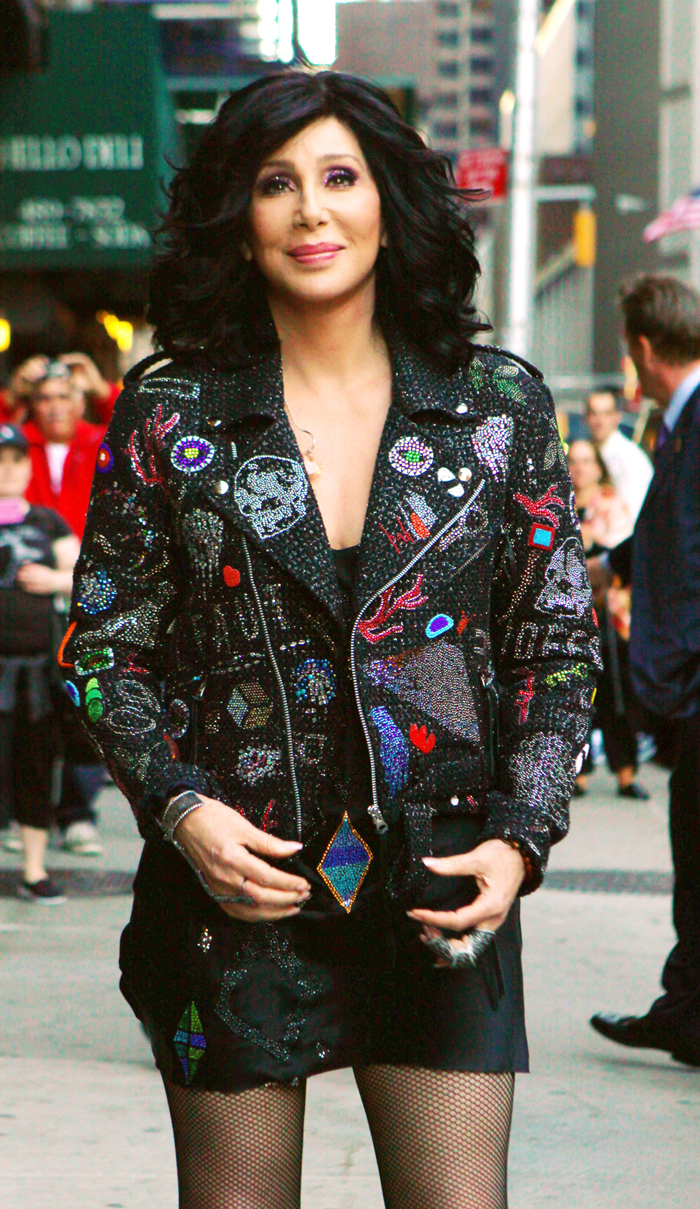 Photos courtesy of WENN